Two Melbourne schools send students home due to COVID-19
Dozens of Year 12 students may not return to the classroom in person again, with at least two schools being closed on Friday due to COVID-19 cases.
3AW Drive was alerted to the news by listeners.
Michelle told Tom Elliott a student at St Mary's College, St Kilda East, had tested positive.
The school has shut for deep cleaning.
And Camberwell's Siena College has the same situation on its hands.
Parents were told students needed to be collected on Friday after a positive case was detected.
That school has also been shut for deep cleaning.
Students had only recently returned to the classroom due to COVID-19.
LETTER TO PARENTS ST MARY'S COLLEGE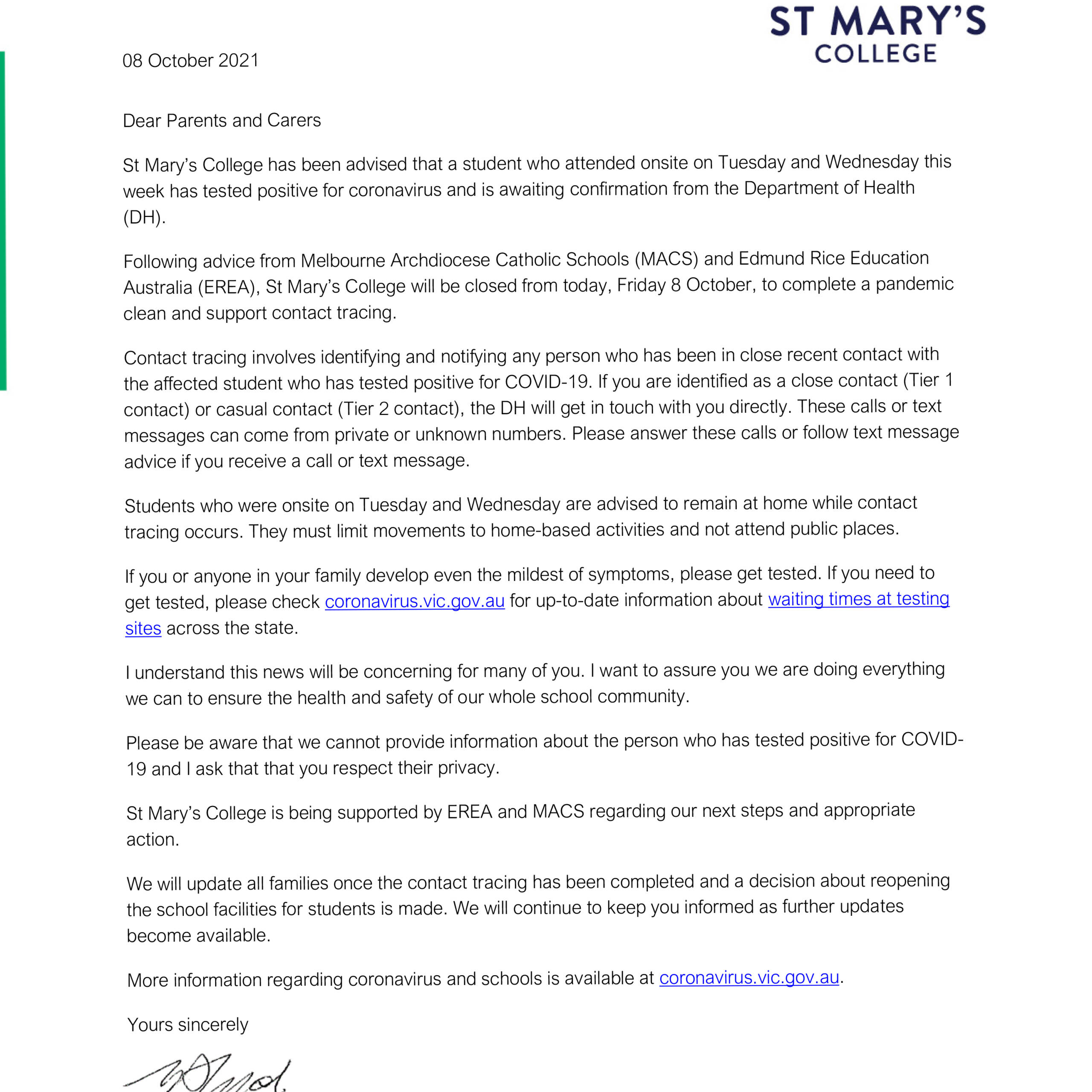 LETTER TO PARENTS SIENA COLLEGE
Dear Parents and Guardians,

The Department of Health and Human Services (DHHS) has advised of a confirmed COVID-19 case at Siena College.  If your daughter is currently onsite please arrange for her to be collected immediately.  Students are not permitted to use public transport to travel home.  Students will gather all necessary books and materials before leaving as the site will not be accessible due to deep cleaning.

Following advice from the DHHS and the Catholic Education Commission of Victoria Ltd (CECV), the College will be closed for the next seven days.

This closure will allow time for the school and the DHHS to work through a contact and containment strategy. This includes identifying and notifying any person who has been in close recent contact with the affected case who has tested positive for COVID-19.

If your daughter has been onsite from Tuesday, 5 October it is strongly recommended that she undergo a COVID-19 test and isolate receiving a negative result.  The College will remain closed until we receive further advice from DHHS.

All students are advised to remain at home while contact tracing occurs. Remote learning will resume from Monday, 11 October, 2021.

I understand this news will be concerning for many of you. I want to assure you we are doing everything we can to contain and slow the spread of the virus, and ensure the health and safety of our whole school community.

The school is being supported by the DHHS and the CECV regarding our next steps and appropriate action.

The school will update all families once the contact tracing has been completed and a decision about reopening the school facilities for students is made. We will continue to keep you informed as further updates become available.

More information regarding coronavirus and schools is available on the DHHS and CECV websites.