Metro tunnel works set to result in lane closure on Flinders St for four years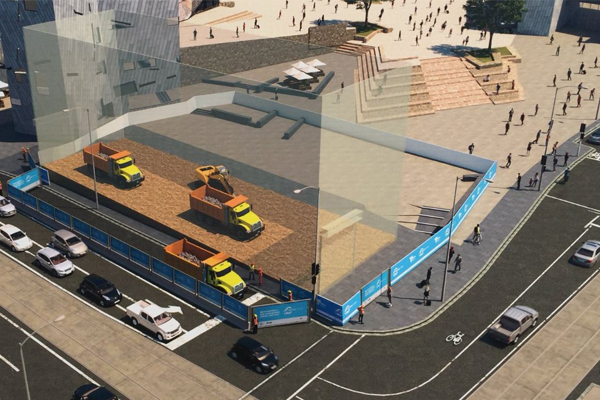 Work on a metro tunnel entrance at Federation Square is set to result in major traffic changes in the area for the next four years.
The move is needed because Federation Square sits above a working railway, and the deck can't hold the weight of the equipment needed for the work.
Transport Minister Jacinta Allan says there'll be a lane closure on Flinders street from later this year.
"What that means for traffic between Swanston and Russell streets along Flinders Street is that there will be a reduction of one lane and we're asking motorists to plan ahead for this change in traffic conditions," she told reporters today.
The changes will also include the installation of an enormous, 18m high, 40m long shed along the side of Flinders Street to house the works.
Ms Allan said the acoustic shed (pictured above – which will not be transparent) will be built over the site to reduce noise, dust and light from 24/7 excavation and tunneling.
Drivers will still have one left-turning lane from Flinders Street into St Kilda Road, and one lane travelling ahead.
Site establishment works are expected to get underway on the north-west corner of Federation Square, shortly.