Neil Mitchell live from the Shrine of Remembrance on Vietnam Veterans Day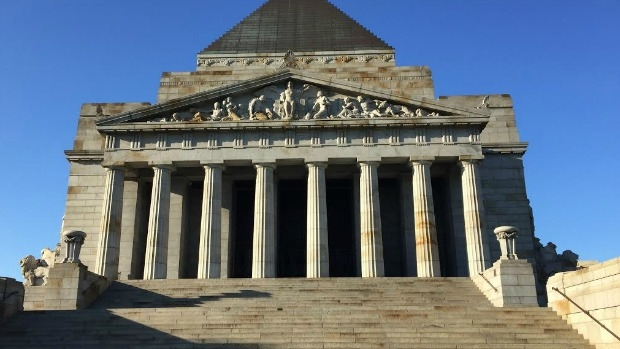 Thousands have turned out to mark the 50th anniversary of the battle of Long Tan at the Shrine of Remembrance this morning.
Neil Mitchell broadcast live from the Shrine for Vietnam Veterans Day.
Gunfire marked the start of the service, as veterans marched and people packed the precinct to remember the 18 Australian Diggers who died in the battle.
When they returned to Australia they may have been met with hostile reception, but today it was a different feeling.
Some of the veterans would wear their medals for the first time today.
Butch, a self-proclaimed tunnel rat, called in to Neil Mitchell to say the focus now should be on returned soldiers.
'The first RSL I tried to join, I rocked up to, a month after I got home, and the guy said sorry son not a real war,' he said.
'Since then, things have changed.'
Caller Paulette shared her husband's story, a conscript who fought in the Battle of Long Tan.
'I still know nothing about that day or any other day that he spent in Vietnam,' she said.
'He went away one man, and came back another.'
Neil shared a 1966 recording of Danny Boy made by Private Kenneth Howard Gant, a 21 year old conscript en route to Vietnam, for his mother.
He would not return from Long Tan.
Click PLAY to hear Private Kenneth Howard Gant's recording of Danny Boy:
Australians who have travelled to Vietnam say the event has already been spoilt after local authorities initially cancelled the event.
Overnight, Prime Minister Turnbull negotiated with the Vietnamese government and reached a compromise which would allow smaller groups to travel to the Long Tan Cross and pay their respects.
3AW Mornings crossed to Vietnam Veteran Peter Manucci on the ground in Vung Tau.
Mr Manucci is a part of the tour group 'Vietnam Gunners' who was blocked from the Long Tan site yesterday.
'We were all devastated, we were shattered when we heard the news yesterday morning,' he said.
READ MORE: PM Turnbull strikes a last minute deal for veterans in Long Tan
Mr Manucci said it was incredibly important to reflect on the sacrifice and honour the fallen.
He said he felt as though the door had been 'slammed' in his face.
Click PLAY to hear Mr Manucci from Vietnam:
Bill Akell was just 19 when he fought in the war and said he's disappointed by the restrictions, telling Neil Mitchell a banquet dinner was also ruined last night – when authorities cancelled their entertainment.
He said what happened in Long Tan will stay with him for the rest of his life.
'A lot have made this trip, as their final trip,' he said.
Click PLAY to hear Mr Akell:
Veterans Affairs Minister Dan Tehan said Prime Minister Malcolm Turnbull appealed to Vietnamese authorities on behalf of veterans and their families who had travelled to pay their respects.
He said there will be a wreath laying ceremony at the site and staggered visits will be allowed.
'The thing that was bitterly, bitterly disappointing was to be given such short notice of a change given the significance of the 50th anniversary,' he said.