Neil Mitchell's eulogy given at the funeral of his friend, Kim West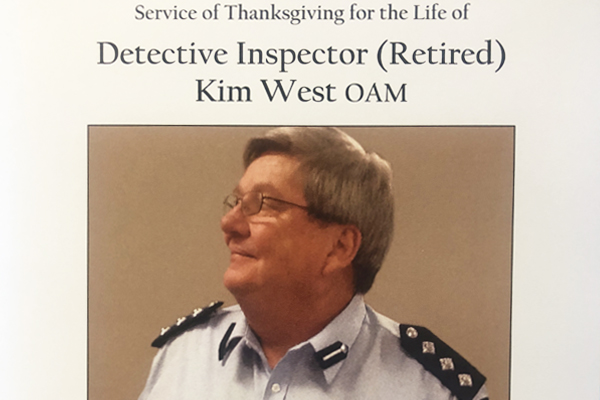 Neil Mitchell had to leave 3AW Mornings early today, to deliver the eulogy at the funeral of a dear friend.
Neil paid tribute to former Detective Inspector Kim West last week, after learning of his passing.
With Neil's blessing, we have published his eulogy here.
Ladies and gentlemen
I think you will have already noticed, given Sal's little trick with Kim's late arrival
This is no ordinary funeral
With good reason
This is no ordinary man we are remembering, this was not a bland, average man
Kim was different.
Even in a job full of different people
He made his mark on life
And Kim had many strengths
Obviously, punctuality was not one of them
Nor, let's be frank, was brevity
Kim could talk
He gave a whole new meaning to the word verbal
You didn't converse so much as listen to the dissertation
If 100 words would do he would give you a thousand and then go back for more, always had plenty more
He may have arrived late today
But if he were speaking, speaking at his own funeral
We would be here until Wednesday next week
I was speaking yesterday to one of his mates in the wine industry who said,
You know Kim wasn't a big drinker, which I did
He always felt much as he loved wine, drinking wine got in the way of talking
It is true, he had few challengers in the job of talking
He goes to his grave as world record holder for Victoria Police retirement speeches, he will never be bettered
As a talker – Steve Moneghetti – every body else was a sprinter
And I think it was part of the reason for his extraordinary success as an influencer
A man of impact in the community
Today others including Sal and Kim's daughter Alex will speak about his police service his life as a family man
His love of the police force
My brief is the broader community, and in that community let's sum it up
He was,
An advocate
A campaigner
A man of compassion
Commitment
Loyalty
Decency
Determination
And he was effective, all those words often worked because of the passion and commitment and decency behind them
Some examples,
Now this week you may not have noticed this, but there is running around Victoria a story about a person known as Lawyer X
Her relationship with Victoria Police
And the implications for the world
That might have been a brief mention in the media
And this week, already
I have missed Kim
Yesterday, as I finished discussing Lawyer X and Carl Williams and every other crook from the past 50 years,
I hesitated and looked at my phone
For a moment I thought, why hasn't Kim rung? Bloody Kim will be ringing in a moment
Because there was no more passionate advocate for the police force
Pretty fair critic too,
If he thought a mistake was made he could give you a succinct assessment of the competence of the Assistant Commissioner involved
But, more often than not,
I would know I was in trouble
I'd be rattling in about some issue of police and policing
Get off air, the phone would ring and it would begin
You just don't get it do you??
You just don't get it!
And he'd be in to a two hour explanation of usually, why the coppers were right and nobody understood it, particularity the arm chair critics like you, who have never had to front an angry man.
You can imagine
A passionate advocate who loved the police force
Criticised it at times
But fought for it every step of the way
Loved locking up crooks
And did it often even off duty, a habit I believe Alex has inherited
So happy was he about locking up crooks that I believe the crooks even paid tribute to him years ago
Scratched into the men's toilets at a certain Northcote hotel was a full assessment of Kim's attributes as a police officer
And when they demolished Pentridge every second blue stone block had the words scratched into them
Kim West was effective in locking up crooks
He was very proud of those bluestone tributes
Another community attribute, his commitment…
When he took on a cause he was committed to it
Look at what he did for the food and wine industry
I was talking to Doug Bowen, one of his many friends in the industry
He said he had a superbly retentive memory for wine, his depth of knowledge really was not appreciated enough, he was, again, a passionate advocate for the New Zealand and Australian industries
He loved wine and food
And it is famous that he was essentially self-taught
Having decided if he was to survive the ugly world of policing he needed another interest, a hobby
So with his commitment and determination
Turned himself into an expert
And a lobbyist
An advocate
He hosted wine programs on radio for 30 years
He was the 3AW wine commentator for many of those years as well
And loved it
After all, this is radio, you sit in a padded cell and just talk!
And hope to hell somebody is listening
Another sign of this community commitment,
His work with life education
He became a member in the Order of Australia for this, how proud of that
And I have never seen a more committed or hard-working advocate for a cause
His arm twisting was legendary
His contact book was bigger than Sam Newman and Shane Warne's combined
And he had both them in it too, and their 400 girlfriends
In fact Alex should sell his phone directory to A Current Affair
He'd have sportsmen, singers, politicians, celebrities of all sizes
Getting involved, providing things to auction, turning up in support
I remember soon after starting in radio I met him by accident
An accident he had orchestrated
And he was straight into my ear to lobby Life Education
We hatched a little sting
Probably illegal, probably extortion
To get money for Life Education from the then Education Minister Joan Kirner
We sort of, tricked, her into making a tour of Life Ed centres to see their work and reconsider the funding that was under threat
Very existence of the program was under threat
Poor Joan didn't have a hope
She thought it was take 30 minutes and a few photo opportunities with cute kids
Oh no
Kim organised it
We were out on the road five hours
Endless kids and schools, Harold the giraffe
The whole lot
And all the time Kim in her ear lobbying for the cause and the dollar
She surrendered, gave up!
In fact she would have agreed to 25 per cent of the state budget if Kim would just allow her to go home
Joan reckoned later it was easier being Victoria's first female premier
Easier losing an election
All preferable to spending another five hours on the road with Kim in her ear
Extortion, for a good cause, means not guilty
We did it again later with several more minsters too
And that support for Life Ed was instructive in itself
A drug squad copper
Old-style policeman
Was smart enough and progressive enough to see that locking up crooks was not the whole answer
You had to address the issue at its roots, the kids
That leads me to the compassion
Compassion for crooks
We all know he loved saying never walk past a crook without talking to them
He also, less famously, said most crooks are human too, treat them that way and you will get more out of them
And how much did he love locking them up
How many times, off duty, sees something, jumps in
I remember seeing him arrest a bloke at a black tie dinner one night
Kim broke his own nose, claimed the yobbo did it
I think it was the head butt Kim applied to subdue him
But compassion, with kids
He often told me about finding a five-year-old boy who had been abducted and molested
And carrying the traumatised child back to his parents
He told me he thought about that case every day of his life
In a way I won't describe but many here today will relate to
It hurt
I remember the case of Mikayla Francis
Eight-year-old girl
Her family rang me
She was dying
They wanted to bring forward her birthday and Christmas and give her a party because she wouldn't live long enough to get there
She was worried nobody would remember her, the little girl, eight, worried about her legacy…
Well, we swamped her with cards and fairy wings and jugglers and jumping castles and cup cakes
500 kids turned up for that party and she sat and watched with delight, too sick to get into it but watched every minute
We gave her a party that would never be forgotten so she would never be forgotten
Kim west
Big tough Inspector Kim West
Heard us discussing it
So for the party
He organised
Police helicopters
Police horses
Police dogs
Police cars with sirens that made cool noises
They all turned up to make this such a special day for this child and her mates
All because of Kim
In fact it was so big, it looked like it was either the world's biggest drug bust, or a federal police press conference
Huge
I remember talking to Kim to thank him
He touched that little girl's last days in a superb way
She died a few days later
He also reached hundreds of kids who realised, hey coppers are real people
And he said
Well, 'You are a sook when it comes to kids, so am I'.
A big tough Inspector sook
A compassionate man
A committed man
A loyal man
A powerful advocate for what he thought was right
A powerful sense of justice and fairness
A campaigner
A man who wanted to make the world better by fighting the bad guys
And helping the good guys
A decent man
And one last story to illustrate all of the above
A personal story, my daughter, now in her 30s, first met Kim when she was about five
He charmed her
She wasn't a cuddly kid
In fact at age five she was rallying against French nuclear testing in the Pacific
And it was her aim to assassinate the French president Jacques Chirac
So she was not easy to charm
But within minutes of meeting Kim she was sitting on his knee, chatting away
I asked her this week for her memories
She said, a big man, laughing, talking…again…talking
But somehow, she said, calming and comforting
I remember she said, he made me feel safe
He made me feel safe
Ladies and gentlemen
That's how he affected a five-year-old child
Kids don't often get it wrong
As a policeman, as a community worker, as an advocate
He made the world feel safer
He made it a better place
Kim
God bless
And goodbye.