Neil's big idea to show support for Melbourne players in the west gains momentum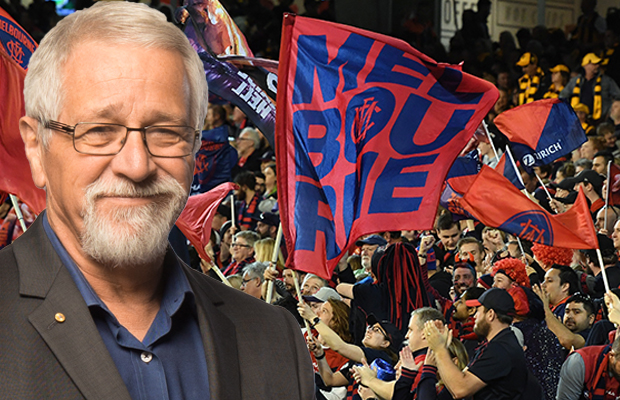 Neil Mitchell has floated an idea to stream live pictures of Melbourne fans to players during the preliminary final in Perth against West Coast on Saturday.
He said many Demons fans weren't able to make the trip to the west after the cost of flights to Perth rose dramatically when Melbourne won against Hawthorn on Friday night.
The idea is to get fans to Federation Square or the Sidney Myer Music Bowl, and stream it on the scoreboard to Melbourne players.
Channel 7 has already met this morning to discuss the logistics.
"No doubt the Eagles have a huge advantage," Neil said.
"I was talking to some AFL people on Friday night who reckon the local crowd gives them a three goal advantage, they call it the cauldron.
"My idea is this, get the cheer squad, and as many Melbourne supporters together as we can at the weekend.
"Get the banners, and the floggers, and the big heads, get them together like a real game and ask Channel 7 if they can get live pictures to Perth of the supporters here in Melbourne.
"I reckon if the AFL agrees, we can get live pictures of the Melbourne supporters into the change rooms before the game or at half time, whenever the coach wants them.
"It would be a strong, symbolic gesture, imagine the players running out and looking up and seeing their supporters on the screen.
"Live pictures of the big screen, live pictures of supporters, live pictures to the rooms.
"Imagine players running out, hearing the boos from the crowd, and looking up to see their own support team thousands of kilometres away."
Click PLAY to hear more of Neil's idea and Channel 7 support the grand plan
Seven Network's managing director Lewis Martin said plans are already underway.
"We have already had a technical meeting off the back of your suggestion and we are making sure Simon Goodwin can point to a screen at any given time and say, boys we are not alone," he said.
"If (Melbourne fans) all get together en masse we will make sure that contribution from the Melbourne supporters here locally in Melbourne will have an impact on their 22 players.
"We'll make sure those images are going straight into the hearts of those 22 players."
Melbourne Football Club's head of football, Josh Mahoney, said the players were supportive of Neil's idea.
"They certainly enjoy what you are doing this morning," he said.
Click PLAY to hear more
And some of the Melbourne faithful are going to extraordinary lengths to get to the west.
Shirley Pettman, a member of the cheer squad, is going to Perth via Singapore.
"It's Melbourne to Singapore, Singapore to Perth and then Perth back to Melbourne," she said.
She said they started looking on Friday night when it looked like Melbourne was going to win.
"I would do anything to get over there!"