Oakleigh hit-run car seen driving erratically two hours before crash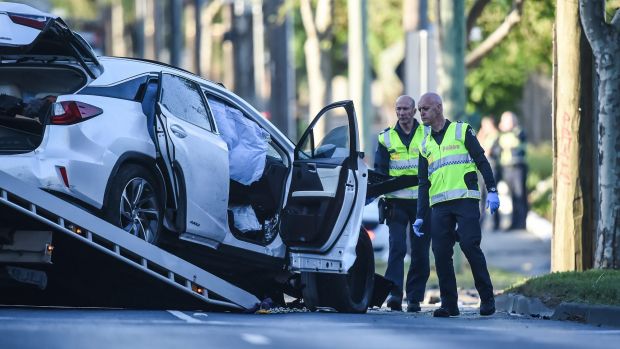 Footage has emerged of what appears to be the Lexus involved in last night's fatal hit-run at Oakleigh, speeding and breaking road rules in the lead up to the crash.
The man was behind the wheel of a stolen white Lexus on Warrigal Road when he hit a Toyota that was turning right onto Barkly Street about 11pm.
A 53-year-old woman was killed.
3AW Mornings has since received dash-cam footage from another car, showing a Lexus running a red light and speeding off at the corner of Dandenong Road and Belgrave Road.
The footage was captured less than two hours before the fatal incident.
George was driving last night when he noticed the Lexus pull up beside him.
What happened next shocked him.
"He just went straight through the red light," George said.
Click PLAY below to watch the footage
Click PLAY below to hear George's account
The footage comes after police made a public plea for CCTV and witness accounts from anyone who may have seen a white Lexus in the vicinity of the Matthew Flinders Hotel around 9pm last night.
The man who was behind the wheel of the stolen white Lexus fled the scene.
Snr Sgt Brad McArthur from Victoria Police Major Collision has told Neil Mitchell it's believed the same car was seen running red lights near the crash site about 9pm.
"We had reports of that vehicle behaving erratically around the Matthew Flinders hotel in Warrigal Road," Snr Sgt McArthur said.
It's hoped CCTV from that area might provide a picture of the driver.
Click PLAY below to hear the full details
He is described as about 181cm tall, obese or of solid build, aged in his 20 or 30s and with thick, Afro style hair.
He was wearing long shorts, runners and a dark T-shirt.
A witness to the crash spoke with the man who said he spoke with an Australian accent.
The 53-year-old woman has been identified but police haven't yet been able to notify her next of kin.