Carrum Downs hit-run driver was travelling 'well, well above' speed limit before deadly crash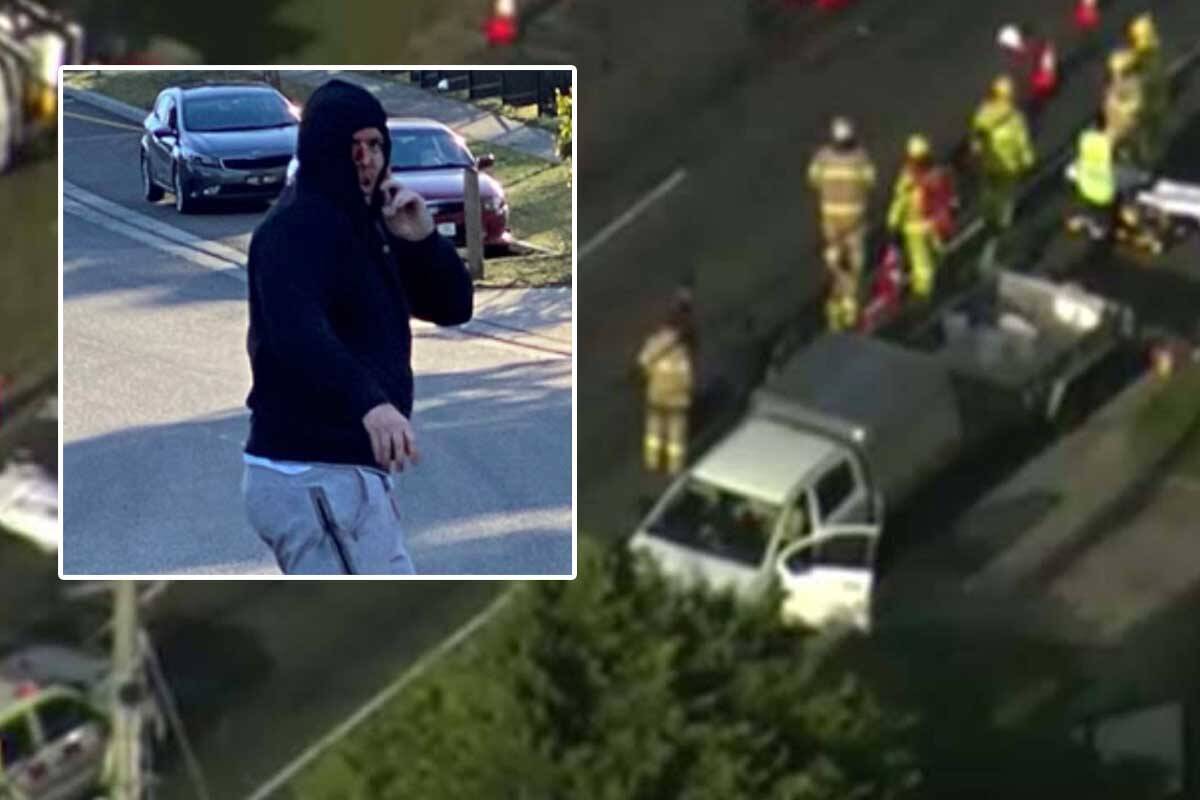 The driver who mowed down two traffic workers in Carrum Downs yesterday — killing one and leaving another with life-changing injuries — has not yet been identified by police.
Investigators have been told a red Holden struck two traffic controllers on Hall Road near the intersection of Lats Avenue at about 7.15am on Tuesday.
The driver is alleged to have looked back at the scene before he fled on foot.
Police are searching for the offender who is perceived to be Caucasian in appearance and aged in his 30s. Photos of two men police want to speak with have been released.
The driver was seen on the phone following the crash and got into a black Hyundai SUV with another person soon after.
The vehicle, which had false number plates, was last seen travelling east of Ballarto Road at about 7.45am, where police attempted to intercept it.
"The black SUV has then driven at the police members at that point," Detective Acting Senior Sergeant Jared Dwyer told Neil Mitchell.
Mr Dwyer says the driver was travelling "well, well above" the 40km/h roadworks speed limit.
"At the last second he appears to have made an attempt to veer to the left to avoid the collision but it was just far too late and he was travelling far too fast," he told Neil Mitchell.
The deceased victim, 44-year-old Bayswater traffic controller, Timmy Rakei, has been remembered as a much-loved family man.
A second worker, a 38-year-old Traralgon man, was airlifted to hospital in a life-threatening condition.
His injuries are no longer considered life-threatening, but Detective Acting Senior Sergeant Dwyer says they're "life-changing".
"He's got severe leg injuries … He's going to have an uphill battle in recovery," he said.
Press PLAY below to hear the latest in the police investigation
Witness Rick phoned Neil Mitchell on Tuesday to share how the tragedy unfolded.
"They'd put their cones out and the car had gone though them and into the back of the truck," he said.
"Someone … was helping one of the arborists across to the nature strip and he looked in a pretty bad way, but the other poor fella … he was deceased."
Press PLAY below to hear Rick's call to Neil Mitchell
Emergency services at corner of Halls Rd and Lats Ave Carrum Downs.
Chaotic scene.
More to come.@9NewsMelb pic.twitter.com/ylbH3iUCUE

— Kate McGrath (@KateMcG6) November 8, 2021
(Image: Kate McGrath/Nine News)