"One hell of a sentence": Jail time for Montague Street bus driver labelled 'harsh' and 'inconsistent'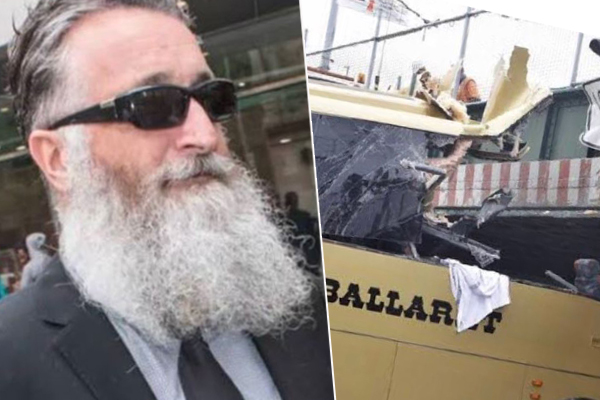 The jail sentence for the the Gold Bus driver who crashed into the Montague Street bridge has been called "harsh" and "inconsistent".
Jack Aston was today sentenced in the County Court to five years and three months after six passengers were seriously injured in the incident in 2016.
On 3AW Drive, host Justin Smith said even if that sentence is deemed fair, it's not consistent with sentencing we've seen in recent years.
"It was a serious crash, nobody doubts that," Justin said.
"But that is one hell of a sentence.
"It seems far too harsh.
"Even if you think it's fair, it's certainly not consistent."
Click PLAY below to hear the details
"Remember Amanda Warren and Caris Underwood? They bashed a paramedic, Paul Judd. They escaped jail time, even though there was meant to be mandatory sentencing for assaults on emergency workers," Justin said.
"Remember Adrian Bayley? Among his many crimes in 2002 he was found guilty of 16 counts of rape against five women.
"He was given eight years for those crimes. Six months each for a rape.
"The maximum sentence for rape in Victoria is 25 years, if he had have gotten just five years for each he wouldn't have been free to take the life of Jill Meagher.
"The crimes of Jack Aston were not intentional.
"They were stupid, they were serious and had terrible repercussions but the intent was not there."
Magistrate Tony Parsons joined Justin in the studio on Monday afternoon to discuss the issue.
"A lot of people would look at that sentence and say it was big whack," Mr Parsons said.
"The judge was outraged at the gross degree of negligence that the driver displayed."
Click PLAY to hear the full segment
Bus driver Jack Aston has been sentenced to 5 years 3 months jail for crashing into the Montague St Bridge in 2016. Six passengers were seriously injured. Family screamed out "NO!!!" and "we love you Jack, you're a good man" as he was led away. @9NewsMelb pic.twitter.com/DeTinU6VcW

— Eliza Rugg (@Eliza_Rugg9) December 17, 2018
Images: Nine News Melbourne