Peter Dutton admits he's plotting a second challenge in revealing interview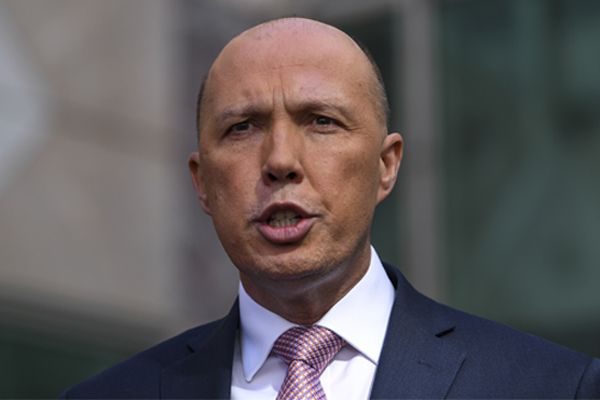 There is growing speculation of a second leadership spill as early as this morning.
Peter Dutton's backers now believe they have the numbers to force the Prime Minister to call a party room meeting.
A petition paper calling for a party room meeting last night circulated late yesterday, but it didn't receive the necessary numbers to take to Malcolm Turnbull before MPs left for the evening.
There's no doubt Mr Dutton has been working on his colleagues.
He said as much to Neil Mitchell yesterday, just one day after he was defeated in a party room vote.
Speaking on 3AW Mornings, Mr Dutton spoke frankly about his ambition to secure the top job.
PD: I need to continue to talk to colleagues, we need to talk about ways to beat Bill Shorten at the next election.

NM: You think that's you?

PD: Yes I do.

NM: Are you working the phones?

PD: Of course I am, I am speaking to colleagues.
Click PLAY below to hear the full interview
"We need to do whatever we can to keep Bill Shorten from being Prime Minister in this country," Mr Dutton said.
Neil Mitchell asked Mr Dutton about a number of other issues:
Immigration
"I think immigration is incredibly important to our country I think it needs to be operating in our country's best interests," Mr Dutton said.
"But we have huge issues with congestion, and we need to allow our infrastructure to catch up.
"I think we do have to cut the numbers (of migration) back, I haven't got a number to give to you today.
"I always say in citizenship ceremonies, never forget your culture, but we do expect people to integrate into our society.
"You wouldn't cut Muslim migration?" Neil asked.
"No I don't support a program where we discriminate on the basis of religion, or country or skin colour, whatever it might be. We just want the best people to come to Australia."
Energy
"My judgment is do whatever reduces power prices," he said.
"Even if that means more coal?" Neil asked.
"I think we look at responsibly, what we can do. I'm in favour of energy of any type," he said.
"Until we get batteries that can store renewable we're in trouble.
"Until the technology catches up, we are going to have coal as part of a mix and we should be very honest about that."
Tony Abbott
"I read somewhere, or I heard it said, something about me being a puppet of Tony's," he said.
"It's just garbage.
"I'm my own person, I don't take direction from anyone."
Malcolm Turnbull
"I don't have a bad word to say about Malcolm Turnbull now and I didn't before," he said.
"He's a friend of mine and I've served him loyally.
"You don't go into a ballot believing you would lose.
"I believe I can beat Bill Shorten, I believe we can and we must."