Photos: Eerie 'red orb' starts another smoky day in Melbourne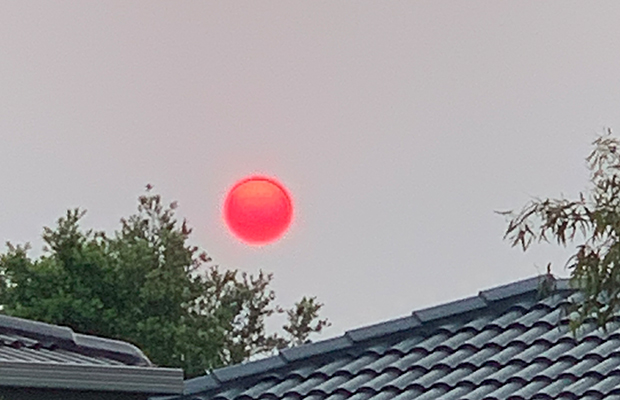 An eerie sunrise has started another smoky day in Victoria.
Listeners from all angles of Melbourne called and emailed 3AW Breakfast with reports of a spectacular "red orb".
It unusual sunrise was caused by more smoke haze from nearby fires.
The haze is expected to hover until Wednesday, when a summer thunderstorm is forecast for the afternoon.
The first image barely looks real, but we've had several calls + emails now (including these from Paul and Peter) regarding a spectacular bright red sun this morning.

Any more photos out there? pic.twitter.com/nlWhgMsPGe

— 3AW Breakfast (@RossAndJohn) January 12, 2020
— Melina Sarris (@MelinaSarris7) January 12, 2020
— katie dower (@katie_dower) January 12, 2020
City from the west !! Blood red sun! pic.twitter.com/5el0Hiozf7

— Bella 🦋💜🦋 (@itsabelslife) January 12, 2020
@RossAndJohn view from Port Melbourne this morning pic.twitter.com/59oYDH3eeV

— jane p brook (@janepbrook) January 12, 2020
This was sunset from our farm in Camperdown last Tuesday #nofilter pic.twitter.com/qmUwIARagz

— Mary Alexander (@Mezlington) January 12, 2020
— Michelle (@Michelle3180) January 12, 2020
— Anthony (@anthpezz) January 12, 2020
Cranbourne East pic.twitter.com/8ie6paHtAG

— David Morison (@davmoro) January 12, 2020
Big Hill Bendigo pic.twitter.com/Koe49YiLZc

— Rich Bear (@randlbearman) January 12, 2020