Photos: Neil Mitchell's stuffed Santas of Victoria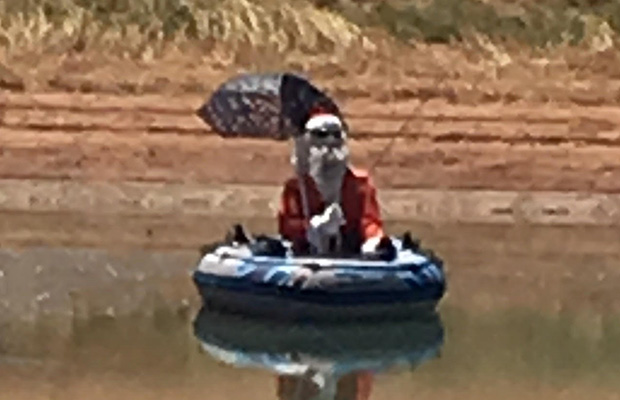 You know it's getting close to Christmas when you start seeing stuffed Santas around town.
Country people tend to be particularly imaginative.
Tow-truck driver Jamie Chandler sent Neil Mitchell the below photo of a Santa that took his fancy in Horsham.
That prompted an email from Pete in Tallangatta, who saw Santa having a tinnie in Deni.
Sue has sent us another from Deniliquen, on Moulamein Road (below).
Irene Phillips sent Neil Mitchell the below photo of Santa on the Western Highway near Pimpinio, outside Horsham.
And we're not sure we're Rick was when he took the below photo of Santa driving a tractor.
Karen saw Santa in a kayak at Aireys Inlet.
Peter spotted the below Santa in Wooralla Drive, Mt. Eliza. Elaborate!
The below is not a photo of a stuffed Santa but Maree decided to send it to Neil anyway, and we've decided to share it.
Her son-in-law created this at Maroon, near Birregurra.