The Melbourne reverend who says Jesus would've backed same-sex marriage
A Melbourne reverend has railed against the Christian lobby opposing same-sex marriage, and argued to Tom Elliott that Jesus would've campaigned for the 'Yes' vote.
Reverend Ric Holland from St Michael's Church in Melbourne's CBD  says he wants St Michael's to be the first church to marry a same-sex couple.
He has hoisted a rainbow flag out the front of church and says the majority of his parish are in favour of same-sex marriage.
Click PLAY above for his full comments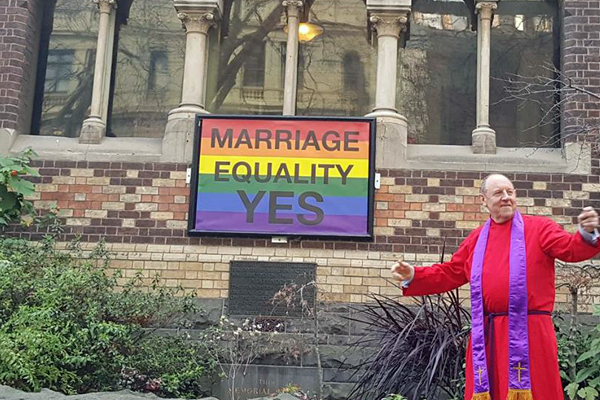 Reverand Holland says Jesus would've endorsed same-sex marriage.
"I'm absolutely certain, because when he was around he did campaign for people who were … rejected by the community for a whole host of reasons," he said on 3AW Drive.
"I'm fed up with the so-called Christian lobby.
"They certainly don't represent me and they don't represent most of the people I work and spend most of my life with.
"Same-sex marriage is not really mentioned in the bible at all … but I don't really want to necessarily use the bible as some perfect, divine document that dictates our lives 3000 years on."