"Barely contained chaos": Police assaulted in more St Kilda beach violence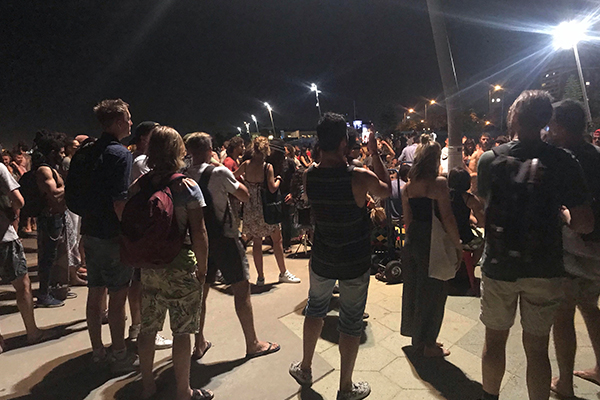 Police have been assaulted during another night of violence in St Kilda.
The foreshore was last night declared a designated area, allowing police to stop and search anyone for weapons.
They searched 123 people, seizing one knife and drugs.
Police maintained a strong presence as part of Operation Sandsafe throughout the night.
All up, 16 people were arrested for offences including assault police, criminal damage, public drunkenness and attempted robbery.
Producer Michael Hilder went to the St Kilda foreshore last night between 9pm and 11pm last night.
He described the scene as "barely contained chaos".
"Of the 16 arrests, I did witness two, both of which were African-Australian youth," Michael said.
"We can't tolerate these outbreaks of violence any further," Neil said.
"It's about time they held them to account.
"I've copped criticism for saying there's an ethnic base to it, and there is! The police confirmed it, it's beyond question."
Click PLAY below to hear the details
Inspector Jason Kelly told Neil the operation it was "very disappointing" to have an arrest for assaulting a police officer.
"He wasn't physically injured but it's always a disappointing outcome when one of our members is subject to violence," Inspector Kelly said.
"We did have large numbers attend the foreshore and unfortunately we did have a number of youths in antisocial behaviour and criminal activity.
"I suppose those 16 people arrested have been subject to the full force of the law.
"There was a bit of a game changer last night, the CCTV cameras were turned on and we have a number of cameras on the foreshore, and those cameras directly resulted in two people being arrested."
Click PLAY below to hear the details

Photo: 3AW


Photo: 3AW
Meanwhile, further along the bay at Chelsea, police called in the dog squad as dozens of youths fought among themselves.
Two infringement notices were issued but no arrests were made.