Preston family's frightening encounter with tiger snake curled up in toy box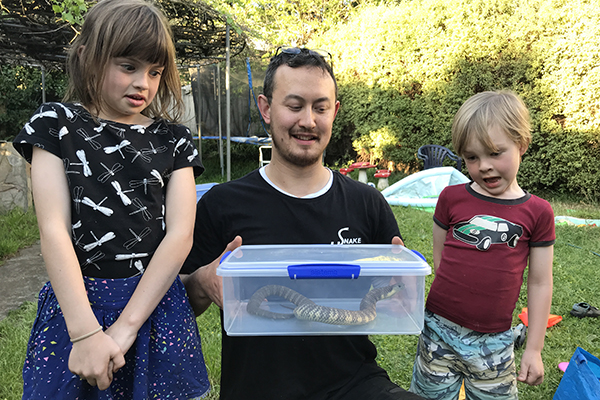 An eight-year-old girl has come across a tiger snake curled up in a toy box kept outside at her home in Preston.
Her father, Dave Hall, said Ruby yelled out to him when she spotted it, believing it was a toy.
"We've got a box of toys out the back where we keep soccer balls, buckets and spades and sort of thing," he told Tom Elliot.
"The kids and I were getting some stuff out of there to play with, and suddenly my daughter screamed and said 'Dad there's a snake!'"
He was grateful his four-year-old son didn't see it first and try and pick it up.
They sought refuge on their trampoline and called a snake catcher to help out.
"Making sure the snake didn't get away," he said.
"Until yesterday, I'd never really considered our backyard as a possibility for snakes."
Click PLAY to hear more on 3AW Drive
Photo: Ruby, snake catcher Mark Pelley and Ashley