Pub Of The Week: Magpie and Stump Hotel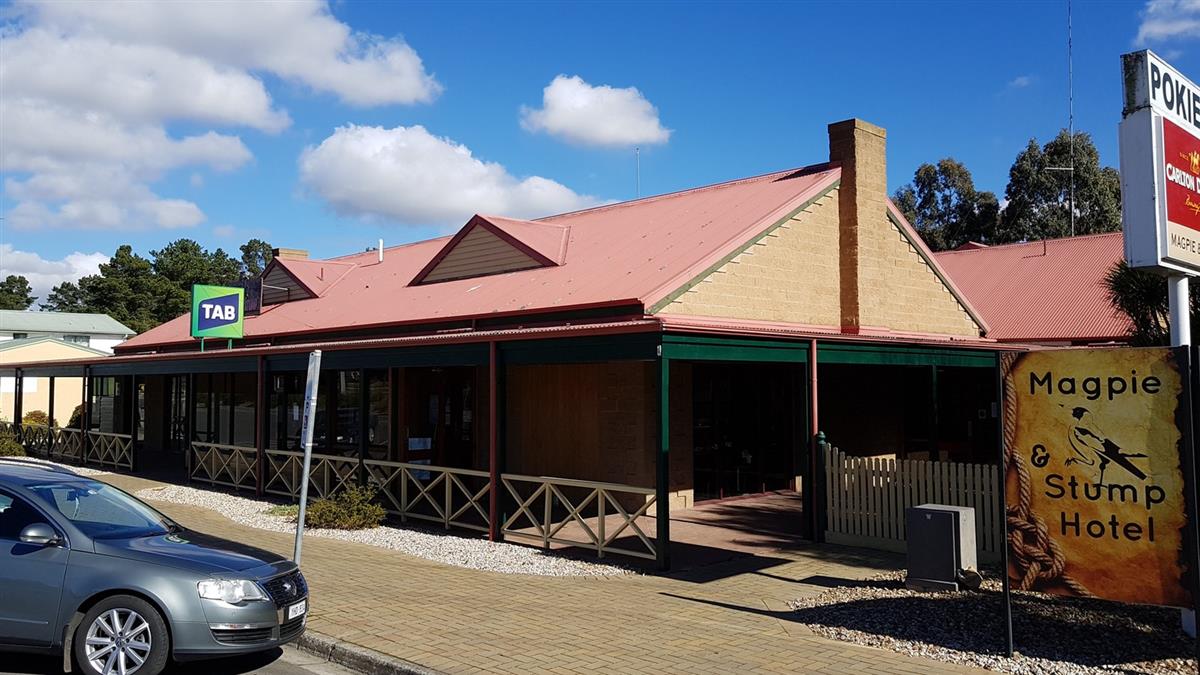 Pub: Magpie and Stump Hotel.
Where: 3315 Epping / Kilmore Road, Wandong
Phone: 5787 1999
Score: 12/20
When: August 4, 2017.
Internet: www.magpieandstumphotel.com.au
VENUE
1st review.
Neat looking country pub across the road from the Wandong station, the Magpie and Stump does a safe line in food and drink in very pleasant surroundings about 60kms north east of Melbourne.
The long verandah, big proper outside/grassed play area, good solid bar with fireplace, function rooms give the M&S a welcoming appeal for those looking for a fairly typical pub meal in the outer north.
TAB and Pokies yes.
The Dining room  has an exposed kitchen (good) but an issue to me is that the pokies are located there also, with only half height partitions separating, so the noise from there is clearly audible which brings down the atmosphere when having a meal. It is an uncomfortable shared space and brings the good feel of the pub down a notch.
It is clearly a community hub and it proudly supports local arts and crafts (some excellent wood work on display) and has a thriving local social club.
There's a nice, safe,  feel to the M&S.
MENU
Pretty much straight up and down pub tucker, reminiscent of what was found in country pubs some time ago. It is not overly complex with a steak, parma, fish offering with a few entrees mainly doing a bread offer a couple of ways. Chicken Oscar, a breast stuffed with Prawns, Avocado and topped Hollandaise (29) is about as adventurous as it gets.
Pricing is around the mark for a fully plated meal.
Entrees $12, Mains $26, desserts – not really (some cakes and a pudding from a cabinet).
TRIED
Bruschetta $12. OK. 3 good slices of turkish, fried in some oil are topped with tomato, basil, spring and red onion.  Curiously the tomato is not diced, but has the identical look to what was part of the homogenised salad mix,
Porterhouse, 300g chips/salad. $33. OK. No real faults (maybe a bit more seasoning) comes with a serve of chips (good) and salad (preprepared) which needed a sharper dressing to raise it up,
Grilled Salmon steak, w/scallops, hollandaise, chips salad.  Good. $30. A well cooked rectangular slice of salmon is accompanied by 3-4 scallops, roe intact and tasty, chips and salad as per comments above. Good meal which, with a crispier skin, elevates this into a very good dish.
DRINK
The pub serves very good Carlton D – 7oz/200ml glasses too! – from a stock standard portfolio that you have witnessed many times.  Wine is not overpriced and offers known labels such as Brown Brothers, Lindemans, Wolf Blass. Snow Road chardonnay was the first pour – $6.5 – and no problems.  Most bottles are marked in the high 20s-low 30s which nowadays is good shopping.
SERVICE AND STYLE
Happy, friendly accommodating, it is simple hospitality well executed. Loved the fact the fire in the front bar was a blazing; would have liked the same to have been flying alongin the dining room.
SUMMARY
The M&S does what it should in smaller semi rural communities and that is be a focal point of the town, and place of community.
The food and drink is a bit of a nod to the past as there's nothing there that will over/underwhelm. As gratuitous advice, the pokies should be moved from their current location if possible in the pub, to a less invasive space as currently it's far from ideal.
Been there for ages, and suspect the Magpie and Stump will trade for many more.
Postscript…
As an aside rather than the highway, took the back road Wandong to Epping and turned off at Woolert.  The extent of housing development is staggering, almost to the point that the 'burbs may stretch ever closer to the Wandong hamlet in years to come.
I hope (anyone from Government listening)  infrastructure can keep pace because it is staggering how far out people are going and seems unstoppable.