Pub Of The Week review: Barklys Hotel, Heidelberg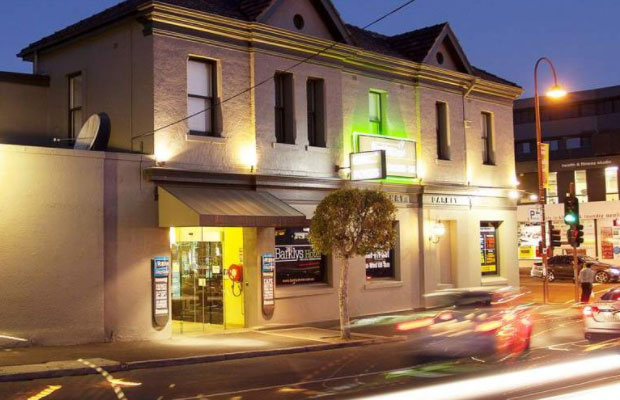 Pub: Barklys Hotel
Where? 92 Burgundy Street, Heidelberg.
Phone: 9457 1003
Score: 13.5/20
When? September 15, 2017.
Internet: www.barklyshotel.com.au
VENUE
First review.
Once trading as the Sir Henry Barkly Hotel, this updated version has not only abbreviated its name, but taken a significant departure in its delivery of pub hospitality coinciding with a delightful makeover.
Barklys is one of two pubs in the area – Old England the other around the corner in Lower Heidelberg Rd – and both successfully  run by veteran owners the Payne family.
In essence the pub is split into two – a designated area for Pokies (no TAB), and the all purpose cafe/bistro/bar/entertainment section.  It has had a great makeover with new furniture/fitting aplenty, an emphasis on light brown/chocolate colours, a separate lounge area to the rear.  Music, trivia, drink deals are dotted throughout the week.  The outside facade looks fabulous in its greyish livery.
Food and drink have also moved with the pub's 2017 direction so the expression 'family friendly' so often used in a facile and misapplied manner, is absolutely bang on here.
Barklys lends itself as a push button go to when families want to gather.
Put together it is a nice, safe package, but distancing itself from an old style pub and former roots.  One thing is certain however and that is it is going gangbusters if a recent Thursday lunch is an indication.
MENU
The setup of the dining area has no distinction (save for the look of the tables) between what constitutes Bar and what is Bistro, although there are separate menus.  It is all good with a range of small plates/tapas/pub classics/pizza/pastas. There's a little adventure here but mainly the road more travelled is offered. It is guaranteed that most preferences are met, although lacking was vegan choice. (If you are going bistro style, in 2017 vegan choices are a must).
Entrees $12, Mains $26, Desserts $12
TRIED
Smaller bites/tapas were chosen today; These were… 
Lamb Samosa with tzatziki (4) $8. Good. What a fine start. Small in size, but good curry flavors throughout. Generous bowl of tzatziki, no problems,
Barcelona Chorizo "Bomba,"with mayo and spicy red pepper sauce (3) $8.  Hmm. Underwhelming with little meat flavour evident.  More like eating potato balls,
Saganaki served with greek salad and lemon – $12. Good. Big triangle of cheese, cooked well, fair price,
Pork Ribs slow cooked,in a smoky spice rub with homemade BBQ sauce (3) $10. Very Good. The pick of the 5 chosen. 3 meaty ribs, easily gnawed from the bone, liked the sauce, good eating,
Crispy Chicken Spring Rolls  chilli dipping sauce, lettuce leaves and pickled veg (2) $10. Good. The springs rolls, medium size, had a dense mix of spicy chicken and veg, topped off by a better level of dipper. Not sure 2 for a tenner is value, but they were easy to knock over.
DRINK
Carlton portfolio mainly, with Furphy, Mountain Goat, 150 Lashes in support. 5.2/pot of CD and was well delivered. The popular DeBortoli and Treasury Wines range dominated a very fair price list with good drops around 8/pg//35/bottle. Like that very much, because the price of wines in a pub have really skyrocketed. Tried was a Tempranillo from Eden 'The Impressionist' @$8pg.  Yep, very drinkable.
SERVICE AND STYLE
Outstanding.  Great crew, all ages and predominantly female were happy to serve (ordering at bar just rankled), and were extremely proud of their workplace.  Good conversation was had with them and clearly the team liked being there.
SUMMARY
There is much to like here at Barklys, but the question I kept asking was….'Is this a pub or a new style cafe/bistro doing pub?
You see there is a front bar per se, but it doesn't really lend itself to hanging around there, more on grabbing a beer and moving away to one of the more comfortable options.  Foxsports, Yes, TAB no.
A separate area for the old Barfly? I'd like that, but I suspect that Barklys have moved on and this is the forerunner of a new wave of pub hospitality. It is well worth checking out.