Pub Of The Week review: Centra Hotel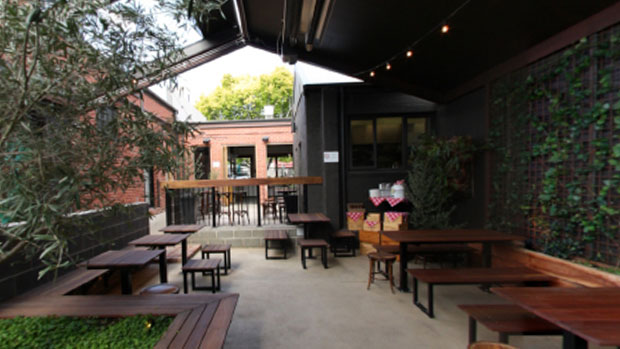 Pub: Centra Hotel.
Where: 131 Yarra Street, Geelong.
Phone: 5224 1515
Score: 15/20
When: July 28, 2017
Internet: www.centrahotel.com.au
VENUE
First review.
Perched imperiously in the elevated part of Geelong central, alongside the hospital and church and looking down on the wonderful Geelong harbour/waterfront,  the Centra has been reborn from the metaphorical ashes of the old Carrington hotel in Yarra St.
This pub is a fabulous addition to the hospitality scene, not only to the wider Bellarine but those folk in the western suburbs who now use Geelong as an excellent option for a leisure spend.
The Centra is split into old//new but wherever you park, is so desirable. The old, large public bar, tiled floor, big wooden benches has been spruced up and retained so the congregational 'having one' is alive.  A small ante room between there and the bistro is perfect for 10 or so to commandeer, have a snack and head to the next function.
The bistro, so beautifully, separately and elegantly set out – red/white checked napkins give clearest hint of the food direction – is light and airy. To the rear you can observe the kitchen in action and further secreted away is a private dining room.
Thoroughly modern beer garden, catching the northern rays with retractable roof and an olive tree (the pub's symbol) as its centre piece, rounds out this impressive package. Plenty spent for sure, but the impression is it is well worth it.
The Centra is clearly focussed on higher end Italian food, with as much as possible done in house. For sure prices reflect this, but the quality is excellent.
On the website, the pub describes itself as a modern take on an old pub.  It is and succeeds.
A beauty.
MENU
Small, interesting, Italian is how it is summed up. The pub pares back size and cost if bar dining is your thing, including a $15 pizza, but it's all impressive mains and desserts with a share plate or two from the bistro. Big risottos/pastas or fully plated mains number about 5-6 from the 'primi' or 'secondi' section of the menu.  It is heady reading.
Entrees $14, mains $30, desserts $14
TRIED
Woodfired pizza $24. Excellent. Calabrese w/ tomato, mozzarella, nduja, (a squeeze on spicy sausage paste) capsicum, eggplant. Big, tasty, rich, red, generous. A proper pizza in a pub.
Linguini allo scoglio w/prawn, scallop, calamari, mussels. olive oil, white wine – $29. Very good. Balance of seafood – fresh tasty – with the sauce – understated, supportive- makes their version so addictive. Try cutting calamari with a knife only. Here you can do this easily. Tick.
Chicken mattone, grilled lemon, roast potato & beans salad. $34.  Very good. Half chook, split and flattened by a weight, crispy skin, moist flesh, big flavours including a grilled half of lemon that provided juice and jam.  Excellent supporting cast.
DRINK
The pub loves its local craft beer so the first pour is the draught from local heroes Southern Brewing. $5/pot.  Little Creatures pale on tap also. The pub supports local grape growers also and a very fair red/white from producers such as Del Rios or Lethbridge kicks in at $7pg. The wine list is excellent, has a range of interesting bottles and is fairly priced. Topofilia shiraz from Bannockburn was tried at $10pg.  Great shopping.
SERVICE AND STYLE
Owner/operator, supported by young, eager to impress staff, makes for the enjoyable time. The American expression 'skin in the game' applies here.
This is not management run with a guaranteed weekly wage so standing in a group, drinking coffee behind the jump, backs to the customer is not an option.  This is hard graft, and they know they have to win you from the get go.  They do.
SUMMARY
The Centra is a brave play with the risk/reward equation ever present. To go this direction with food and drink in such a competitive environment as Geelong means convincing punters to change hearts and minds.  This is a perfect layout to enjoy publife, whether it is for a drink with friends or have an impressive meal for a special occasion.
The package is almost faultless – I would like to see some real kids options on the menu – but this is trifling.  To have something as good as this deserves at least a look, whether local or coming from Melbourne.
The Centra is a definite player for pub of the year honours.