Pub Of The Week review: Powell Hotel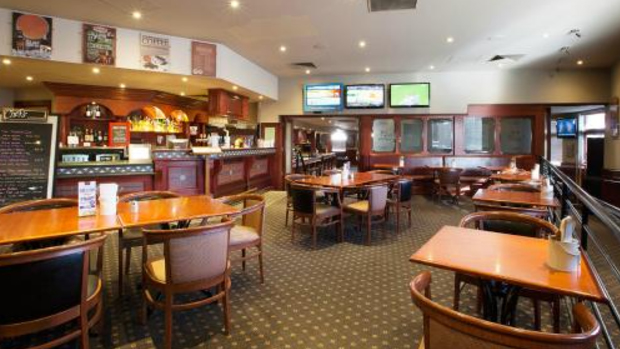 Pub: Powell Hotel.
Where? 202 Ballarat Road, Footscray.
Phone: 9317 7007
Score: 11/20
When? August 18, 2017.
Internet: www.castellos.com.au **
VENUE
1st review.
Part of the expansive Castello group of pubs, the Powell Hotel on the Ballarat Rd/Gordon St corner, still strikes an imposing presence on this busy intersection.
If a pub's interior can be described as brutishly handsome, then the Powell is all of this. Exquisite tiling, deep rich timber fittings and venetians, leather couches, beautiful split level bar, this pub retains the charm of years past when the Dogs played under the name of Footscray.
Now, it is one large, cavernous space,  semi circular space, and in an anti-clockwise direction from the car park, the layout is pokies (set away in northern corner), sports bar (with TAB) and the large, neat, open space bistro. It trades 20hrs/day and has a very good drive through.
It is worth noting that the pub has resumed a fuller offer for meals than the previous management, so more fair play to them. Members of a loyalty club run there do get some very tidy savings on the RRP so there is a neat come-on to be a regular.
The food offer is fairly basic, quite cheap pub grub that with a tweak or two, could easily make it way more interesting.
On my trip, there was a winner and loser in the food stakes and a curious sensation with it all.
** Generic website for the Castello portfolio of pubs.  You will find details of the Powell contained therein.
MENU
Straight  up and down menu, fairly typical of corporate pokies pub tucker. Couple of entrees, burgers (around 16), parmas (20) with a 250g porterhouse the chart topper at $24.50,  (although loyalty members can get this for a much less on Thursdays).
Entrees $10, Mains $22, desserts $4.5. (the excellent ice cream sandwiches from Pat & Sticks)
TRIED:
Vegetarian Spring Rolls. 5 for $11.  Very Good. 5 cigar shaped, filling housemade rolls, arrived power packed with veg and made for an excellent start. They were very good and had a better level of hot chilli,
Classic Chicken Parma (ham, napoli, cheese) $19.5. Hmmm.  Let me step you through this one. The pub's menu says they are handcrafted and never deep fried. Visually, it's great to look at. Like it big and thick, well here's your go to. But two things occurred;
-First,  the taste was neutral. By that there was no overriding external flavour, good or bad dominating.  The Parma had no taste whatsoever,
-Second, the voluminous salad was colder than the ice cream dessert. Again no clear flavours coming through, which leads me to think both may have been over-refrigerated,
Ice cream sandwich. $4.50. Good. Set aside in its own small fridge, the range of the excellent Pat and Sticks sandwiches are offered. Great vanilla ice cream, good biscuits (chocolate) made for a tasty finish.
DRINK
Carlton Draught  was tried and was fine. Curiously (again), it's $5.3/pot and $5 for a schooner!  No wine list per se, but choose from the fridge for 5-6 whites or reds. The always reliable Deen VAT 8 Shiraz at $7.5pg was good shopping.
SERVICE AND STYLE
Loved the work of young Will who was working the floor, engaging customers whilst trying to teach a new starter the ropes. Flip side was another member of staff who wasn't overly keen to engage and carried that world weariness that many can in this industry. To each their own, I s'pose.
SUMMARY
The demographics of this pocket of Footscray have changed significantly and with the offer of excellent Asian/Indian/Modern Oz nearby, then the pub will have to work hard to win new friends.
There is much to like about the Powell, and at the sake of repetition lack of adventure in food in pubs like this, means that customers take a preconceived stance. C'mon, empower the kitchen, let them sell a good story.
Perhaps being my Dad's so often frequented old pub had me yearning for a more bustling, convivial experience.  But to be honest, the Powell was pretty much as she goes, the likes of which play themselves so regularly in suburban pubs today.