Pub Of The Week review: Ranges Hotel, Gembrook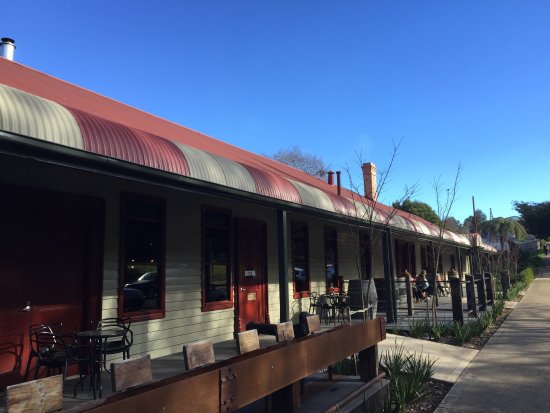 Pub: Ranges Hotel
Where: 73 Main Street, Gembrook.
Phone: 5968 1220
Score: 15/20
When: June 23, 2017
Internet: www.therangeshotel.com.au
VENUE
First review. Located directly over the road from Puffing Billy's last stop – Gembrook – resides the newly re-opened (after a 5 year hiatus) the Ranges Hotel.
The impressive sprawling homestead style pub, complete with bullnose verandah is still a work in progress but after 7 months is a glorious addition to the Victorian pub scene.  Plenty has been spent with more work to come and this is the sort of enterprise that you openly hope succeeds.
The interior goes to type: Massive fireplaces, plenty of dining rooms, big wooden bar to breast and share one with corridors and rooms leading everywhere.  Outside is being refurbished, and when spring/summer arrives – the Dandenongs are a degree or two cooler – it will attract new chums near and far.
The menu is pub sharp and on point. Food and wine is sourced as locally as possible.  No doubt this pub will turn up on the TV and as much as possible be brilliantly displayed but the real beauty is just going there.
Sit back and relax – this is excellent "country' pub fare but a mere torpedo punt from town.  As certain as I can be, the Ranges Hotel will be on everyone's 'to do' list sooner than later.
MENU
The menu is genuinely interesting offering different takes and providing an ever changing roster of daily specials, e.g., Pork and veal ragu on house made fettucine;  braised beetroot, goats cheese and horseradish,  John Dee beef short rib were but a sample.  The Chicken parma, house smoked ham, napoli, butter salad and chips (26)  looked a pub work of art, while different was 200g kangaroo fillet, wattle seed, smokey eggplant, red quinoa, currants, pine nuts, pomegranate vinaigrette at $31.

All food bases covered, but served with an 'x' factor. Showstopper ($70) was 1kg, Sovereign lamb shoulder, 15 hour slow cooked, served with salsa verde, roasted root veg and creamy mash.  Fed 4 – do the math!
Entrees $12, mains $28, desserts $13.
TRIED
Sourdough garlic bread .  $9. Excellent. Without doubt, the best of its type I've ever tried.  Crunchy, hot, tasty and the right mix – and quantity – of garlic/butter. Must include if you are going.
Potato cakes with cauliflower kasundi. 5 discs – $11. Good. Small for sure but lovely sweet chutney topper elevated these.
Crispy free range pork belly,  cooked in master stock, soba noodle, edamame, seaweed salad, tofu and white miso broth – $30. Excellent. This is how it should be served – crispy, fatty, meaty, flavorsome. Excellent block of pig.  Supporting cast worked brilliantly
Pork and veal fettuccine.  $25.  Very good. Big, rich generous serve, pasta was great, good pub grub that could easily have a couple of dollars added without complaint.
DRINK
Beer offered commercial and craft. Carlton D was passable, if not a little flat; the Stomping Ground IPA was much better. Wine is offered in 3 sizes – good – and is priced around the mark, e.g., $10pg//45/bottle Pizzini sangiovese, Jinks Pinot, Farmer and Scientist, Gembrook Hill Sav/blanc. Tried was an excellent Carlei Greens Cab Sav 2005 at $9.5/glass.
SERVICE AND STYLE
Order at bar, but happy to provide table service. Loved the fact that the head chef James went from table to table eeking feedback. Clearly there is a pride in work here from top to bottom. Well done.
SUMMARY
On heading there the iconic Puffing Billy crossed paths to be at near capacity with tourists reminding me of what a big deal this is to our state. The scenery is deliriously gorgeous.  Combine the two for the great day out and that is something to remember. (Make sure that it heads out to Gembrook).
The pub can only get better as it beds down as trades continuously. The food and drink is  pitched higher, but there's a real value with the superior level of produce. From speaking to the team, it's hard yards at the moment but the reception has been overwhelmingly positive: That is great to hear.
The Dandenongs are still a mystery to me as they rarely appear in tips for place to head to, or, great daily getaways.  There is something special here that perhaps we all take for granted.
And of course there is the delightful 1971 ditty 'Riding through the Dandenong Ranges' by Maximum Load.  Google it and sing along. It's a beauty.
As is the Ranges Hotel Gembrook.