Pub Of the Week review: The Pakenham Hotel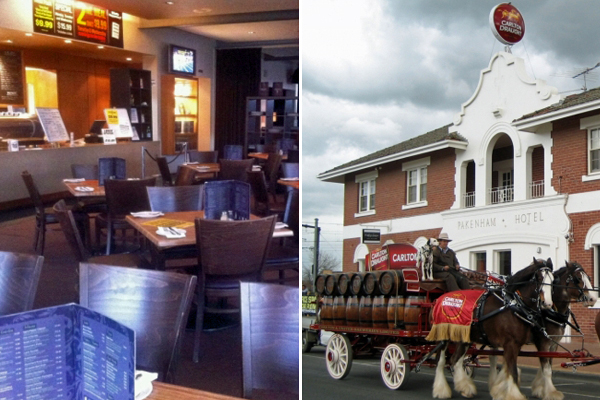 Pub: Pakenham Hotel
Where: 153 Main St, Pakenham
Phone: (03) 5941 1748
Score: 14/20
When: 12 May 2017
Website: www.pakenhamhotel.com.au
VENUE
First review.
Situated in the heart of Pakenham since 1928, the Pakenham Hotel set alongside the rail station, provides a neat, understated offer of honest hospitality and, against a tide of seemingly every pub in the outer 'burbs, does not have poker machines as part of the set up.
Indeed, the pub has a large lettered, almost defiant sign reading: WE DO NOT HAVE HAVE POKER MACHINES HERE (or words very very similar!)
Any pub that backs itself to provide a confident offer of food, drink, and comfort without  the Golden 5 Rhinos assisting the bottom line, gets a tick of approval. The pub has 4 good sized areas and the public  bar, with TAB has plenty of room to sit and chat all manner of tradie talk; old school, well worn brown carpet throughout, with a separate room for 2 pool tables. The bistro is a nice modern set up with perimeter decking, and a quiet beer garden sits at the rear. Function room for 60 available also.
The meal choice is expansive and doesn't stray too far (but some nice touches), priced right for what you get and it is order at counter and brought to you. I was really taken by the interest that the owner/operators took in making sure all was good with you and anything they could do to help.
And the draught beer?  As good as any I have had in 5 years. Glassware perfect, cold, fresh tasting and lace retained. Love the stuff at the Stags Head in Williamstown; here is its equal.
The Pakenham Hotel is a good pub, doing a good trade.
MENU
Plenty of choice for sure.  Entrees extend beyond the usual bread/bruschetta/dips to include Thai chicken dumpling(4 for $15 and generously sized), or Prawn skewers (2 for $15), all accompanied by a sauce and some salad. Aside from parma, burger, steak offerings, the specials intrigued with beef stroganoff crepes, smoked cheddar C&S @$21.9,  Bronzewhaler Shark (they conceded flake but good on them anyway at 21.9).  Desserts were great looking and more power to the pub, were done on premise rather than brought in.
Entrees $12,  Mains $24, Desserts $9.5
TRIED
Prawn skewers (2), sweet thai sauce, salad.  $14.9.  Good. Comes lightly battered, 3 good sized prawns per skewer, meaty, fresh. Liked it, not sure they need the batter, but nonetheless the right start.
 Roast of the day.  Pork. $19.9. Interesting. 4-5  thick, fresh slices of  luscious pork, apple sauce, great sweet carrot, al dente broccoli, wonderful pan juices.  Interesting was mash, not roast spuds (good also but strange) and no crackling – forgotten or N/a?. Still a better pub roast than most.
Malteser creme brulee. 9.5. Good. Outer suburban gastronomy here. Ever seen this combo? No. Worked a treat. Try this one on the menu Shannon Bennett.

DRINK
Beautiful fresh pots of Carlton draught. Glorious. Exquisite. No need to deviate from this one brothers and sisters. No surprises in the wine list, mainly Treasury wines – T'Gallant, Cape Schanck, Penfolds, Oyster bay.  Fairly priced.
SERVICE AND STYLE
Front of house, be it owners/staff can win or lose you from the get go. Here at the Pakenham, they clearly value you coming in and spending the hard earned. Happy, accommodating friendly. That's all most pub punters want and here you get all of that.
SUMMARY
To again use the Texas hold 'em analogy, pubs give off certain tells to subtly reveal how they are going.  On a Monday lunchtime, the bistro is nearly 3/4 full. Sure there's a $16 meal and drink offer, but judging the level of chat taking place, this was a communal gathering in a pub that clearly is much loved by the locals.
There is no sleight of hand; the Pakenham just works hard at the caper and backs it up with good food and drink.
Leaving the pub, I spot a gig for the evergreen legend of sunday pub sessions – Captain Spaulding – appearing here soon. A mate tells me he caught the Captain's farewell tour in 1988!!.
Just like the Captain, the Pakenham lives by the adage, the harder I  work…..
Good on both of them.