Pub Of The Week review: The Tower Hotel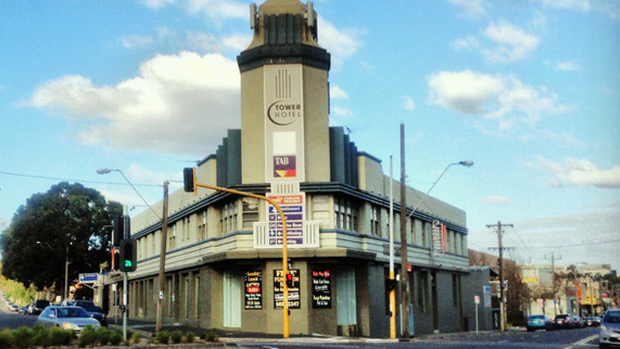 Pub: Tower Hotel
Where? 686 Burwood Road.
Phone: 9882 2347
Score: 14.5/20
When? August 11, 2017.
Internet: www.thetowerhotel.com.au
VENUE
Second review.  (last review 2001)
The Tower is a wonderful mainstay in the eastern suburban pub scene with an all ages appeal that has stood the test of time.
With its triangular shape where Burwood Road splits and its impressive "Tower" atop the pub, it is home to good pub food and drink, tribute shows (ABBA/Williams etc.), and due to its size, can do any big/small function of your choosing.
Indeed, the sporting bar, pokies, and dining room (with downstairs playroom) have their own discrete space which is a feature that cannot be undersold.
The Tower enjoys the luxury of a drive through bottle shop and a little known feature is that it can project any main event program from their pub balcony to a giant screen next door that could easily be seen a suburb away.
Everything works at the Tower in a most understated way.
The pub is comfortable, popular, and friendly and trades beautifully.
Just a good no-frills but superior to the run of the mill, owner/operator pub and long may it stay that way.
MENU
Interesting menu, very fairly priced in a delightfully airy and spacious dining room.
Whilst remaining faithful to the moniker of 'pub grub', there are some nice tricks here, with pork spare ribs, bourbon sauce (26), potato gnocchi in a burnt butter sauce (22), pizza of roast peking duck with hoi sin (20). A steal is the 350g Rump and fries (20).  There is the right amount of choices without brain overload.
Entrees $12, Mains $22, desserts $9.5.
TRIED:
3 items from the starters were chosen; Buffalo wings $1/ea. Very Good. Pub offers them in 3 flavours; honey and maple, bum burner, volcanic bum burner.  Meaty, hot, spicy – a rarity in pub cuisine.  Go for a plate, they're great,
Homemade meatballs, bolognaise, parmesan, crusty bread.  $12.  Good. A bowl of these bite sized little beauties, say 12 (I think the size varies as is normally 6 larger) comes with a rich sauce. Fabulous beer food and the continuous belching an hour later means they hit the spot: Literal and figurative.
Trio of sliders w/chips. $24. Good.  Bigger than bite, smaller than burger, the 3 are[  wagyu beef (the best), pulled pork (OK), southern fried chicken (nice, but don't think they are best suited to sliders due to size). Good fries, good sauces, good eating.
DRINK
Carlton Draught is very good (4.5/pot) Moon Dog and others for the craft, some ciders all well cared for to taste great. Wine list is priced to the mark with limited choice by the glass.  The pricing is the standard – approx $10pg//$5/bottle. Tried was the Riesling from Pizzini at $12pg.
SERVICE AND STYLE
Absolutely no faults.  The young waitress in the dining room was happy to chat, talk about the pub but above all no world weariness!! She liked working there. Happy, experienced barman in the sports, knew how to pour a beer (it ain't that simple!) all equalled to a very good pub experience.
SUMMARY
There is a template I think to pubs (not corporately owned) in the eastern suburbs that goes along a line of not scaring the natives and making sure the offer is consistently good to bring you back again.
The Tower is popular and it's easy to see – the lessons learned of years of providing hands on hospitality means the pub/staff is on point from the get-go. Simple things like a spoil in the price of beer is that bit of love that never goes unnoticed.
After such a long break, it is easy to forget how good this pub is /was. May the Tower trade on in this successful manner for years to come.