Pub Of The Week review: Tony Leonard visits the Bayswater Hotel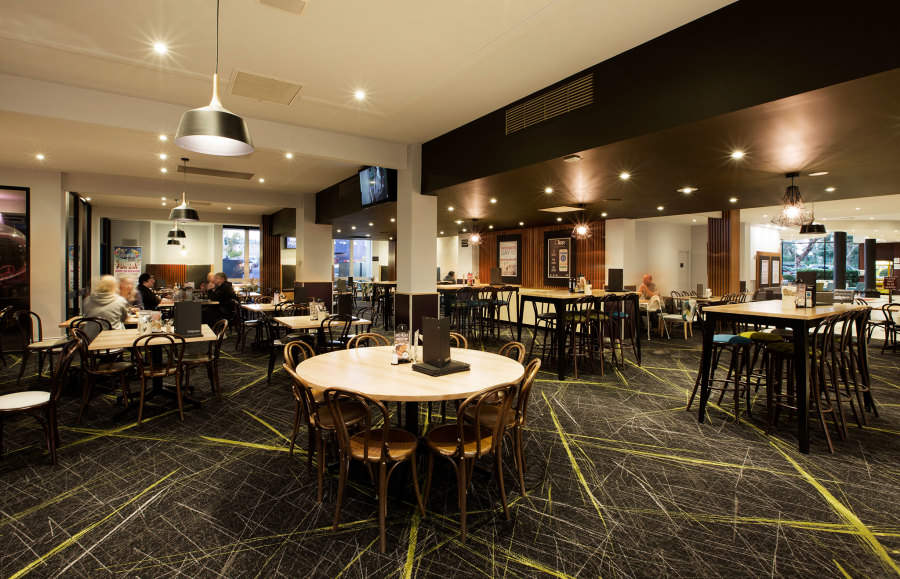 PUB: Bayswater Hotel.
WHERE? 780 Mountain Highway, Bayswater.
PHONE: 9729 6144
SCORE: 10/20
WHEN? April 21, 2017.
WEB: www.thebayswaterhotel.com.au
VENUE
First review. The Bayswater Hotel at the foot of the Dandenongs, is set on a massive site near the busy intersection of Mountain Hwy/Scoresby Rd.
It is another in the gargantuan ALH portfolio (over 300 across Australia) and the blueprint of operating this is well established.
Pokies, sports bar, beer garden, bistro, kids club all laid out on a scale that dwarfs those closer to town. You know the drill.
The Bayswater seems relatively new – maybe 25-30 years old, and is very neat given the size. Food and drink does not stray from the path that is offered across the state.
Basically a 20hr/day business like so many of its brethren.
MENU
Breads mainly dominate the entrees, with some Calamari and Prawns. Mains round up the usual suspects of pastas, parmas, fish and steak from a menu that is very much set across Melbourne with only a couple of specials offered.
Top of the dial was the Surf n turf – $39 –  a 400g Rib Eye, with scallops, calamari, barra, mussels, in a tomato/herb/white wine sauce.
Entrees $12, Mains $23, Desserts = selection of cakes offered.
TRIED
There was a mix up – totally my fault.  I ordered spicy chicken wings, which appears on the menu as Buffalo Wings.
There is a main called spicy chicken which appeared, and in spite of a generous offer to take it back, it was my blue.
Spicy chicken, marinated, then char grilled chicken served with a corn salsa, pineapple and rocket salad. $22. It is important to recite this in full as there was no spiciness, no sign of any char, the skin was wet and did not stick to the meat, the salsa had no flavour (diced tomato and a whack of corn doth not a salsa make) and the rocket had been refrigerated to the extent it was lifeless when plated. (Surely if it looks limp then there's no taste, then why put it on?). Just re-heated and served which is a pity because the serving of chook was generous. No and no again.
Bayswater burger. $20. Home made burger, cheese, lettuce, tomato, chutney, mayo, grilled onion. Stock standard big pub burger, excellent bread to hold the meat in, curious dark, almost blackened onions and a chutney that tasted more of a napoli pasta sauce (but no problems). Plentiful supply of chips.
DRINK
As expected, it is a typical 'big pub' offering with commercial beer taps and well established wine brands. Beer was well presented, Carlton D at $4.8.
There was some outstanding value with its wine as the ever popular Pepperjack is poured at 8.5/g//34/bottle and the most bankable Annies Lane Riesling selling at 8/glass//32/bottle.
SERVICE AND STYLE
Sometimes in big pubs like this, it can be impersonal. Whether the small numbers in the bistro allowed more interaction, or this is the way they operate, the helpful and genuinely interested in you approach was a winner.  More of this everywhere please. (Jacquie was in charge and clearly knew her hospitality).
SUMMARY
It is a Thursday lunchtime, say 1245, and the cavernous bistro has a handful of diners.
Not really surprising as unless there is a big group in, most pubs trade better at lunch on Fridays and Sundays and do its best at night.
Out here, dining options aren't as replete as inner suburbs are, so where was everyone? On leaving I got an emphatic answer. I saw a smallish business – The Hatter and Hare – and it was going gangbusters on the very busy Scoresby rd. to the point where there was a wait to get in.
Are businesses like the H&H popping up as the population moves out providing such opposition to pubs that people are making them the choice for the leisure dollar?
You can compare and contrast pubs like the Bayswater and again I point out that the Pascoe Vale Hotel is the benchmark that they can measure against internally.
The last thing anyone wants is for a pub to limit/withdraw its food offer and become nothing more than a 'Rattle Palace'.  In equal measure, it is up to the venue managers to genuinely road test the meals as the drift away will continue.
Same old, same old doesn't cut it in 2017.