Pub Of The Week review: Tony Leonard visits the Prahran Hotel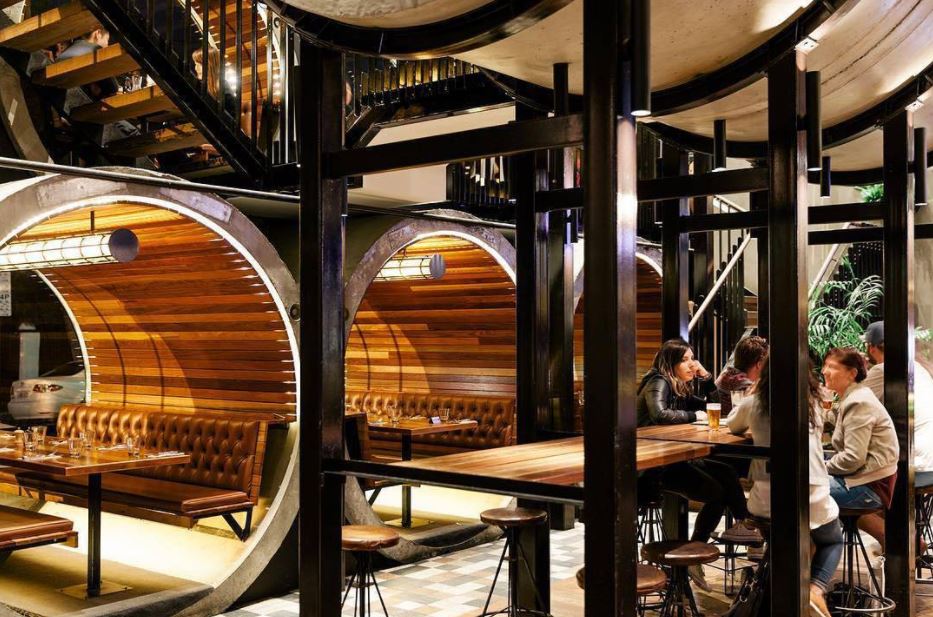 PUB: Prahran Hotel
WHERE? 82 High St Prahran
PHONE: 9529 2168
SCORE: 15/20
WHEN? 6 October 2017
INTERNET: www.prahranhotel.com
By Tony Leonard
This is my third review, with the last one coming circa 2013.
Without doubt, the best the Prahran Hotel has looked and in equal measure, delivered its hospitality.
Like the Bridge Hotel Richmond, this is a stunning renovation which cleverly makes the one space into 3 different areas, from the glorious old front bar (which has some dividers for a bit of privacy) the Garden bar with a monstrous Chinese elm as centrepiece, to the rear where the Courtyard bar dominates.
The highlight however is 17 concrete half pipes, suspended over a couple of floors wherein you dine like no other I have witnessed in 22 years of talking pubs. If for no other reason, go to the pub and stare in child-like disbelief that someone could come up with this.
The pub has a unique art-deco facade, similar to the Courthouse, Nth Melbourne so it is unmissable on your way up High st.
But all the while you are firmly entrenched in a pub that offers very good food and drink, the sports on Fox, and the community feel that all pubs should.  You could be excused for thinking it is not an all persons pub but that would do the Prahran an injustice: it works on every level a pub should including meal deals and happy hours.
Style is equally matched by substance. Well worth the trip to check it out.
MENU
The Prahran covers many bases from smaller plates such as: Grilled zucchini, romesco, grilled corn, salted ricotta  $14, Baby beets, goats curd, orange walnuts, (15), Chargrilled squid salad, tomato, nduja (18),  to more substantial plates that share between 3-4 including a Slow roasted free range lamb shoulder, salsa criolla, parmesan, cucumber yogurt (serves 4) at $79.
Pub classics are retained and based on the quality, I suspect that Wednesday night specials of $16 parma, $18 steak, may provide excellent shopping.
Entrees $14, Mains $30, Desserts $14
TRIED
Bacalao Croquettes, aioli, tomato. $15/5. Very Good. 5 golden, hot,  balls of salted cod, flavors richly evident,  are supported by 2 sauces and the taste made for a perfect start. Freshly made elevates way beyond the stock standard.
Cheese Burger, McClures Pickles, fries.  $22. Very Good. All pubs must have a signature burger that embraces 2 main components – the pattie is top quality, packed and remains firm, and the bun doesn't crumble on eating. Superior offer here, and hot and plentiful fries.
Fish of the Day. $28. Whole rainbow trout. Very Good. Glad to see whole fish presented as well as it was here. Good size and value at that price. Comes basically solo so you need to pony up with a side. Please, please buy the potatoes in truffle oil, and pecorino. $9.5 (enough spuds for 3-4 people). This is a decision you will never regret.
DRINK
Very good mix of beer from the tap, Melbourne Bitter, Carlton Draught, Stone and Wood, McCracken Amber. Pots of CD $5, S&W $6.5. All well presented.  Expansive list for wine, and in keeping with the pub, all budgets. Mean price $11pg/55/bottle. Clare Wine Co. Riesling, chosen 11pg. Good gear.
SERVICE AND STYLE
No problems here as young and enthusiastic staff is eager to please and more than happy to tell you about the pub, the renos, what's popular etc. All good, although the background music needed to come back a notch.
SUMMARY
In my opinion, this is the best version of the Prahran hotel that I can recall. The renovation is cleverly wonderful, the food and drink is very good, and so much is packed into a compact area that 3 separate offers is available depending on your mood.
What is undeniable is that the food has been ramped up, and in keeping with the latest push of chefs doing top notch communal meals, the Prahran has embraced this so that if you want to eat as a family/couples, you can share and round the cost out to $25-28pp  (approx) which is about the mark in main prices in pubs.
But the pubs looks fabulous and  no matter where you plonk your quarter acre, you will be comfortable. Better still, have a drink in the 3 areas and take in the detail of the new look. It is impressive.
Even if you have been before, time to reacquaint.