Pub Of The Week: Tony Leonard reviews The Cricketers, Port Melbourne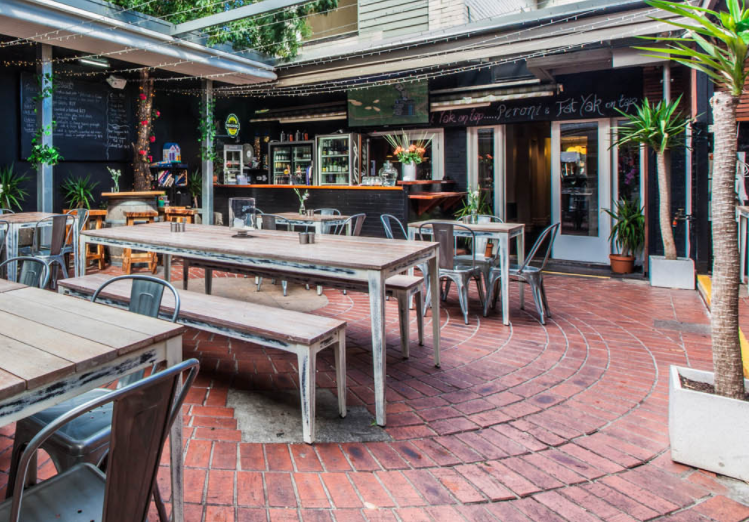 The Cricketers
69 Cruikshank Street, Port Melbourne.
9676 2004
Score: 14.5/20
March 9, 2018
VENUE:
3rd Review. (last circa 2012)
The Cricketers, aka the Cricketers Arms, has recently undergone an ownership change and reverted back to type, away from a serious French inspired pub/wineroom/fine dining leaning that ran for the past 15 months.
The team that runs the Montague in nearby South Melb/Albert Park have returned it closer to its original and much loved form with some really interesting food and drink offers that succeeds in spades.
Having been coming here on and off for 30 years, this is the pub at its best.
This small brick quasi terrace house is entered via a hallway. To the left is the excellent public bar with exposed brick and beautiful polished wooden bar top; to the right a small, intimate dining room.  Further down is a dining area and to the rear, the delightful beer garden with all parts surrounded by high brick walls and ample greenery. Parts are roof covered, others open and the furniture is best described as sturdy outdoors functional.
I know why the locals so cherish this. Cruikshank Street is to the south of Bay Street and is relatively anonymous. The pub is not on a corner and you have to find it.  But once here you get it.
Food and drink does not conform to a check and tick listing and it benefits from this.  The pub does real value specials during the week, the staff is absolutely on point, there is no doubt former glories are only around the corner.
A true stayer on the ever changing landscape of Port Melbourne.
MENU:
A few selections in each category, some daily specials, the thing that struck me was it is so carefully planned.  Good sliders/tacos as starters including Soft shell crab taco,  apple, avocado salsa, coriander, lime ($9) or go sharing with Buttermilk marinated popcorn chicken, lightly  crumbed, sriracha aioli at $14.
Mains too are kept to a minimum but read well with the clubhouse leader being the Duck River grass-fed 250gm Porterhouse, fries, salad at $30.  Depending on what you order, you may need to pony up for a side (9), which I wish pubs would amortise into a fully plated – and priced – meal.
House made desserts to top it off, this is good, better level pub grub. Entrees $9, mains $26, Desserts $14.
TRIED:
Sliders -Tahitian spiced crispy chicken, cranberry, feta, golden beet relish ($7) and Angus beef, house pickles, aged cheddar, caramelized onions, garlic aioli ($7). Good. The chef achieved a natty trick here in these well portioned sliders.  Each element was identifiable and was superior to the norm, which tends to be a conglomeration of stuff jammed into a little bun. Not here, fine start,
Crispy skin Barramundi, warm panzanella, honey, balsamic $28. Very Good. The quality of Barramundi has risen in pubs and this fleshy, very crispy skinned fillet was an excellent representation of the species. The toasted bread, tomato, capers etc,  of the panzanella played its part beautifully.
Spaghetti Bolognaise. $18.  Good-Very Good. It's summarised thus: if they have this rich meaty staple, with the lovely but not overpowering flavor of aniseed through the meat on special when you go, just order.
DRINK:
5 taps were the choice outside with a couple of Coopers, Sapporo, Carlton D, Colonial, and a cider.  $5.5/pot of CD, but it was well cared for and tasted fine. Wine list is interesting, different and priced to the mean (10pg//45/bottle). But a bargain was delivered in the Sorby Adams Riesling ($44) which gave the pub a reasonable, but customer fair, spoil.  BTW, it is a fabulous white.
SERVICE AND STYLE:
Given the pub only opens the beer garden for lunch during the midweek, and is still in its infancy under this ownership, it was quiet going, with a small bar operated solo for food and drink. But there was a professionalism to the service that indicated they can handle any sized crowd given their expertise. No issue.
SUMMARY:
This version of the Cricketers was not the one I expected to encounter. Around 15 months ago, it was re-launched as The House of Food and Wine at the Cricketers Arms Hotel, (THOFAWATCAH), an acronym rivalled in length by Russell Crowe's band Thirty Odd Foot of Grunt (TOFOG).
That incarnation lent heavily French and aimed high in food, drink and pricing. Maybe too much of a stretch for the locals? Who knows?
The current state of play sees this much loved pub go back to nearly basics, and by that I mean it appeals to the traditional Port Melb pub goer, but with a sharper edge to its food and drink and comfort.
Let me be absolutely unambiguous. The Cricketers, in this version, is a belter of a pub that will boom be it hot and cold.  Off the beaten track (and yes in the inner city you can), compact, fun it will win you from the get go.
Welcome back.