Pub Of The Week: Tony Leonard reviews the Grandview Hotel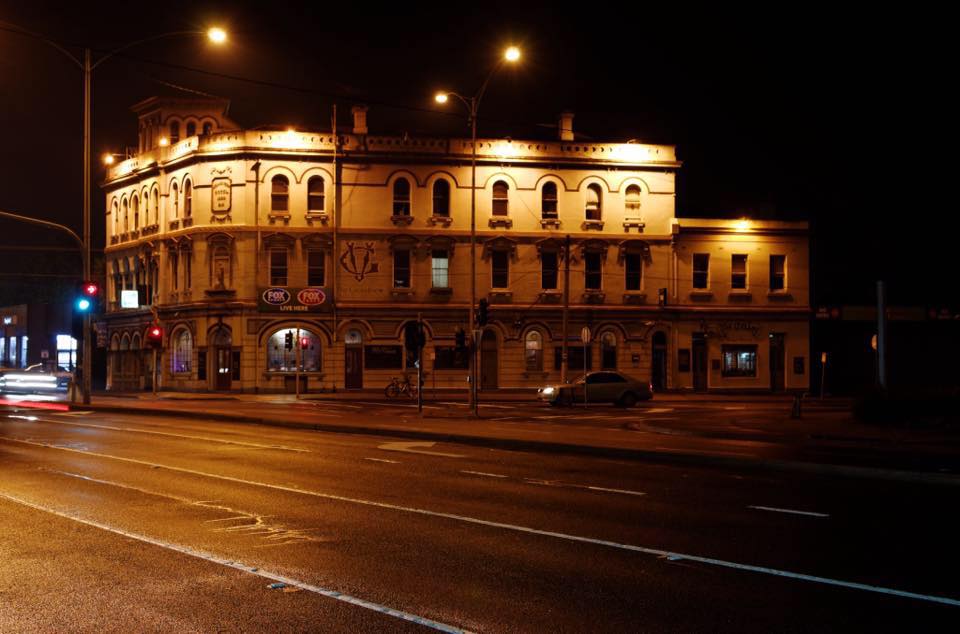 Grandview Hotel
429 Heidelberg Road, Fairfield.
9489 8061
Score: 10.5/20
June 30, 2018
www.grandviewhotelfairfield.com
VENUE:
3rd Review. (last circa 2011).
The Grandview is a long time stayer in the shadows of the old paper mills in Fairfield  and has carried a reputation of making an excellent two way offer of better level dining  in one section, whilst honest bar meals are provided in the public bar/TAB.
For whatever reason, the excellent front bar facing Heidelberg road was closed and so it was to the bar, which on arrival was informed that no bistro meals were available, (having scoured their website, this was not apparent).
The pub, triple storied Victorian, is impressive from the outside and while the bar area is large with an assembly of bare wooden tables to dine at, or in  separate TAB area,  I felt it was lacking the sharpness in appearance that had been in evidence when last visited some years ago.
The Grandview tries hard and the bar food is cheap, it  has a range of specials in drinks during the week, and with comedy by the much loved Dave O'Neill, it is easy to settle in.
Depending on your point of view, this is a great reminder of what pubs used to be like; in equal measure, changing times (Fairfield especially) means a ramped up offer is not out of place and that includes decor and appearance.
I have spoken lovingly about the Grandview before, but on this occasion it missed the mark.
MENU:
The bistro means reads well. A sample may be marinated lamb cutlets, spicy mango salsa, chinese style cooked vegetables drizzled with a Rosemary Jus ($26) or  Grilled Atlantic Salmon with Pickled Zucchini, Vegetable Bake and Sweet Aioli ($25).  But wasn't to be.
But it was a fairly priced but basic list of bar food, on special at $10-18 that dominated , much of which you have seen before. There is a discount to be had, and the numbers in were many enjoying the specials.
TRIED:  Lunch specials $12 or Pizza $10.
Steak sandwich with Lettuce, Tomato, Bacon, Cheese, Egg, Onion, Beetroot, Tomato Relish and Mayonnaise.  $12 (normally $17). Ok. Arriving more as triple decker club sandwich, the price of $12 is fair, but for every action, there is an opposite or equal reaction, and in this case the steak was minimal.  Pity had a good char and would have paid a few extra dollars for more.  Beetroot was MIA.
BBQ Chicken Pizza w/ Spinach, Red Onion, Mushroom, Chicken, Cheese and BBQ Sauce.  OK. $10.  Stock standard commercial base,, dressed with aforementioned, it is typical in style, size  and taste that a lot of pubs do at this price.
DRINK:
Carlton D, and a couple of familiar friends dominate the taps here.  Although the range was not extensive, the beer was fine.
Wine list is straight out of the Treasury portfolio so the brands such as Oyster Bay, Pepperjack, Rothbury are listed at very fair prices.  Leo Buring Riesling, a favorite, is provided at great value at $28/bottle//$8pg (200ml).
SERVICE AND STYLE:
Funny thing about this one. I couldn't help but draw a conclusion that everything was an effort (from one member of the two staff) and was world weary, perhaps having too many groundhog day conversations with regulars. As tough as it gets, this thing is called hospitality and you want to make anyone who works in – even strangers – comfortable.  Didn't sense that.
SUMMARY:

There is a fine line between comfortably well worn and tired, and sadly I thought the Grandview fell into the latter.  Again this is based on the bar only, as the front lounge (I knew) to be very neat and comfortable with bluestone, leather couches, fireplace.
In checking its website however (other pubs take take note too) there is no indication that lunch hours are restricted to a limited bar menu so on arrival, expecting choice, it simply isn't there. And the pity is it reads so well (the Bistro menu) , then accurately assessing the pub's worth when it comes to comfortable dining and being a community hub  is difficult.
Music in background, pinball with SFX's, general clatterbang, and bar meals is something you can get closer to home.