Pub Of The Week: Tony Leonard reviews the Limerick Castle Hotel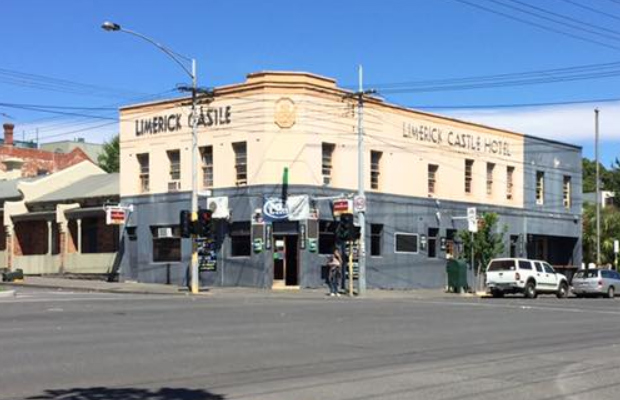 Limerick Castle Hotel
161 Errol Street, North Melbourne
9326 8979
Score: 13/20
When? September 7, 2018.
VENUE:
Second review (last circa 2006-7).
This is a much loved local, serving the good old boys and girls of North Melbourne since 1866 and it is problematic if the design has changed at all from that year when Saint Mary McKillop founded her order in Penola, SS Cawarra was wrecked in Newcastle and Dandenong Market opened. (yes).
You see it's has a long and narrow rectangular bar, small room to the left on entering housing a TAB, snug fit, to a bright, smallish bistro, small beer garden through to another dining room.  Think of the Ark and halve. One of everything but somehow that's all this good ol' boozer needs.
There's isn't much to say about the Limerick as this one has been cryogenically frozen as has its colourful clientele.  Seen 'em 10 years ago, 20 years ago, and they are still there.
But there is something that this pub provides; an oasis to the outside world. Pubs like this are so rare and in an obtuse way, you kind of view it through the prism of it will be knocked over soon, and a little of our past will be lost. Forever.
Fear not however as this pub is committed to trading for some time so grab the family and take them to a working museum/timepiece of Melbourne pub history, that has basically remained untouched.
It is worth it.
MENU: 
This is a menu that does a few – and I mean 3 at most – variations on some pub favs and that's about it.
No frills for sure, but you won't be striped and you won't go hungry.
There's a parma, kiev and schnitzel. There's one pasta of the day, ditto curry, ditto roast. Around $16 for your choice.  Entrees?  As limited and exotic as South Melbourne Market dim sims.  $10/3. Seafood.  Fish and Chips or Calamari. $18. And that's about it.
But don't be fooled.  For as straightforward as this reads, the quality's fine and the enjoyment greater.
Entrees: $10.. Mains $20.  Desserts:  not really
TRIED:
Porterhouse, Wagga Wagga. 300g. $32.  Good. Rather than identify who the provider is, it's from WW. The meat's good, the chips hot and salad very good with a fresh and clean tasting vinaigrette.  Simply done, simply delivered, easily devoured.
DRINK:
It is basically Carlton Draught with a few well known friends, but served in pot or glass.  They do it very well.  Clearly the same ol' boys telling the same yarns won't be fooled with an interloper.
Red wine runs to 4 choices, White 5 and 2 piccolos.  That's it, but Jim Barry Watervale Riesling $9/pg but $32/bottle is wonderful buying and doesn't miss..
SERVICE AND STYLE:
Family run, no waiting, happy to see you attitude, the pub in a most unobtrusive way ticks over so easily.  Really it is straightforward hospitality from a pub very comfortable with its offer.
SUMMARY:
The Limerick Castle, after all of these years hasn't changed and I doubt, even with new owners, would deviate from the path well worn.
To call it simple doesn't really do it justice but don't be fooled by my descriptor. On a nondescript Thursday, the pub was jumping at lunchtime; punters knowing a pub bargain when they spy one.
The pub would be easily dismissed as being a relic of the past and I get that.  It's just with so much of our history – pubs very  much a bedrock of that – disappearing at an insane rate, it is comforting that one of these still exists.
Go have a look.