Pub Of The Week: Tony Leonard reviews the National, Richmond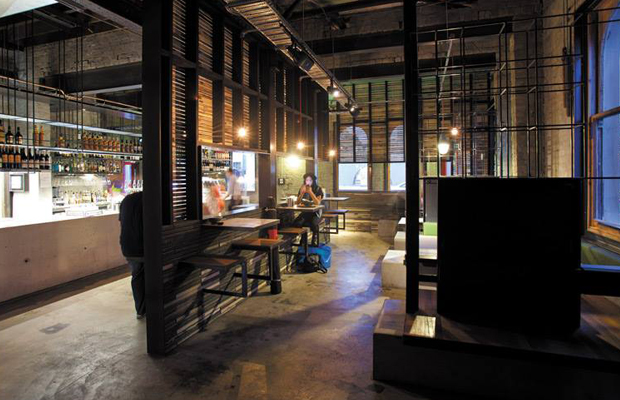 National Hotel
344 Victoria Street, Richmond
9428 8811
Score: 15/20
June 9, 2018
VENUE:
Third Review.  (last circa 2014)
Let's cut to the chase: The National is a fabulous pub.  And in a throwback to the past to pubs that did   " chinese" but an eye well and truly on the present, the full whack Asian menu (strongly Vietnamese influenced) is a total winner.
From the moment you walk in from Victoria, the Nash with its light greyish exterior,  you sense a brilliant renewal has been undertaken with a stack of recycled materials used to create a modern and mysterious feel with dark corners welcoming and the brick and timber providing the warmth (figurative) and the fireplaces (literal).
The brilliant beer garden with a raft of empty bottles suspended on or above the roof line has been cleaned up to allow multi activities including painting with your dog.  (Yep July 5) . It is a spring/summer/autumn hive but once out there, you forget neighbours are over the back fence.
In all my years, I haven't seen a front bar made entirely of a solid concrete block, which brings a new meaning to having one 'off the wood'. But there it is, stacked with popular brands.
Since last visit, the pub has taken the full plunge and pages of food, overwhelmingly Asian influenced dominate, but you won't see a lemon this, or sweet and sour that.  It is the new breed delivered in the oldest community hall – your local pub.
Here's a win/win:  Go there for your pub fix with your family and introduce them to something a little left of centre, away from a parma.
The National, Richmond is a belter.
MENU:  
The menu consists of snacks, dumplings, mains, entrees manis and once you start to read the menu the choice becomes so difficult because you want the lot. Here is a but a sample;
From the snacks you could try the ,Paneer, cauliflower, and spinach fritters with chilli and ginger jam ($12) or some  Crispy squid, chilli furikake seasoning with herbed lime mayo at $ 16.
While the dumpling selection is small, the made on premises offer includes, Roasted sweet potato, tofu, shiitake mushroom (4 pcs) or Crispy duck sliders, pickled carrot, cucumber, coriander (2 pcs) $ 15
The Nash likes to offer 2-4 people shares that lob in the $45-50 bracket, but be assured are generously served such as the Clay pot with king prawns, barramundi, squid, baby corn, puffed tofu, and rice, with coriander, pickled cucumber, and bean shoot salad at $45.
And yes they have burgers, but all done with a difference.
Entrees/Shares  15, Mains 26, Desserts 9.
TRIED:
Paneer, cauliflower, and spinach fritters with chilli and ginger jam $ 12. Good. This is one vegetable that is bomb proof with flavours. Lightly fried, good mess of pieces, beautiful dipper and good starter
Spiced pork, toasted ginger, fresh chilli (4 pcs) $ 10. Very Good. Done at the pub, the pork is compact and chunky; all elements are easily identified with one flavor not overpowering another.
Prawn, squid, spring onion pancake, toasted sesame and ginger sauce $ 12.  Good. One large pancake, cut into 8, good solid flavours, easy eating.
Hoi sin sticky pork ribs with creamy slaw and steamed bao $ 49. Very Good. Meat falls away, the rich dark sauce awaits, some slaw for the crunch, and then into the warm, soft moist, bao. You want one: you want one now.
DRINK:
Carlton and United dominates the taps with CD, Melbourne Bitter, Yak but a well honoured local, Mountain Goat is there too.  The taste and presentation was first class which reinforces the pub side of the operation.
The wine list has plenty of choice, priced a little higher $11/55 on average. Stacks of whiskeys available.  An excellent Riesling – Gaelic Cemetery –  from Clare SA was chosen  ($49/bottle) and didn't miss.
SERVICE AND STYLE:
The service was spot on.  Attentive but not intrusive, genuinely happy to see you, provide table service. The average punter doesn't ask for much but when your expectations are exceeded then you barrack for a pub's success.
The National does all of this in spades.
SUMMARY:
The National, which has been an excellent old pub going back to the days Ross (Jeff's son) Kennett ran it as a defacto office for the nearby CUB plant.
In 2018, it has powered forward from the welcome, the comfort, the look the food and drink, each element is delivered ensuring the pub's success.
Dare to be different, go to the National.