Pub Of The Week: Tony Leonard reviews the Redesdale Hotel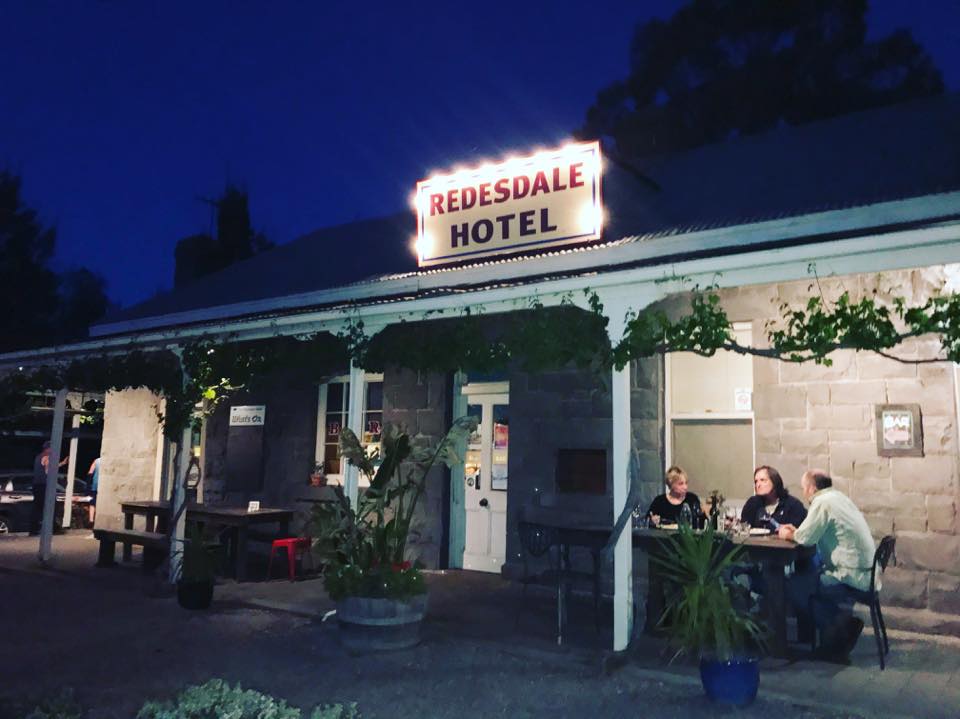 Redesdale Hotel
2640 Kyneton-Heathcote Road, Redesdale.
4405 0601
Score: 13.5/20
July 28, 2018
VENUE:
2nd review. (last circa 2012)
With its delightful homestead setting on the road closer to Heathcote than Kyneton, the Redesdale has re-opened in this small town after some extended time of inactivity.
The pub once enjoyed a fearsome  reputation of superior pub dining in a rural setting, which was promoted as a "destination"place to dine.  With its owners supplying their wines, growing all vegetables at the back of the pub, this was a place that delivered.
Fast forward to now. The lovely bluestone exterior with extended porch, old world small front bar – primarily wood – and the "L" shaped dining room has taken things down a notch or two as far as food and drink goes, but remains very likeable, and as evidenced on a recent Sunday, has attracted a good local following.
Using produced sourced locally – Barfold, Heathcote, Kyneton –  this is a good offer that doesn't overreach and is delivered with a smile.  Pub favorites abound, with the kitchen offering a range of specials to support, and the wine list supports locals too.
No TAB/No Pokies.  Pub has Mondays/Tuesdays off (except public hols).
Pricing is at the mark  but you know you are supporting a local business that is attached at the hip to its community, especially the CFA.
All good here and I hope it trades on for many years.
MENU:
The standard menu offers 4 steaks, some starters and around 4 pub classics.  This would appear to be the Redesdale DNA.
There is also a  chalkboard of specials (pub take note – it was hard to read) which has a Pie, (Roast Pork and apple)/Risotto (Spinach, Mushroom, Blue Cheese) /Fish of the Day (Oven Baked Trevally – 28).
What is to be applauded is the commitment to getting the best locally.  Spicy  Beef Rib, fully plated is 32, King Prawn spaghettini, chilli, napoli was 28 and this is only a sample of the specials. All bases are covered and the pub burger, a 200g mix of chuck and brisket, was clear favorite on the meals coming out and at $19 was well priced.
Entrees $13 (limited choice), Mains, $27, Desserts $10.
TRIED:
Barfold Olives, crusty bread.  Nice. $7.  Sourced from nearby Barfold, these olives were slightly smaller and  lighter in appearance than black kalamata, but had a slightly sweeter taste. With crusty baguette was a  neat start,
Pie of the day. $28.  Roast Pork, apple sauce. C&S. Not Bad. First up, a fully encased, pastry pub pie. Tick. The Pork, cubed was tasty, but a little dry as the apple sauce was barely noticeable. Support from an excellent salad and homemade chips.
Char Grilled, Eye Fillet, 300g.,  Mash and vegetables,  peppercorn sauce.  $42.  Good – Very Good. Cooked rare as requested, lovely char, excellent quality beef and this cut, anywhere in pubs/restaurants, will set you back high 30s/low 40s.  Plated with a great mash and nice veggies, this was good eating.
DRINK:
The bar, (drop dead gorgeous too), houses a few taps of commercial and craft, but at $5/pot, the Carlton D was fine.  The pub's love of local, and affordable wines is here in spades as drops as Kyneton,  Sutton Grange, Heathcote, Macedon Ranges are all represented.  They are from smaller producers and better known and, increasingly rare, bottles are offered around $30. Good on them. Always on point is Granite Hills Riesling from Kyneton. $43 but worth it.
SERVICE AND STYLE:
Another week, another country pub, so you know they are happy to see you. The place buzzes, young staff are eager to impress and they do.  The Redesdale is one pub that when you leave, you cannot help but barrack for its success.
SUMMARY:
There is no doubt that the Redesdale Mk 2 doesn't have the lofty ambition that its predecessor strived for and achieved, but to  my eye, this offer is a little more sustainable and going by the recent Sunday, locals near and far were filling the pub in numbers.
There are 2 excellent pubs – the other being  Tooboorac – within 20k of each other and both are sort of out of the way, but well worth your time and effort.
I acknowledge that the facile..'good ol country pub'.. may appear glib but this is what the Redesdale is and achieving. It isn't  the high end offer of Red MK1 but good on the team for re-opening and having a  crack in what many will attest is a fickle business.
Hoping for much success.