Pub Of The Week: Tony Leonard reviews the Robbie Burns Hotel, Collingwood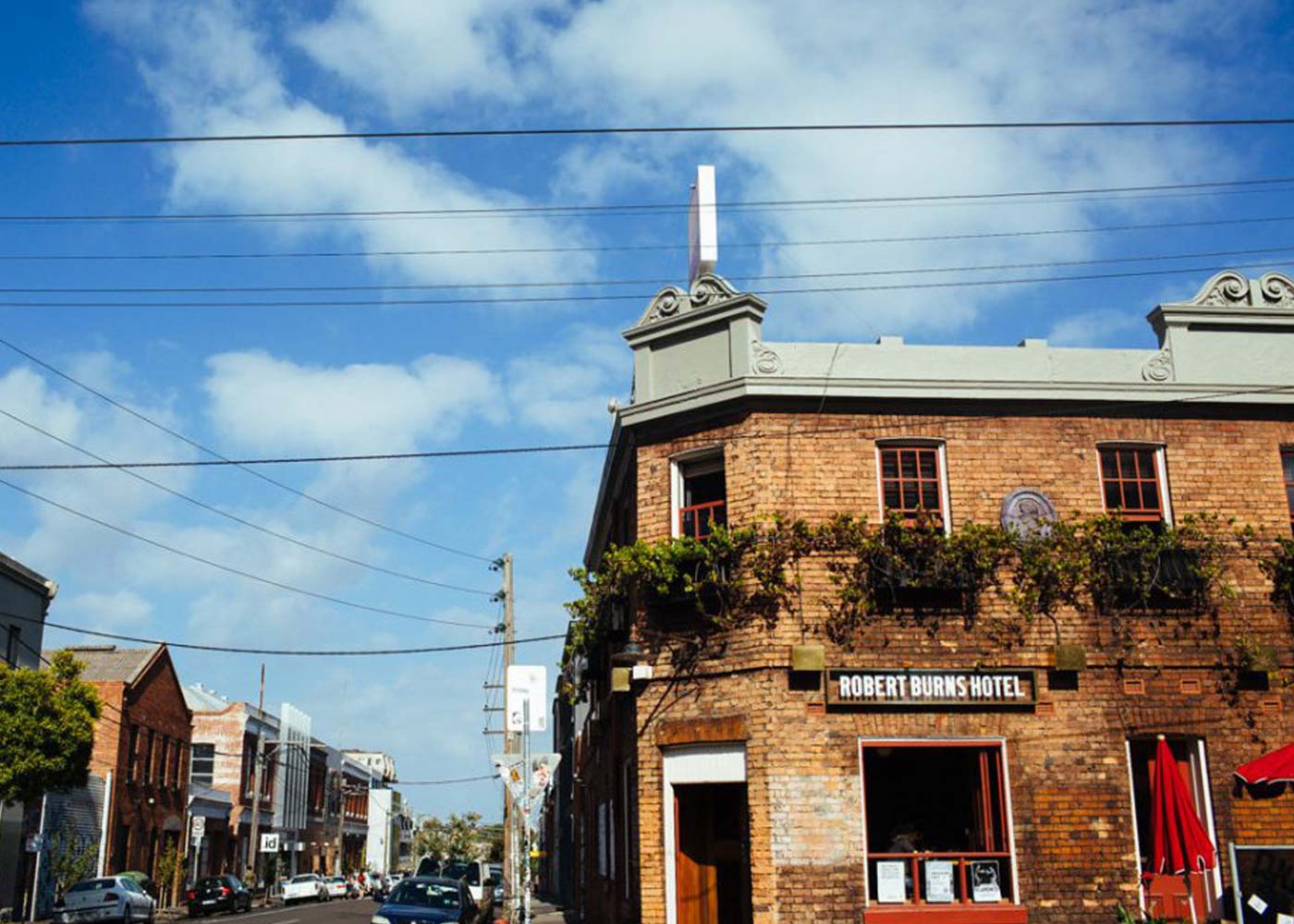 Robbie Burns Hotel
376 Smith Street, Collingwood.
9417 2233
Score: 14/20
March 16, 2018
VENUE:
3rd Review. (last circa 2013).
The Robbie Burns does not do Haggis. Cullen Skink. Porridge. McKenzies Menthoids. The pub specialises in Spanish food and has done so brilliantly for 30 years.
This beautiful old sandblasted brick pub, flowerpots on ledges providing some greenery is a mainstay of the Melbourne food scene and in many respects a trailblazer. Lying just a little north of Johnston St., in Smith, it is pleasant on the eye from the street, and even better once inside.
The small bar is reminiscent of old Collingwood, except that the beers are not Carlton. There is a small sitting/ante room with leather seating to the side and the split level below houses the large dining room, so neatly set out, exposed kitchen and a dinky smallish beer garden to the rear.
This is a pub to celebrate anything such is the family vibe and on a recent Sunday at least 2 large families were polishing off an array of paella.
The food works, ditto the drinks.  Yes it is priced a little higher, but not outrageously so. The fact you are doing different instead of same old, same old makes you feel good.
This is my 3rd and probably final review  here. There has been a spruce up inside but done in an understated fashion since my last visit.  It needs no recommendation from me or anyone else.
The Robbie Burns has stood the test of time brilliantly.
MENU:
Spanish tapas, paella, grills, desserts, from all regions are covered here. The aromas are intoxicating.  Jamon croquetas are insanely rich and smokey.  (12.5/plate).  Homemade chorizo, pear and sage is $18e and is a house specialty. A range of paella – meats, seafood, vegetarian (truffle infused mushrooms) all arriving in the crusty pan with glorious golden rice start at $22/ppw.
From the grill you may choose a range of steaks up to a Rump Cap (48) or grilled octopus tentacle, sweet potato crisps, fried capers (32). All the while you are watching the kitchen and taking it in.
Fancy finishing up with a Salted Manchego cream flan with raspberry sorbet ($12). Yep.
Entrees $16, mains $30, Desserts $13.
TRIED:
Charred Lamb Riblets, yoghurt, lemon thyme. $15/4 pieces (e).  Very Good. Moist fatty  lamb, attached to the  bones, BBq'd perfectly, fall away when you gently bite. It looks so rich, but the lemon cuts through to give you a wonderful starter.
Pan-Seared Scallops, Roasted Morcilla & Whipped Cod Roe $18/4. Good. Just simply another excellent palate pleasing starter with the freshest of ingredients,
Fish of the day -Bass Grouper pan grilled, mojo verde, red witlof, heritage carrots. $30. Good. The fish was excellent, deep,  flavours perfectly cooked.  The green salsa gave the excellent support. However, a large bone was (easily) detected and the plate arrived sans carrots. (apologies and a reduction in bill was done without question).
Roasted Pork, porchetta style, smoked potato puree, glazed carrots, enoki mushrooms. Very Good. $28. Gorgeous rolled boneless filled with herbs, soft and rich meat, crispy skin, excellent veg. A great pub Sunday roast.
DRINK:
The pride of Barcelona – Estrella Damm –  is the go to from the taps. Pricey enough at 8.5/330ml but compliments the food so well. Colonial, Asahi, Mountain Goat in support. The wine list is exclusively Spanish, with familiar varietals, e.g., Tempranillo, Albarino, Rose forming the backbone of the list.  $12/gl//60/bottle is about the mean here.
SERVICE AND STYLE:
There is a hive of activity such is its popularity. Everything here has a spanish flare, wait staff all decked out in pub livery and accents to the fore. Again a small misstep – cutlery having to be asked to be removed – after it had been used. But with bread and water brought to the table, music at the right level, sit back fo a long one here.
SUMMARY:
There are some pubs that are genuine Hall of Fame members across Melbourne. My criteria to assess this is simple. Excellence in food and drink, consistency in service and longevity. The Robbie Burns does all of that every trading day of the year.
Three decades ago, a vision to take this curiously named pub after the great Scottish poet down a Spanish path would seem certifiable. 30 years on, how proud the family must be and reap the success of being totally unique in Melbourne's pub scene.
Here's a tip. Take the family for a special treat/occasion somewhere different. Take them here.
Robbie Burns, Collingwood.