Pub Of The Week: Tony Leonard visits Dr Watson's Bar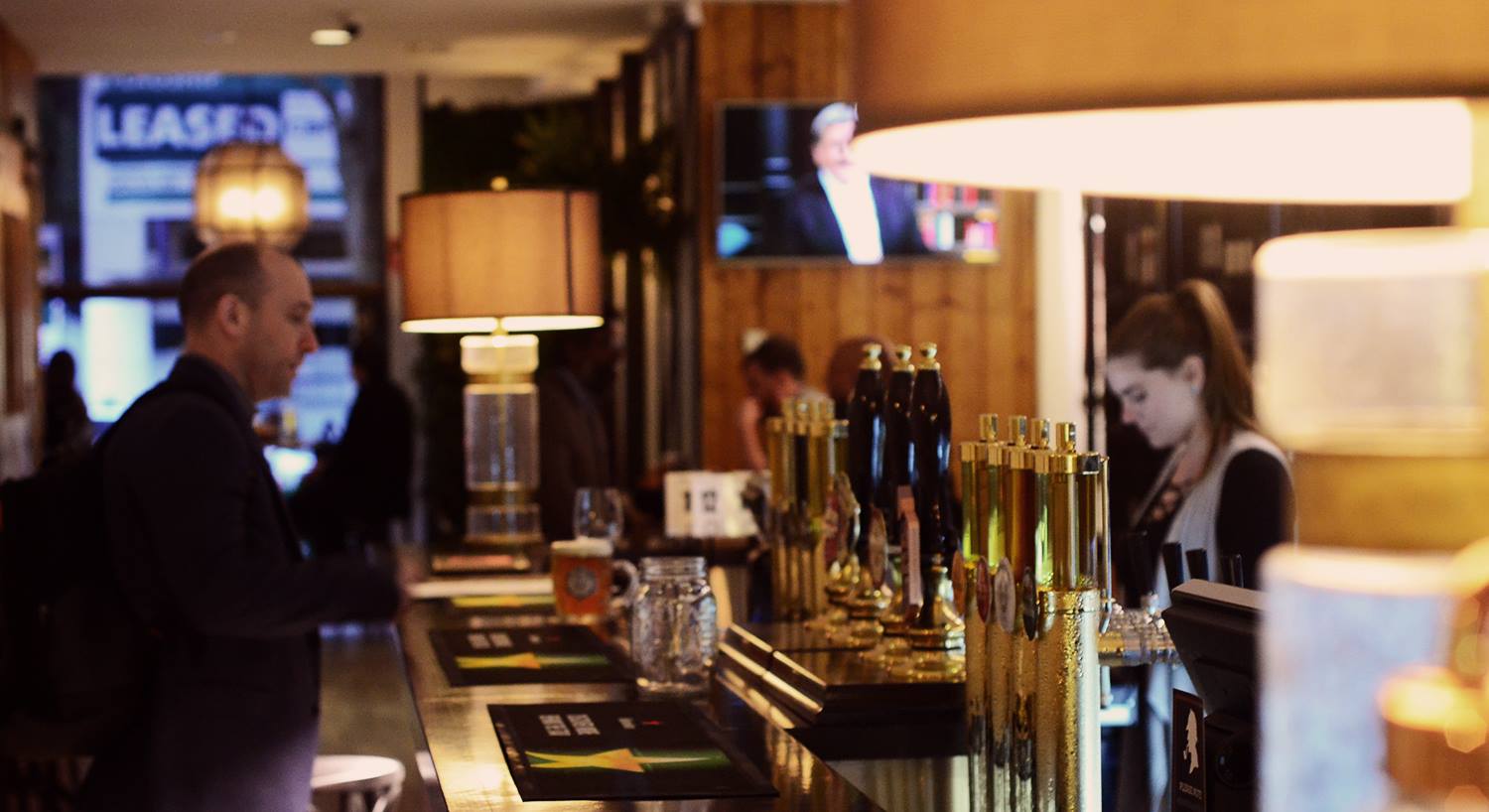 Pub: Dr. Watson's Bar.
Where? 417 Collins St., Melbourne.
Phone: 9629 1146
Score: 13/20
When? November 24, 2017.
Web: via Facebook
VENUE:
First review.
Set at ground level above its wonderful older brother the Sherlock Holmes Tavern, is the relatively new Dr. Watson's Bar (DWB),  former site of a sandwich shop, now converted into a companion piece for its subterraneous relation.
Long, rectangular, bright and airy, DWB gives workers two options to lunch/dine/gather in neat, quite typical pub surroundings with the common theme of Baker St evident.  Much is done in this space, with drinking area/tables at the front, elegant english styled bar mid-field with tables and chairs to sit and dine, and small kitchen to the rear.
The experienced owners, Gary and Mel, continue the feeling of the Sherlock upstairs at DWB, and deliver the sort of hospitality that is required to service workers in the CBD, best summarised as minimum time during the day and delivering value.
To that end they succeed, while ensuring that those looking for a longer stay are well covered in the Sherlock day or night.
Straightforward approach to food, good offer of imported English ales, delivered expertly by the staff –  read as one person – in a most engaging manner.
No faults here.
(**at time of publishing. Expecting a standalone website in New Year).
MENU:
The DWB covers the bases of a couple of starters, salads, a few mains from the pub handbook and a range of pizza. The menu is not overloaded and what I would consider to fall into a category of CBD Pub Grub.  Good size, reasonable price, no tricks, easy and efficient to deliver.
Interestingly, no parmas upstairs but plenty to choose downstairs. Daily specials of pizza/steak sees a few bucks knocked off the standard price.
Entrees $12 (Pizza $20), mains $24, desserts $12. (Spotted Dick, Sticky Date, sadly no Benny Hill music!)
TRIED:
Sherlock Holmes wings, celery, ranch aioli, special sauce. 6 pieces – $12. Good. 6 pieces, meaty comes covered in a sweeter sauce, quite likeable, and easily knocked over.  Ranch aioli provides a counter-point to the sauce, good start.
Pie of the Day, chips, gravy. $23.  Good. Dome shaped, covered in pastry – Good –  the pie was steak and onion. Tasty for sure, hot chips, neat gravy, probably needed some peas/greens , but nonetheless, was easily knocked over.
Roast of the Day – Pork –  vegetables, chats, yorkshire pudding, gravy.  $22. OK. Understanding that the meat had been cooked earlier, the Roast came up as expected, 5 big slices, roast pumpkin, fried chats, plenty on plate. The piece of crackling had become very dry however.
DRINK:
Ah the beer!  DWB showpiece is its extensive range of local/international ales and lagers, say 12 choices, traditional english bar with the big pump handles. London Pride, London Glory, Hobgoblin, local including Furphy, the beer was delivered beautifully. Around $6/pot and worth it.  No wine list per se up here, but plenty to choose from. Jim Barry Watervale came in as expected at $10/glass.
SERVICE AND STYLE:
As good one person operation I have seen on a relatively busy Thursday lunchtime. Serving the drinks, running the bar, engaging the customer, bringing the meals, this young woman was a one person army.  Well done.
SUMMARY:
In many ways, this is a calculated gamble by the team from the Sherlock. You see, in the CBD there aren't as many traditional pubs left and the Tavern has a loyal following so the potential to split the punters looms.  Also, one of the big pub hitters in town – the excellent Mitre Tavern – is barely over the road in Bank Place.
However, DWB seemed liked it was establishing its own following and to be fair, is as neat as any in town. Easy going and user friendly, this can easily be the place to gather for a work lunch or before heading into the early night with friends.
Here's the conundrum as parents we face: how do you choose between your children. (Actually it's easy depending on the mood of the moment!!). Here you will be well served whatever you fancy;  Sherlock downstairs/Watson's street level.
They're both good.