Raining on the AFL parade: Thousands of footy fans line CBD streets despite showers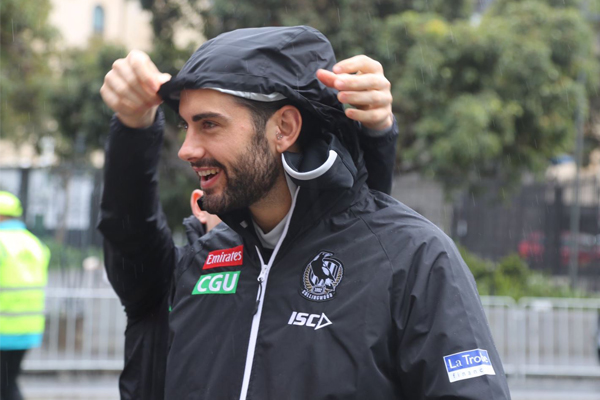 AFL fans in their thousands have descended on Melbourne's CBD for the Grand Final Parade.
Droves of supporters are outside the Old Treasury Building on Spring Street to see their teams before the big game.
Many of them are youngsters, enjoying the public holiday with their parents.
They're part of the sea of fans who will move down Wellington Parade and eventually arrive at Yarra Park.
At the end of the parade route both the Collingwood and West Coast coaches and captains will deliver a final press conference.
The festivities for fans will continue at the AFL Live Site at the MCG.
Flinders, Collins and Spring Streets as well as Wellington Parade have been locked down since 7 this morning, and will reopen about 3pm today.
Shane McInnes spoke with Mason Cox as the parade got underway.
"This is an amazing experience, something I'll cherish forever," Cox said.
"It's been a whirlwind of a week."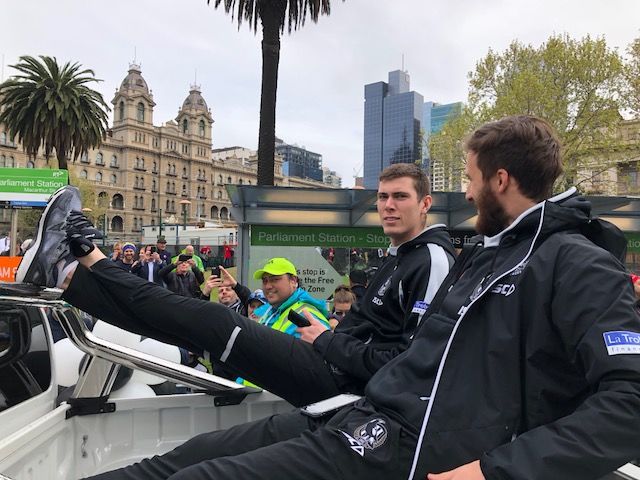 The prize.#ItsTimeToFly pic.twitter.com/hDWr1nitPD

— West Coast Eagles (@WestCoastEagles) September 28, 2018
Here we go!

The #AFLGF parade is about to get underway. pic.twitter.com/n7as8oox0J

— 3AW Melbourne (@3AW693) September 28, 2018
Young Jax Pendles. What a day for all the young Magpie children to savour! #FOREVER pic.twitter.com/W1C3pAS2vk

— Collingwood FC (@CollingwoodFC) September 28, 2018
In car #2, @howie0038 + @sidebottom22. Ready to roll down Spring Street towards the MCG! #FOREVER pic.twitter.com/8hd0t0DfLg

— Collingwood FC (@CollingwoodFC) September 28, 2018
The Simpsons! #ItsTimeToFly pic.twitter.com/6UB7Q3MCcZ

— West Coast Eagles (@WestCoastEagles) September 28, 2018
Few folks keen to hear from the Gov. #ItsTimeToFly pic.twitter.com/zlFSj2LFeC

— West Coast Eagles (@WestCoastEagles) September 28, 2018
#sidebyside. On + off the field! #aflGF #FOREVER pic.twitter.com/40EJeXHiCr

— Collingwood FC (@CollingwoodFC) September 28, 2018