RCH to perform radical surgery to separate conjoined twins from Bhutan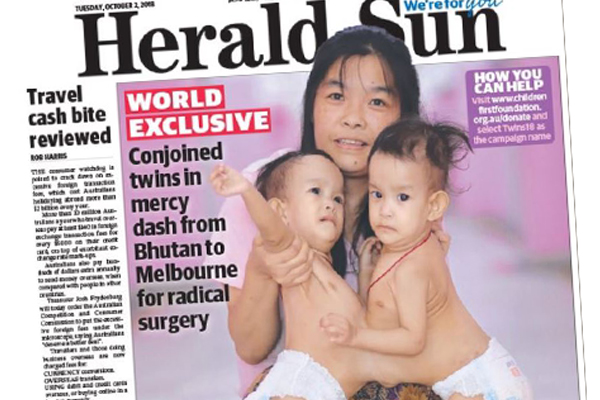 Surgeons at Melbourne's Royal Children's will attempt radical surgery to separate conjoined baby twins and a massive rescue effort to get the girls from Bhutan to Australia.
The Herald Sun reports the 14-month-old twins, Nima and Dawa Pelden, who are joined at their lower chest and tummies, are expected to arrive in Melbourne today after a mercy flight from their home in the Himalayas.
It comes after the hospital's success with formerly conjoined twins Trishna and Krishna in 2009.
Dr Joe Crameri told Neil Mitchell he feels privileged to be able to provide a good outcome for the twins.
"We have an outcome that I think can normalise their lives," Dr Crameri said.
"That's the key driver here.
"There are a lot of things we confront where we can make things better, but we can't make things normal.
"I would hope we have the ability here to make these kids' lives normal when they go home."
Click PLAY below to hear the full interview
The surgery and 24-hour care the twins will need after their surgery is expected to cost upwards of $250,000.
Donate to Children First to help Dawa and Nima
Donate by phone on our toll-free number 1800 99 22 99
Text TWINs to 0437 371 371 to make an online donation
Visit www.childrenfirstfoundation.org.au/donate and select Twins18 as the campaign name
Donate by electronic transfer via your online banking system to the account details below.
Bank: Bendigo Bank
Name: Children First Foundation (CFF Gift Account)
BSB: 633-000
Account number: 163045552
Reference: Enter your full name and "twins"
To receive a tax receipt for donations made by electronic transfer please email donations@childrenfirstfoundation.org.au with the transaction details
Photo: Damon Johnston (Twitter) credit – Alex Coppel