RECIPE: Emma Dean's Baked Camembert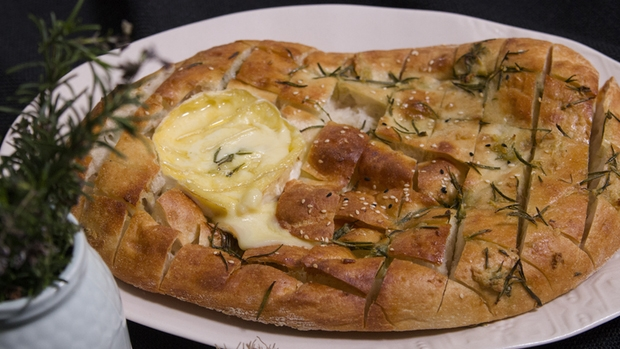 There are no words how fabulous this is! Prepare this ahead for a party and you will be a hit! I guarantee it!
Ingredients:
One whole camembert ? a smallish one about 8-10cm diameter
1 turkish bread or focaccia
? cup olive oil (you may need more)
1 garlic clove
rosemary/thyme/basil
Salt
Method:
Using the cheese as a template, cut a circle into the bread at one end and scoop out the bread to make a little hole. Do not cut through.
Continue to cut the bread in a cross hatch.
Mix together the garlic, oil, a tablespoon of desired chopped herbs and salt.
Drizzle the oil mixture over the bread, ensuring that plenty goes into the cut edges.
Slice the top off the camembert and put the whole cheese in the cut out cheese hole in the bread.
Bake in a 180C oven for about 20 minutes, or until the cheese is melted into a nice pool. Watch the bread and if it is getting too brown, turn the oven down to 160C.
Remove from the oven.
To serve, break off pieces of toasted herb bread and dip into the melted camembert! YES!!!!