RECIPE: Tobie Puttock's 'Low and Slow' veal cheeks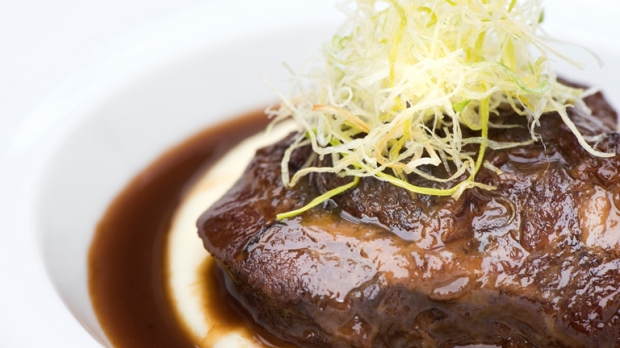 LOW AND SLOW VEAL CHEEKS
SERVES: 2
INGREDIENTS
2 veal cheeks
sea salt and cracked pepper
4 sprigs of rosemary
zest of 1 lemon
zest of 1 blood orange
2 cloves of garlic, peeled
flour for dusting
50ml olive oil
50ml red wine
1 star anise
1 clove
1 bay leaf
250ml chicken stock
METHOD
Use a small sharp knife to clean any thick sinew from the veal cheek and then lightly score both cheeks.
Bash up the rosemary,lemon, orange, a good pinch of salt and garlic in a mortar and pestle and then rub the cheeks with the mixture. Leave to marinade for 12 hours covered in the fridge.
Pre-heat your oven to 160C.
Brush off the marinade and reserve for later use and then lightly dust the cheeks with the flour.
Heat the oil in a heavy based pan and then seal the cheeks until golden brown on both sides, add the red wine and reduce by half (this should only take a few minutes).
Place the old marinade back in the pan and pour in the chicken stock with the spices.
Cover with a lid and place in the oven for around 90 minutes or until the cheeks are very tender to the touch.
Remove from oven and allow the cheeks to rest before serving.
Serve with polenta or mashed potato and your favourite greens.