Recipe: Wonder Pies by Raymond Capaldi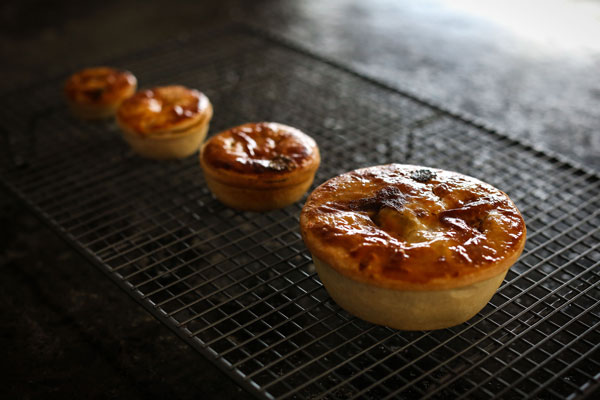 BEEF PIE FILLING
SERVES 6
INGREDIENTS
½ KG BEEF CHEEKS
850 G   DICED BEEF BRISKET
(YOU CAN USE MINCE BEEF IF PREFERED)
SALT AND PEPPER
1 LARGE ONION, DICED
4 CLOVES GARLIC, MINCED
1 WHOLE ONION SLICED
200 G DICED CARROT
150 G DICED POTATO
100 G SLICED QAURTERED MUSHROOMS
50 G LEEKS
200 ML RED WINE
OR 200 ML DARK ALE IF YOU PREFER
50 MLS OF LEA & PERRINS
500 ML CHICKEN STOCK
1 STAR ANISE
3 BAY LEAVES OR THYME
METHOD
CUT ANY LARGE BITS OF FAT OFF THE BEEF CHEEKS. CUT INTO LARGE DICE PAT DRY WITH A PAPER TOWEL AND SEASON GENEROUSLY WITH SALT AND PEPPER.
HEAT A LARGE, HEAVY BASED POT OVER HIGH HEAT WITH A TABLESPOON OF OLIVE OIL AND SEAR TOO A GOLDEN BROWN, THEN REMOVE AND SET ASIDE.
IN THE SAME POT, TURN DOWN THE HEAT TO LOW AND ADD ½ THE ONION AND ADD GARLIC. SAUTEE FOR 5 MINUTES, STIRRING TO AVOID IT CATCHING ON THE BOTTOM.
ADD ½ DICED CARROT 1/2 LEEKS 1/2 POTATO 1/2 LEEKS ½ MUSHROOMS, ONION (IF YOU LIKE THEM) I FIND IT NEEDS IT FOR UNAMI AND COOK GENTLY FOR 10 MINUTES UNTIL JUST SOFTENED.
ADD A SPLASH OF THE RED WINE OR BEER, WHATEVER YOU PREFER AND COOK FOR A COUPLE OF MINUTES. ADD THE REST OF THE RED WINE OR BEER, ADD THE CHICKEN STOCK, AND BAY LEAVES OR THYME, STAR ANISE AND STIR TO COMBINE. ADD THE LEA & PERRINS
ADD THE SEARED BEEF BACK INTO THE SAUCE. BRING BACK TO A SIMMER, THEN COVER AND TURN TO A VERY LOW HEAT AND KEEP AT A LOW SIMMER FOR 2 HOURS. REMOVE THE LID AND SIMMER FOR A FURTHER 30 MINUTES OR UNTIL THE MEAT IS ALMOST FALLING APART. IF YOU FIND IT NEEDS MORE LIQUID ADD WATER, IF YOU ADD MORE STOCK IT COULD GET TOO SALTY.
REMOVE THE BEEF FROM THE POT AND SET ASIDE. BRING THE SAUCE TO A RAPID SIMMER ADD THE REST OF THE VEGATBLES FOR A FURTHER 20 MINUTES TO THICKEN THE SAUCE. TASTE THE SAUCE, ADD THE BEEF, STIR TO COMBINE. AT THIS POINT, YOU CAN EITHER SERVE THE SAUCE, REFRIGERATE UNTIL THE NEXT DAY FOR EVEN BETTER FLAVOUR, OR FREEZE HALF FOR FUTURE USE.
LINING THE PIE MOULD
PREHEAT OVEN TO 200°C. BRUSH A PIE TIN WITH MELTED BUTTER TO GREASE. PLACE THE ROLLED SHORTCRUST PASTRY SHEETS INTO THE GREASED PIE TIN. EASE THE PASTRY IN TO LINE THE TIN.*( I FIND USING A CRUMPLED UP KITCHEN ROLL IS GREAT SO YOU DON'T TEAR THE PASTRY) SMOOTH THE PASTRY AND PRESS AROUND TOP RIM OF PLATE. HOLD PIE TIN AND ROTATE WHILE USING A SMALL SHARP KNIFE AT A 45° ANGLE TO CUT AWAY EXCESS PASTRY. MAKING SURE YOU HAVE THE LIP OF THE PIE TIN COVERED
USE A FORK TO PRICK PASTRY BASE EVENLY ABOUT 25 TIMES. PLACE IN FRIDGE FOR 15 MINUTES TO REST (TO HELP REDUCE SHRINKAGE DURING COOKING). BLIND-BAKE THE PIE BASE BEFORE ADDING FILLING TO ENSURE IT IS WELL COOKED AND CRISP. TO DO THIS, PLACE A 30CM SQUARE OF NON-STICK BAKING PAPER OR FOIL OVER THE PASTRY AND TOP EVENLY WITH ABOUT 1 CUP OF DRIED BEANS OR RICE TO STOP THE PASTRY FROM BUBBLING. PLACE PIE PLATE ON A BAKING TRAY AND COOK IN PREHEATED OVEN FOR 10 MINUTES. CAREFULLY REMOVE PAPER OR FOIL AND BEANS OR RICE (SEE NOTE) AND BAKE FOR A FURTHER 8-10 MINUTES OR UNTIL GOLDEN. TRANSFER THE PIE TIN TO A WIRE RACK AND, IF NECESSARY, USE A CLEAN TEA TOWEL TO CAREFULLY PAT DOWN ANY PASTRY THAT HAS PUFFED DURING COOKING. SET ASIDE FOR 15 MINUTES TO COOL. INCREASE OVEN TEMPERATURE TO 220°C.
SPREAD COOLED FILLING EVENLY INTO BASE. REMOVE PUFF PASTRY FROM FRIDGE. USE A PASTRY BRUSH TO LIGHTLY BRUSH PIE EDGE WITH A LITTLE COLD WATER. PLACE PUFF PASTRY ON TOP OF PIE AND GENTLY PRESS EDGES TOGETHER TO SEAL. (DO NOT PRESS THE OUTER EDGE, OR IT WILL NOT PUFF WELL DURING COOKING).
USE A SMALL SHARP KNIFE TO CUT A 4CM CROSS IN PASTRY CENTRE TO ALLOW STEAM TO ESCAPE DURING COOKING. LIGHTLY BRUSH TOP WITH WHISKED EGG PLACE PIE ON BAKING TRAY AND BAKE IN OVEN FOR 15 MINUTES. REDUCE OVEN TO 190°C AND COOK FOR A FURTHER 20-25 MINUTES OR UNTIL WELL PUFFED, GOLDEN AND HEATED THROUGH. IF NECESSARY, SHIELD AREAS OF PASTRY TOP AND EDGES BROWNING FASTER THAN OTHERS WITH PIECES OF FOIL. SERVE IMMEDIATELY.
PUFF PASTRY
INGREDIENTS
500 G UNSALTED BUTTER
500 G STRONG WHITE FLOUR
PINCH OF SEA SALT
1 TABLESPOON OF APPLE CIDER VINEGAR
250 ML WATER
METHOD
MIX ONE THIRD OF THE BUTTER WITH THE FLOUR AND SALT, ADD THE WATER AND LEMON JUICE, AND VINEGAR THEN MIX INTO A FIRM DOUGH. PUSH INTO A SQUARE AND THEN WRAP IN CLINGFILM. LEAVE TO REST IN THE FRIDGE FOR ABOUT AN HOUR.
IT HAS RESTED (AND THE GLUTEN HAS RELAXED), ROLL THE DOUGH INTO A RECTANGLE BETWEEN 5 AND 10MM THICK. THEN, IN A PLASTIC BAG OR BETWEEN TWO PIECES OF GREASEPROOF PAPER, BEAT THE REMAINING TWO THIRDS OF THE BUTTER WITH A ROLLING PIN INTO A RECTANGLE JUST A LITTLE BIT SMALLER THAN HALF THE RECTANGLE OF DOUGH.
LAY THE BUTTER ON THE DOUGH, LEAVING A SPACE AT THE END. FOLD THE UNBUTTERED HALF OVER THE BUTTER AND FOLD THE EDGES OVER TO MAKE A PARCEL. PUSH TOGETHER AND PAT INTO A SQUARE, WRAP IN CLINGFILM AND ALLOW TO REST IN THE FRIDGE FOR AT LEAST 15 MINUTES.
ONCE THE DOUGH HAS RESTED, ROLL IT OUT INTO A RECTANGLE, WORKING IN THE OPPOSITE DIRECTION FROM THE FIRST FOLD.WHEN THE PASTRY IS ABOUT 1CM THICK FOLD BOTH ENDS IN, ONE OVER THE OTHER, SO THAT THE CENTRE THIRD IS COMPLETELY COVERED BY THE TWO OUTER THIRDS. PRESS THE WHOLE LOT TOGETHER AND PAT INTO A SQUARE. ALLOW TO REST IN THE FRIDGE FOR 15 MINUTES.
REPEAT THIS PROCES TWICE MORE, AND THEN REST IN THE FRIDGE FOR AT LEAST ANOTHER HOUR BEFORE YOU USE IT.
SHORTCRUST PASTRY
INGREDIENTS
230 G PLAIN FLOUR
1/2 TSP SALT
100 G COLD UNSALTED BUTTER, CUBED
50 GRMS COLD DUCK FAT
30 MLS OF APPLE CIDER VINEGAR
25G EGG, LIGHTLY BEATEN (ABOUT 1/2 LARGE EGG)
METHOD
IN A MIXER (FITTED WITH THE PADDLE ATTACHMENT IF YOU HAVE SUCH A THING_ COMBINE THE FLOUR, SALT AND BUTTER, FAT UNTIL THE MIXTURE RESEMBLES BREADCRUMBS.
CHANGE TO THE HOOK ATTACHMENT (IF YOU HAVE ONE) AND SLOWLY ADD 30G COLD TAP WATER AND THE EGG. VINEGAR, AND DUCK FAT, CONTINUE MIXING UNTIL A SMOOTH DOUGH IS FORMED. DO NOT OVER BEAT AND MAKING SURE ALL THE MIX IS COLD SHAPE THE DOUGH INTO A THICK DISC, WRAP IT IN CLINGFILM AND REST IN THE FRIDGE FOR AT LEAST 30 MINUTES.
TEN TIPS ON MAKING THE BEST PIE
FOR ME A PIE, SHOULD BE 75% MEAT, 10% VEGETABLES, 15% SAUCE
JUST ENOUGH TO BIND THE MEAT AND VEGETABLE, IT SHOULD HOLD TOGETHER WHEN YOU TAKE A BITE AND HOLD TOGETHER UNTIL THE END.
ALWAYS CUT THE MEAT AND THE VEGATBLES SLIGHTLY BIGGER AS THROUGHOUT THE COOKING PROCESS THEY WILL SHRINK. ADD ½ THE VEGETABLES IN THE BEGINNING AND THE OTHER HALF AT THE END
1 WHEN MAKING THE SHORTCRUST PASTRY, ALL THE INGRDIENTS SHOULD BE VERY COLD,
THIS ENABLES THE BUTTER TO MELT PERFECTLY, DON'T HANDLE TOO MUCH
2 ADD APPLE VINEGAR TO YOUR FLAKY PASTRY TO STOP IT BECOMING HEAVY
3 ALWAYS REST THE PASTRY OVERNIGHT
4 USE UNSALTED BUTTER, AND THE BEST INGREDIENTS.
5 IF COOKING A BEEF PIE, ADD A LITTLE LEA & PERRINS TO GIVES IT A UNIQUE LIFT
6 ALWAYS USE JUST EGG YOLK TO GLAZE AND BRUSH THE PIE TWICE
7 FOR SAVOURY PIE ALWAYS USE SHORTCRUST PASTRY FOR THE BADE AND PUFF FOR THE TOP. USING PUFF FOR THE ENTIRE PIE RESULTS IN A HEAVY AND GREASY PIE.
8 WHEN PLACING THE PASTRY IN THE DISH, MAKE SURE YOU PRESS IN ALL THE CORNERS TO REMOVE ANY AIR
9 THE THICKNESS IS VERY IMPORTANT, MAKE SURE ITS EVEN
10 ENJOY AND HAVE FUN
By Raymond Capaldi