The ABFL: Ross and John's Footy Fix – Round 2 and ladder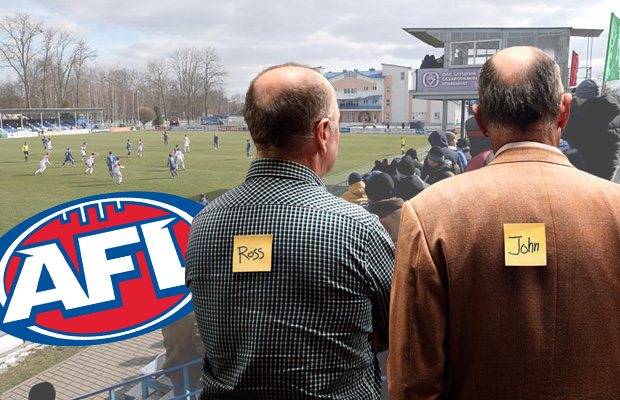 Ross and John have found football.
In possibly the only competition on the planet, the Belarusian Premier League soccer is pressing ahead – with crowds.
So, in lieu of AFL, the boys have assigned an AFL club to each BPL club to create a makeshift competition.
(Apologies to Gold Coast and GWS fans – there's only 16 BPL teams and so we had to drop the newest clubs off the list!)
We're calling it the ABFL.
Round 1 was a thriller! Scroll down for the Round 2 draw and ladder!
ROUND 2
Bate Crows v Rukh Roos
Dinamo Brest Blues v Slavia Tigers
Energetik Bombers v Minsk Hawks
Isloch Cats v Slutz Saints
Vitebsk Bulldogs v Smolevichi Swans
Belshina Lions v Gorodeya Dockers
Shaktor Power v Neman Demons
Dinamo Minsk Magpies v Torpedo Eagles
THE LADDER
THE TIPS!
Ando and Beva both tip the Torpedo Eagles over Belshina Eagles.
They both tip the Energetik Bombers over the Rukh Roos.
They both tip the Slutsk Saints over the Dinamo Brest Blues.
They both tip the Bate Crows over the Slavia Tigers.
They both tip the Minsk Hawks over the Dinamo Minsk Magpies.
Ando tips the Shaktor Power over the Gorodeya Dockers. Beva tips a draw.
They both tip the Isloch Cats over the Smolevichi Swans.
Beva tips the Neman Demons. Ando tips the Vitebsk Bulldogs.
Click PLAY below to hear more on 3AW Breakfast
FULL CLUB LIST
BATE – ADELAIDE
BELSHINA – BRISBANE
DINAMO BREST –  CARLTON
DINAMO MINSK – COLLINGWOOD
ENERGETIK BGU – ESSENDON
GORODEYA – FREMANTLE
ISLOCH – GEELONG
MINSK – HAWTHORN
NEMAN – MELBOURNE
RUKH – NORTH MELBOURNE
SHAKHTYOR – PORT ADELAIDE
SLAVIA – RICHMOND
SLUTSK – ST KILDA
SMOLEVICHI – SYDNEY
TORPEDO BEIAZ – WEST COAST
VITEBSK – WESTERN BULLDOGS
(Photo by Natalia Fedosenko\TASS via Getty Images)