Ross Stevenson slams 'pathetic' media commentary of soccer fan behaviour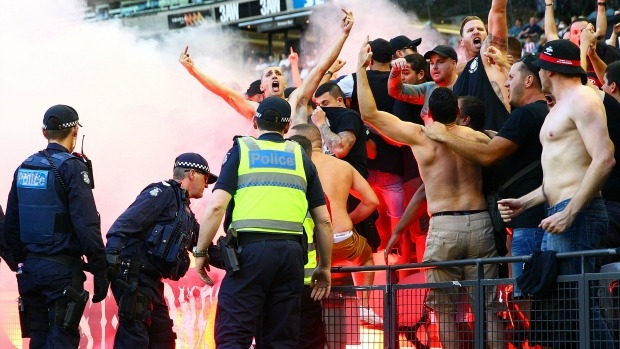 RELATED: A-league club issued with 'show cause' notice over fan behaviour.
3AW Breakfast host Ross Stevenson has taken aim at 'soccer media' and its (lack of) criticism of poor fan behaviour.
He said those covering the sport were 'petrified' of its fans.
Saturday night's thrilling 1-1 draw between Melbourne Victory and Western Sydney Wanderers at Etihad Stadium was marred by flares and disruptive fans.
Victoria Police revealed on 3AW Breakfast that;
19 flares were set off inside the ground.
Six flares were set off outside the ground.
Seven crackers (which sound like bombs) were set off.
24 chairs at Etihad Stadium were smashed.
Ross Stevenson was watching the match at home when the drama begun to unfold.
And while critical of the fan's behaviour, it was the commentary surrounding it that took him most by surprise.
'The soccer media is petrified of ever saying anything negative about their fans,' the 3AW Breakfast host said.
'All the commentators said was a vague 'tut, tut'.
'It was pathetic.'
Click PLAY below to hear Ross Stevenson on 3AW Breakfast