Scorcher reviews: Onda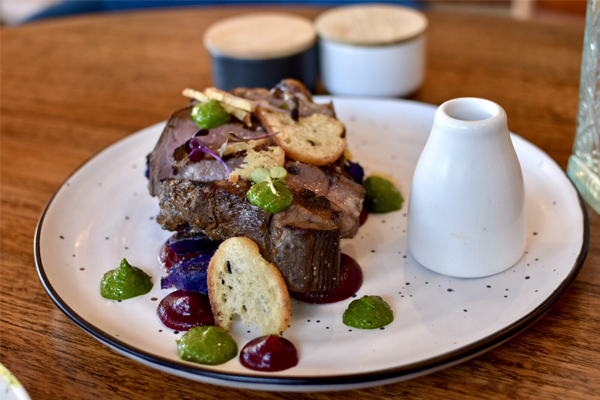 Onda 
280 Bridge Road
Richmond
Click PLAY below to hear Scorcher's review on 3AW Breakfast
It doesn't make sense to me why the city end of Bridge Road, Richmond, remains such a desolate dump of a street.
Once a thriving retail hub, the place is now punctuated with "to let" signs and uninspiring shops; there was hardly a person or car in sight when I went on a warm Saturday evening. I guess we can thank a one-two punch combination of online shopping and high rents for its current, fearfully moribund, state.
I think what's needed is a Neil Mitchell-style "Fix It" campaign to zhoosh the place up a tad.
It just feels like such a wasted opportunity, being so close to the CBD. Especially considering that if you cross Church Street – the Richmond-proof fence – the place springs to life.
One restaurant doing its bit to bring some much-need colour and jazz to Bridge Road is Onda, a South American-influenced bar and eatery with a swag of dishes you won't find anywhere else in Melbourne.
Its pink walls painted with lush, tropical split-leaved monstera plants feel like you've stumbled into a flamingo party in a clearing in the Amazon.
Onda, right from the get-go, takes you to a happy place and you continue riding that high right through until you've sucked down your last smoky chocolate cigar for dessert. Oh yes, more on that later.
Fusion is an awful, overused word but I feel I must deploy it here to sum up the food at Onda. While the menu does certainly have a conspicuous South American tinge to it – owners Steve and Niharika Hogan were inspired to open Onda after returning from a trip around the continent – modern Australian tastes are blended with squirts of Argentina, Mexico and Peru.
Onda's catchcry is "It's all bueno", a phrase certainly applicable to the menu; there's not much here I didn't want to try.
Start off by hopping into a plate of the black prawn dogs, juicy prawns coasted with blackened powdered corn meal and husk and served with a spicy jalapeno salsa. At $12.50 they're too tasty and too good value to pass up.
A shareable plate of silky kingfish ceviche with lady finger and crunchy purple yam crisps was a highlight – a refreshing, tasty snack but did lack a little of that trademark citrusy ceviche tang.
Black pudding with puff grains, chimichurri pickled onions and sweet potato puree was deliciously intriguing; an amped-up, dressed-for-the-opera version of the morcilla you find in the parrillas of Latin America.
Mains are filed under three broad categories – earth, ocean and land – with different protein and vegetable options under each subhead.
We choose to stay on land with a plate of wagyu striploin. Topped with crunchy beef fat croutons and tailed by bright purple chargrilled yams, the beef was intense and rich and buttery, dotted with dollops of herby chimichurri. Alright value at $28 and enough for two, as long as you're also sharing a few of those snacks and smaller plates. I'm already planning a return visit to try the beef short rib.
Now to those chocolate cigars – these are a real treat. Step one: open the lid of the Davidoff "Nicaragua Toro" cigar box and let the smoke waft away. The vapour clears to reveal two tubes of black sesame and chocolate, which serve as a casing for a gooey milk, caramel and banana mousse, like a sinful banoffee pie. A theatrical end to a fun meal.
The word onda means "vibes" or "waves" in Spanish. Looking around the room, from the comfort of a waved-shaped, blue-suede booth, the place was awash with smiles and hummed with positive energy.
In fact, Onda probably gives off the best vibes in all of Bridge Road.