Sofia Levin reviews: Laksa Garden — 'something for everyone'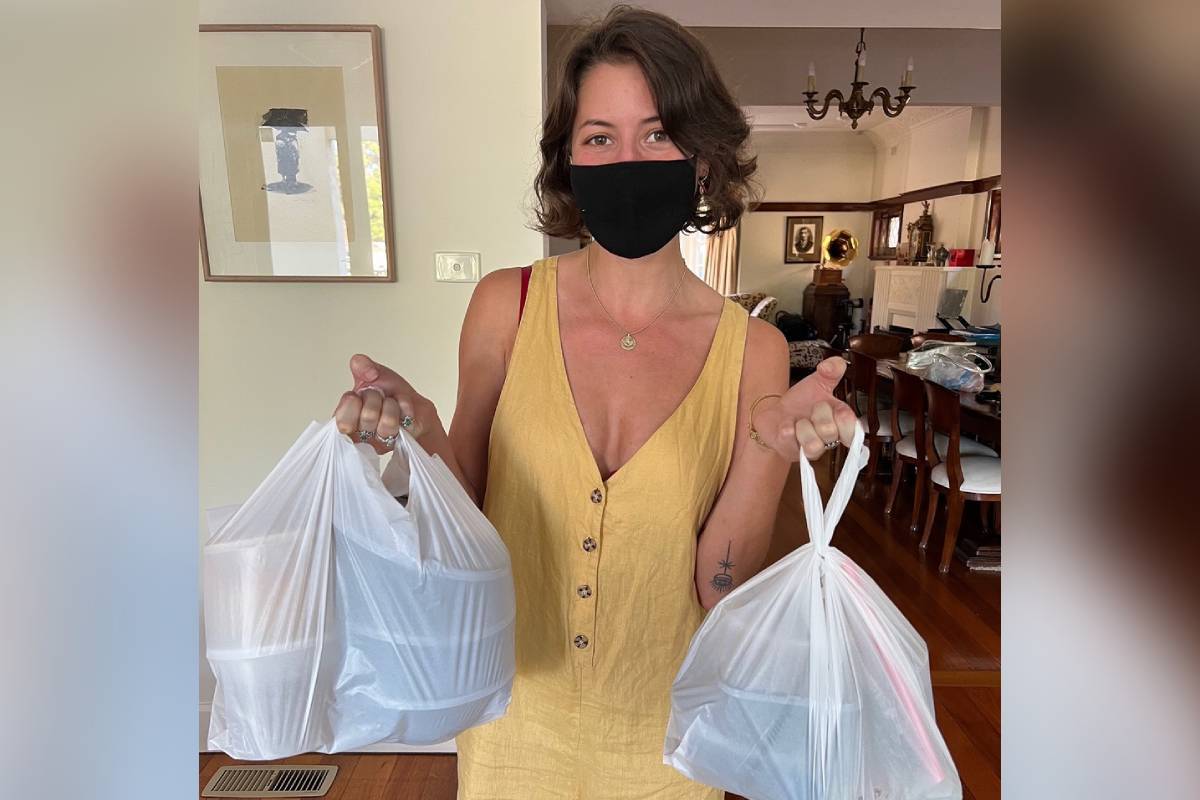 In a sentence: Unassuming Malaysian on Glenferrie with something for everyone
The damage: laksa, curry & noodles $14.80-18.80; mains $19.80-23.80
Top tip: order Malaysian dishes, not Aussie-Chinese '80s food
Quench your thirst: teh tarik, house soft drinks or BYO wine for dine in
If you like this: try Danny's Kopitiam, Glen Waverley; Passage Thru Malaysia, Greensborough; Ipoh Parade, Armadale
I'm going to throw Quartermain under the bus. He messaged me saying he's "lockdown crazy" and needs advance notice of what to eat this Friday night in case he has to order ahead. I told him it's the topic of today's review. He said, "I know. But I'll play dumb".
Quarters is not the only one going lockdown crazy. So many people are in iso or are choosing to stay in to give themselves the best chance of avoiding the spicy cough. Last week I said I'd put it to an Instagram vote to decide whether I reviewed delivery or dine-in. Around 600 of my food-loving followers voted, with 60 per cent keen for delivery – that's significant given my audience is obsessed with dining out.
But we're not in lockdown anymore, Toto. Over the last two years when restaurants have been forced to close, they've come up with interesting delivery and takeaway menus to stay afloat. Most of these have ceased. Unless a restaurant offered takeaway and delivery B.C. (before COVID), it's tricky to find something that feels like it's special.
This week I ordered from Laksa Garden after my other ideas fell through. So many places had stopped delivery, cancelled menus or simply closed due to lack of staff. Laksa Garden is a small, family-run Malaysian restaurant in the busy part of Glenferrie Road, Hawthorn. It used to be Chef Lagenda, which has other branches around town.
Laksa Garden delivers within approximately 5km of the restaurant if you order via UberEats, Deliveroo or DoorDash, and further afield if you order via an app called EASI. I don't like giving money to third-party apps when it could go straight to the restaurant, so I opted to call up and order takeaway, though this wouldn't have been an option if I were isolating.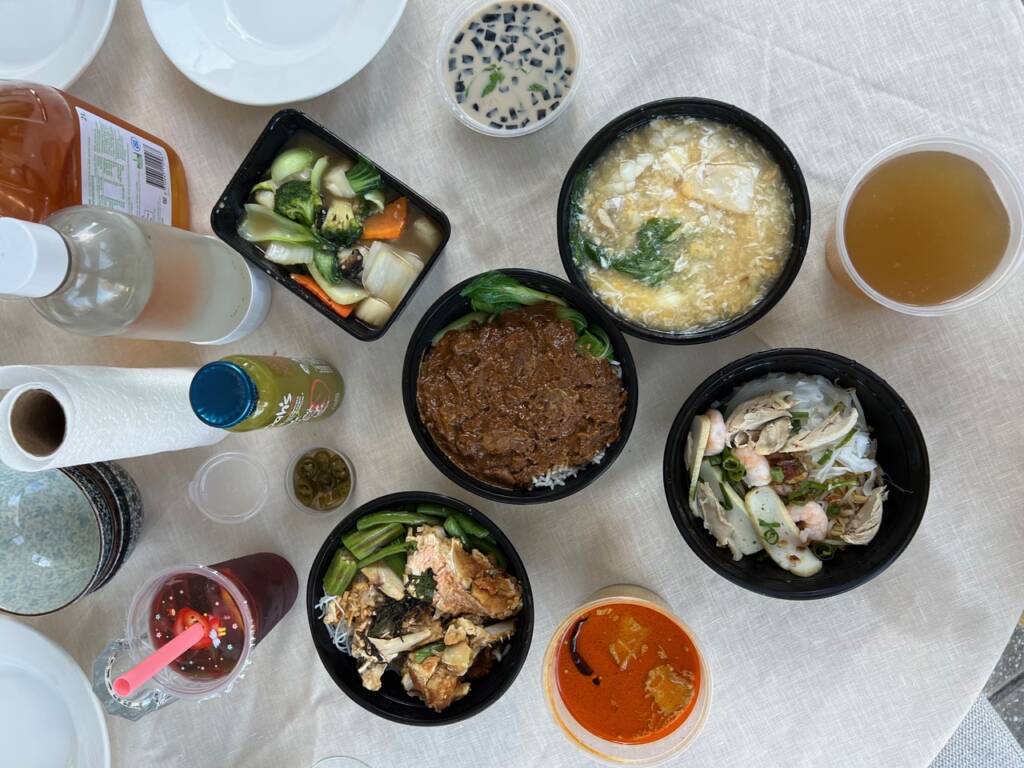 I don't think you go to a place called Laksa Garden and not order laksa. There are seven available, including classic seafood, a tropical version (beef, pineapple, lychee, cucumber and mint), chicken, combination and veg. I ordered the fish head vermicelli laksa. It came separated from the creamy, coconutty broth (a takeaway and delivery must) with okra, green beans, thin rice noodles and the fish head broken up and lightly fried – so it doesn't stare you in the face!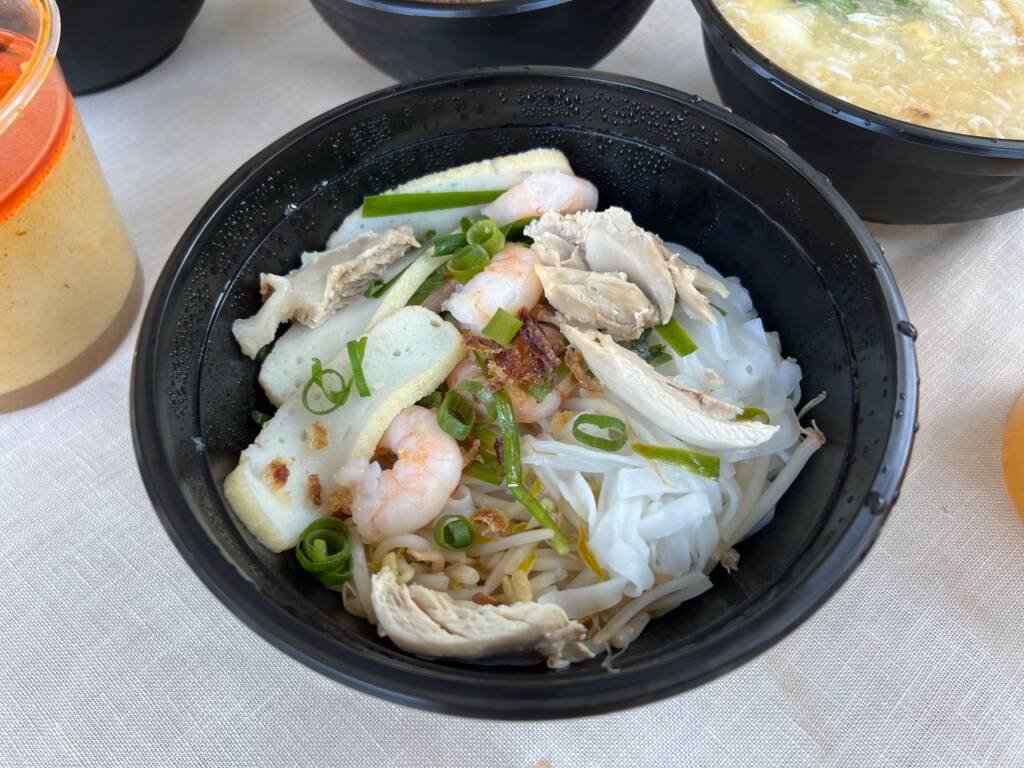 There are other noodle soups as well, including har mee (a Hokkien prawn noodle soup), prawn wonton egg noodle soup (the Cantonese influence) and Ipoh hor fun, flat rice noodles with chicken, prawns and fishcake that in this instance had a golden soup stock (traditionally it's more like a gravy).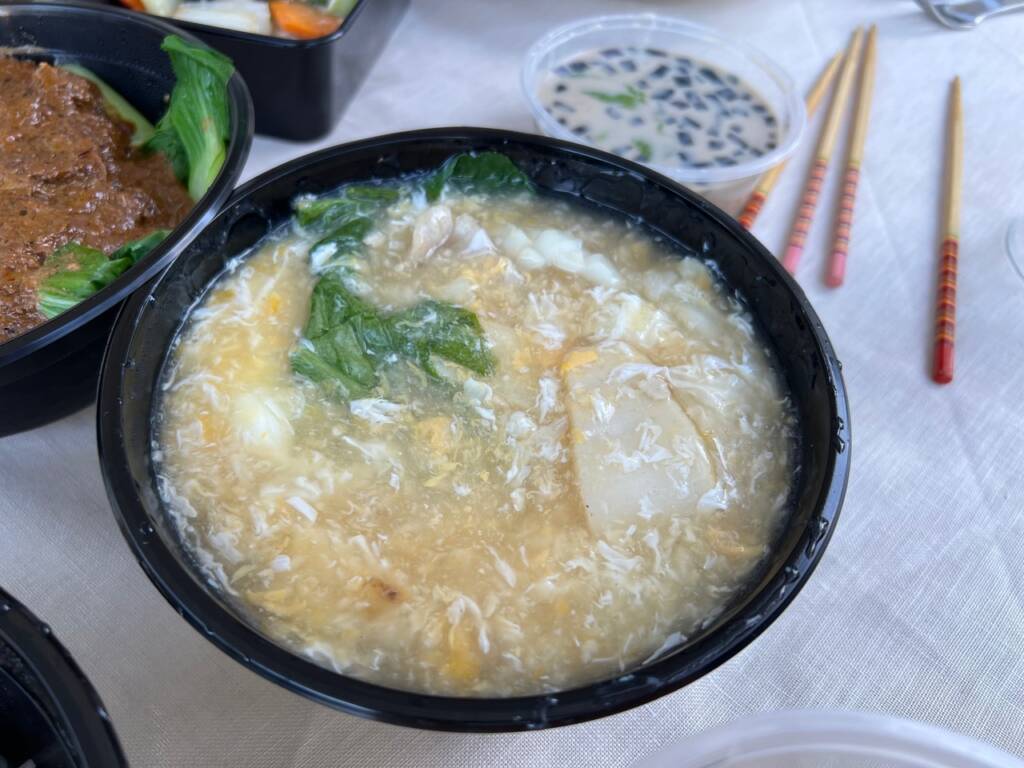 Speaking of gravy, somewhere between the soup noodles and dry noodles is a dish called flat rice noodles with egg sauce. The traditional name is wat tan hor fun. This was definitely a favourite. The noodles are the kind you have with pad see ew, but lathered in a thick, silky egg sauce. There are prawns, fishcake, calamari, pork and green Asian vegetables in there, too. Very slurpy durpy.
There are Chinese-leaning dishes, such as spring rolls, dumplings, crispy lemon chicken, sweet and sour pork and beef and black bean. In Australia, Asian restaurants tend to just include these on the menu to cater for non-Asian people, who gravitate towards them out of habit. I reckon you're much better off ordering beyond what you're used to and trying Nyonya curry, which originates from the Peranakan culture that came about after the Chinese migrated to Malaysia and Singapore six or seven centuries ago.
The Malaysian flavours also come through in the beef rendang (fragrant with lemongrass, ginger, kaffir lime, coconut, star anise and cardamom) and belachan kangkong (belachan being a fermented shrimp paste, kangkong being water spinach).
For dessert, there's coconut and soy milk pudding, a matcha cheesecake or kuih lapis, also known as thousand-layers cake. It's spiced and made with lots of eggs and condensed milk and takes a bloody long time to cook, and moments to devour.
To drink we ordered a hibiscus citrus iced tea, filled with antioxidants and said to lower blood pressure and cholesterol, though it's so sugary I wonder how much good it does. Iced tea tarik is a classic, or the Malay-style kopi, sweet and hot.
Something else on the menu that piqued my interest is the 60ml concentrate of chicken essence for $12.80. It's a 10-hour extraction process made using free-range chook, loaded with protein, amino acids, vitamins and minerals. There is a range of purported benefits and Laksa Garden recommends taking it two to three times a week to maintain health, especially during COVID.
Although this is a review based on takeaway and delivery, it's worth noting that Laksa Garden has a covered courtyard out the back and a warm, mod-industrial front dining space. There are lots of pot plants, light bulb-tipped ropes wrapped around wooden beams and a metal frame and polished timber tables. Oh, and when you do dine in, it's BYO wine.
Laksa Garden
724 Glenferrie Road, Hawthorn
laksagarden.com.au