Sofia Levin reviews: Taipei Delight — casual, authentic Taiwanese food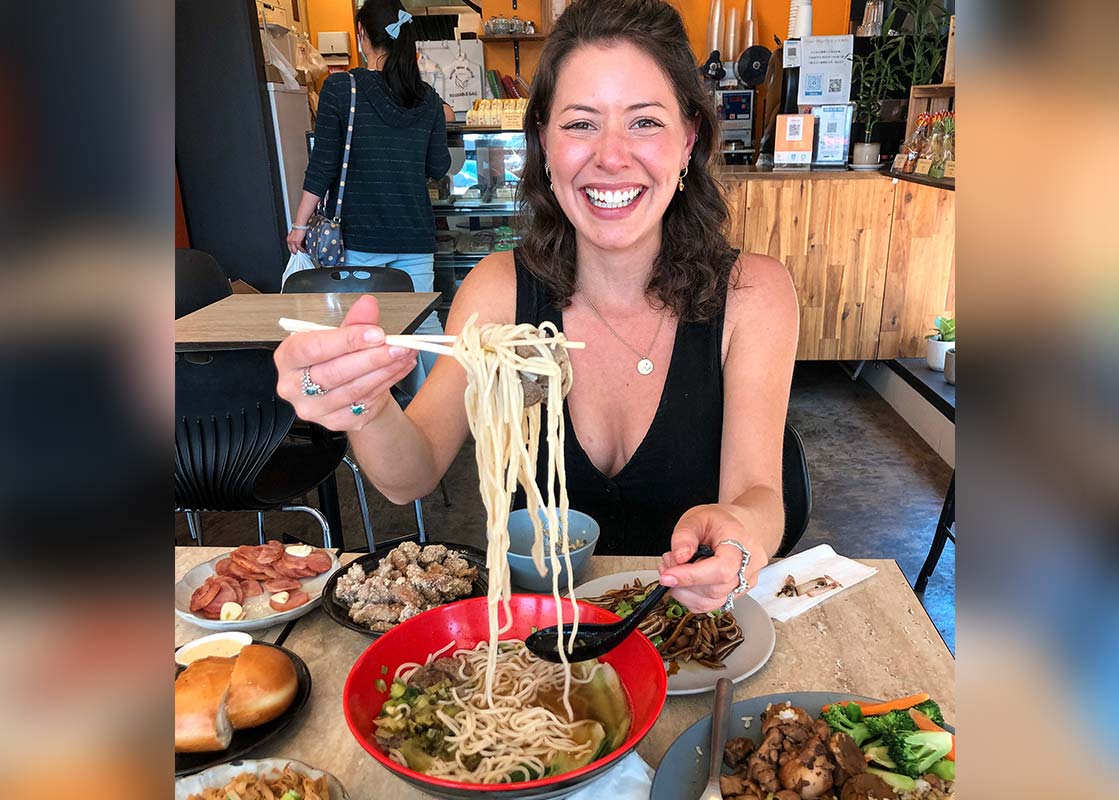 In a sentence: all-day casual and authentic Taiwanese food
The damage: lunch + drink sets $13.50; snacks $5.50-9; mains $12.80
Top tip: don't skip dessert, they make everything in-house
#EatCuriously: consider the Chinese, Japanese and British influence in dishes
Quench your thirst: no booze, bubble and Taiwanese milk teas instead
If you like this: try Taiwan Cafe in West Melbourne for Taiwanese bento lunches
I was meant to visit Taiwan next month to celebrate my little brother marrying his now-wife, who is originally from Taipei. The thought of these two beautiful people coming together filled me with almost as much joy as the promise of a traditional wedding banquet. Alas, the pesky pandemic prevented my travel plans. Instead, I "attended" a small Zoom wedding filmed in London earlier in the year and went hunting for Taiwanese food closer to home.
My search led me to Taipei Delight in Balwyn North, a family-run cafe that makes almost everything they sell. It started out in Glen Waverley before moving to Greythorn Central in early 2020. Throughout lockdown, their Facebook page and its associated groups sold Taiwanese dishes advertised in Mandarin. I madly Google Translated and sent screenshots to my sister-in-law to try to decipher what I was missing. After lockdown lifted – and after failing to be accepted into the private groups – I finally visited last week.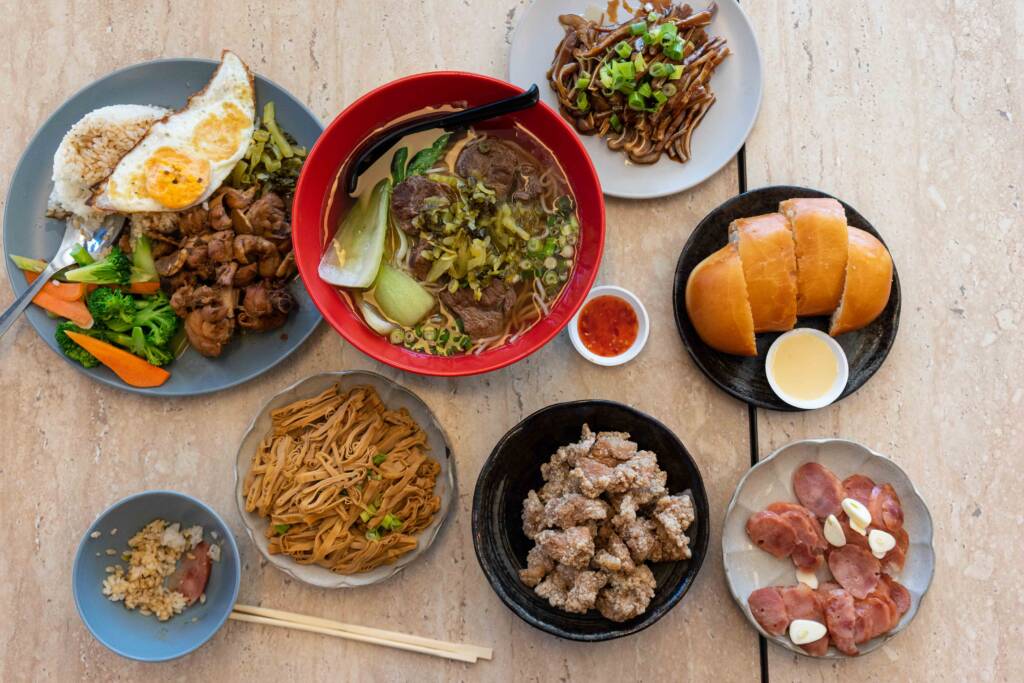 Taipei Delight is a no-frills corner shop with a wooden communal table, smaller ones for two and stools in the window looking out to Doncaster Road. You order at the timber counter, which is stocked with homemade sweets and has a bubble tea machine behind it. This isn't the kind of place to knock back Kaoliang, but there's sweet tea and coffee, soy milk and Taiwanese soft drinks like Apple Sidra (apple soda).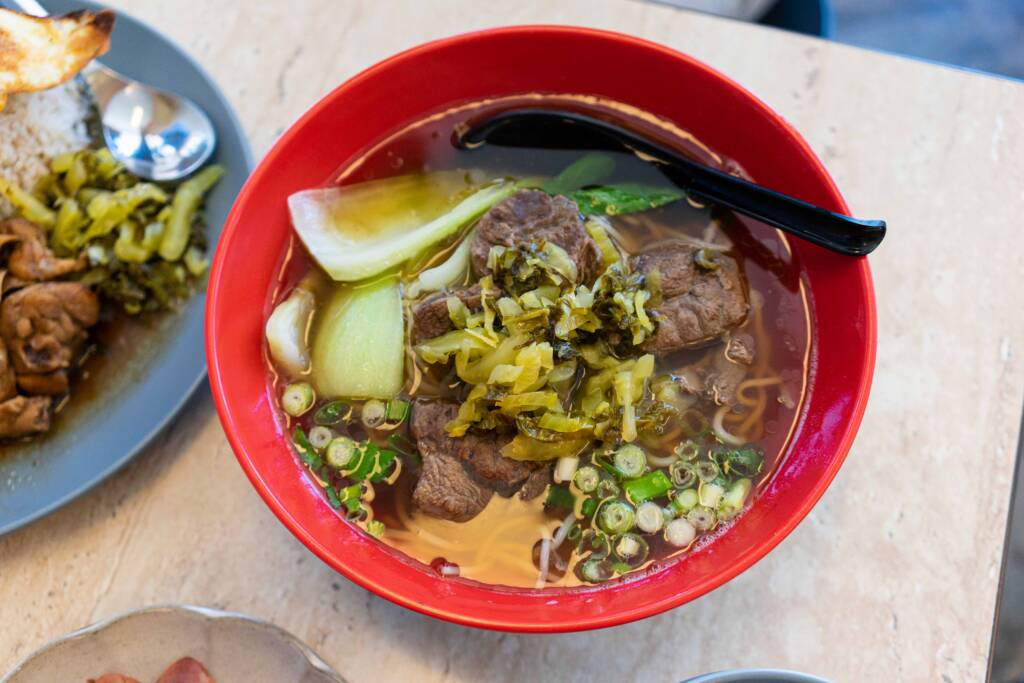 Most people order a $13.80 noodle or rice set, which comes with coffee, milk tea or black tea. One of the options here is the national dish of Taiwanese beef noodle soup, even though it has Chinese roots. The beef shin broth was crystal clear, heady with spices like star anise and healing. The overcooked noodles left more to be desired. When we went to order the chicken ginger and sesame oil noodles as a second set, the recommendation was to get the rice version instead of doubling up. It arrived with a fried egg on rice, steamed broccoli and carrot to the side and pickled mustard greens that were sweeter than I'm used to. The chicken was moist and full of flavour, thanks to it being cooked and served on the bone.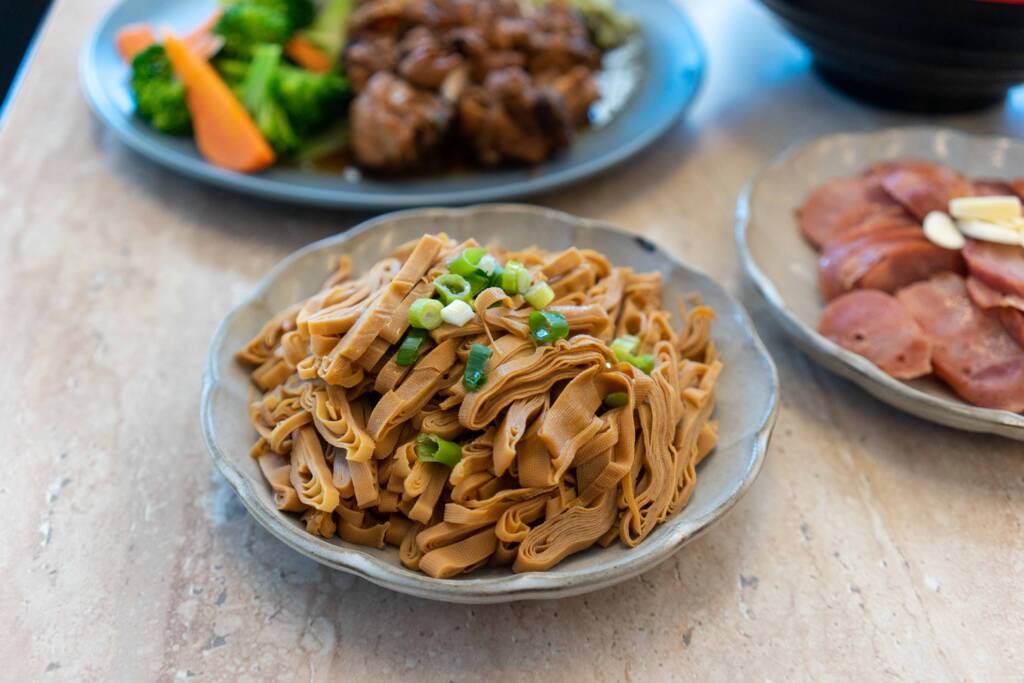 But I was most excited about the smaller, snackier dishes. I had absolutely no idea what "shaddle bean curd" was, nor could the smiling woman behind the counter explain it to me, other than with a vague, hand-chopping action. I might have let out a little squeal of delight when bean curd skin, rolled up and then thinly sliced to resemble noodles, hit the table.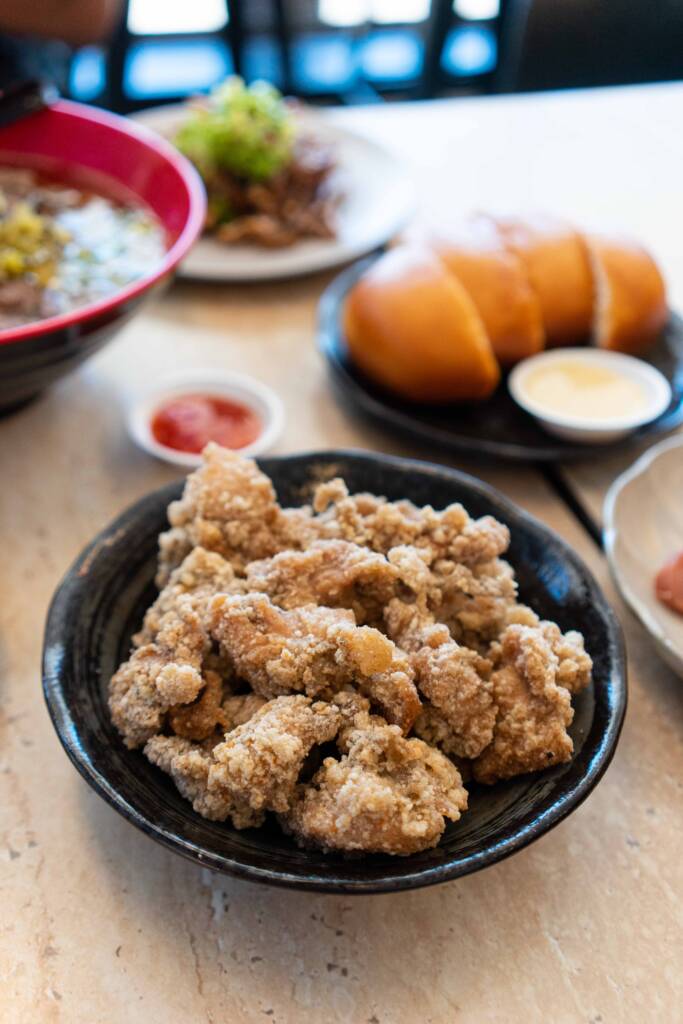 "Crispy pork ear marinade" wasn't crispy, but it was good: gelatinous and marinated in cooking wine and soy. Taiwanese popcorn chicken won the crowd-pleaser award, deep-fried until almost tempura-like and seasoned with lots of white pepper. My favourite dish was the house Taiwanese sausage, served cold, sliced and with chunks of raw garlic. It's sweet, slightly fermented and dried so it's left with the most wonderful chew but makes you completely unkissable for at least 10 hours.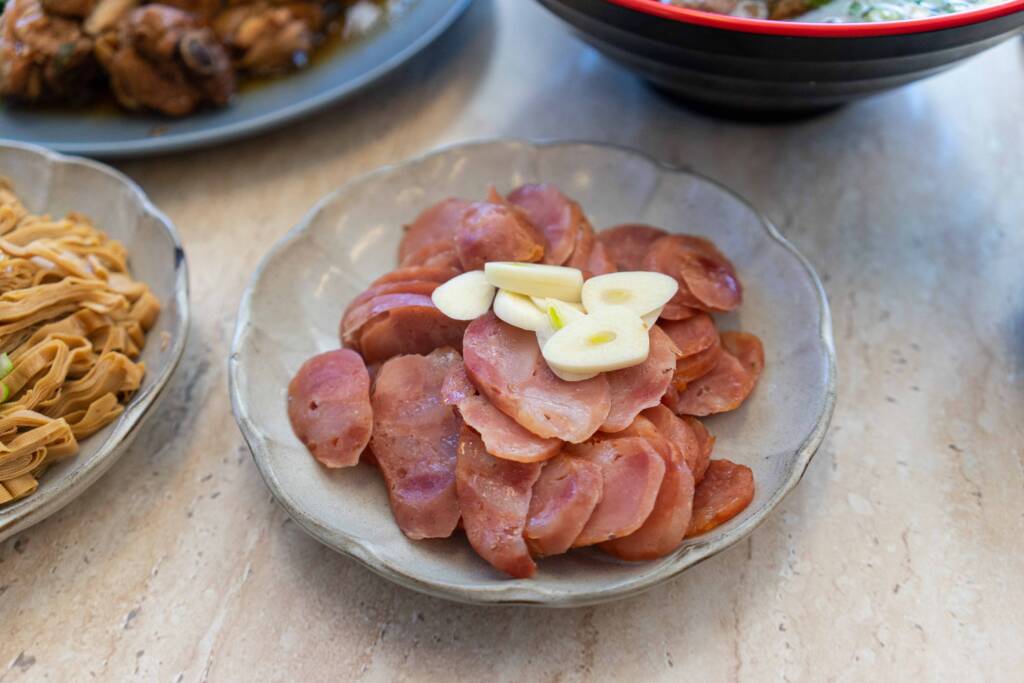 The fried flossy bun was essentially a doughnut with a fluffy interior that looked like the dough had been pulled into strings, folded over and baked. It's similar to deep-fried Chinese mantou with a brittle, glazed crust. Served with sweetened condensed milk for dipping, we took one bite and decided to save the rest for dessert.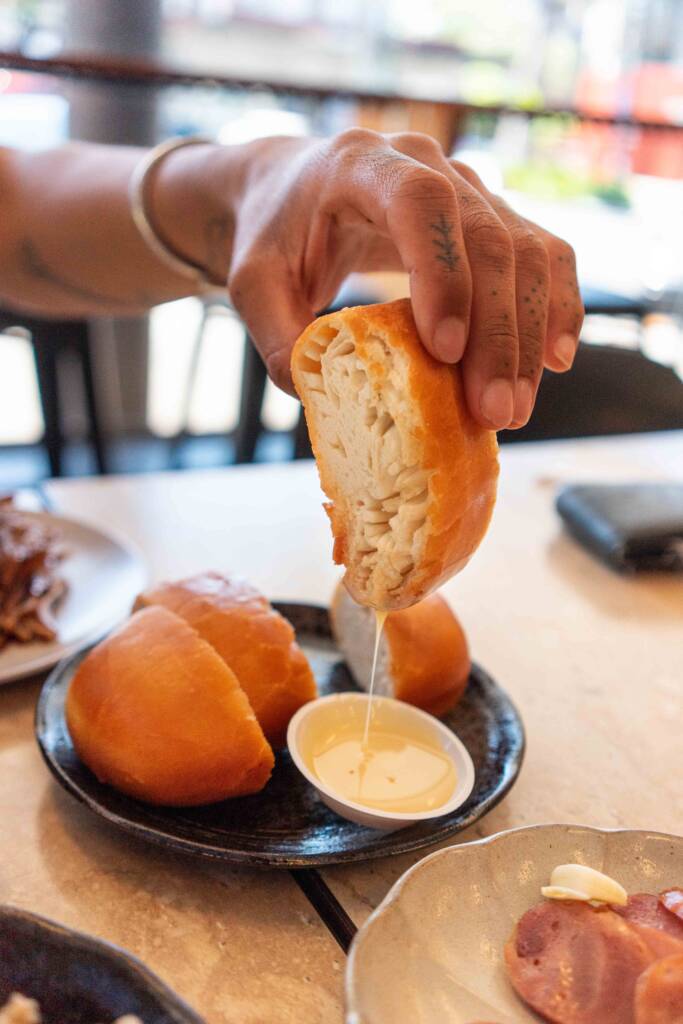 Speaking of desserts, I took a $2.50 slice of bright purple taro Swiss roll cake home. The Chinese version is lighter and fluffier than the Swiss original, with the origin likely traced back to when Hong Kong was British territory. Taipei Delight makes all their cakes in-house, with specials during events such as Lunar New Year and Mid-Autumn Festival. Follow their Facebook page and try your luck, or rope in a Mandarin-speaking mate.
I'm eager to visit for breakfast next time and try one of their pancake sets, rolled with everything from pork floss, to frankfurts, to a pork chop.
Taipei Delight
296 Doncaster Road, Balwyn North
0491 986 666
taipeidelight.com.au