Sofia reviews: Where to find some of Melbourne's best sandwiches!
Sandwich shops are popping up left, right and centre in Melbourne. They're the official food of lockdown: portable, affordable and rarely disappointing – especially when made by creative chefs used to whipping up multi-course meals. This is by no means an exhaustive list, but I feel the same way about the plethora of sandwich shops as I do about burger joints: you can't have too many. Here are some you need (knead?) to try.
Something special
A former Gimlet chef runs Jolly Good Sandwiches inside Near Far Bar in Fitzroy (373 Brunswick Street). He has four staples on the menu, but there's a regular French dip special on now for $16 – an American roast beef sandwich with mustard, swiss cheese and oatmeal stout gravy for dipping (jollygoodsandwiches.com).
At 703 Nicholson Street in Carlton North, The Fishmonger's Son's prawn and crayfish rolls are now available to pre-order as a $40 lunch box that comes with two rolls and potato chips. Email orders@thefishmongersson.com by 6pm prior to the day you'd like to collect, or swing by and pick one up for yourself (thefishmongersson.com).
Today (Friday) and Saturday between 11am and 5pm, Gray and Gray Bread and Wine in Northcote is serving rotisserie ciabattas, specifically porchetta, "troutchetta" and asparagus. Pick up only from 188 High Street (breadandwine.com.au).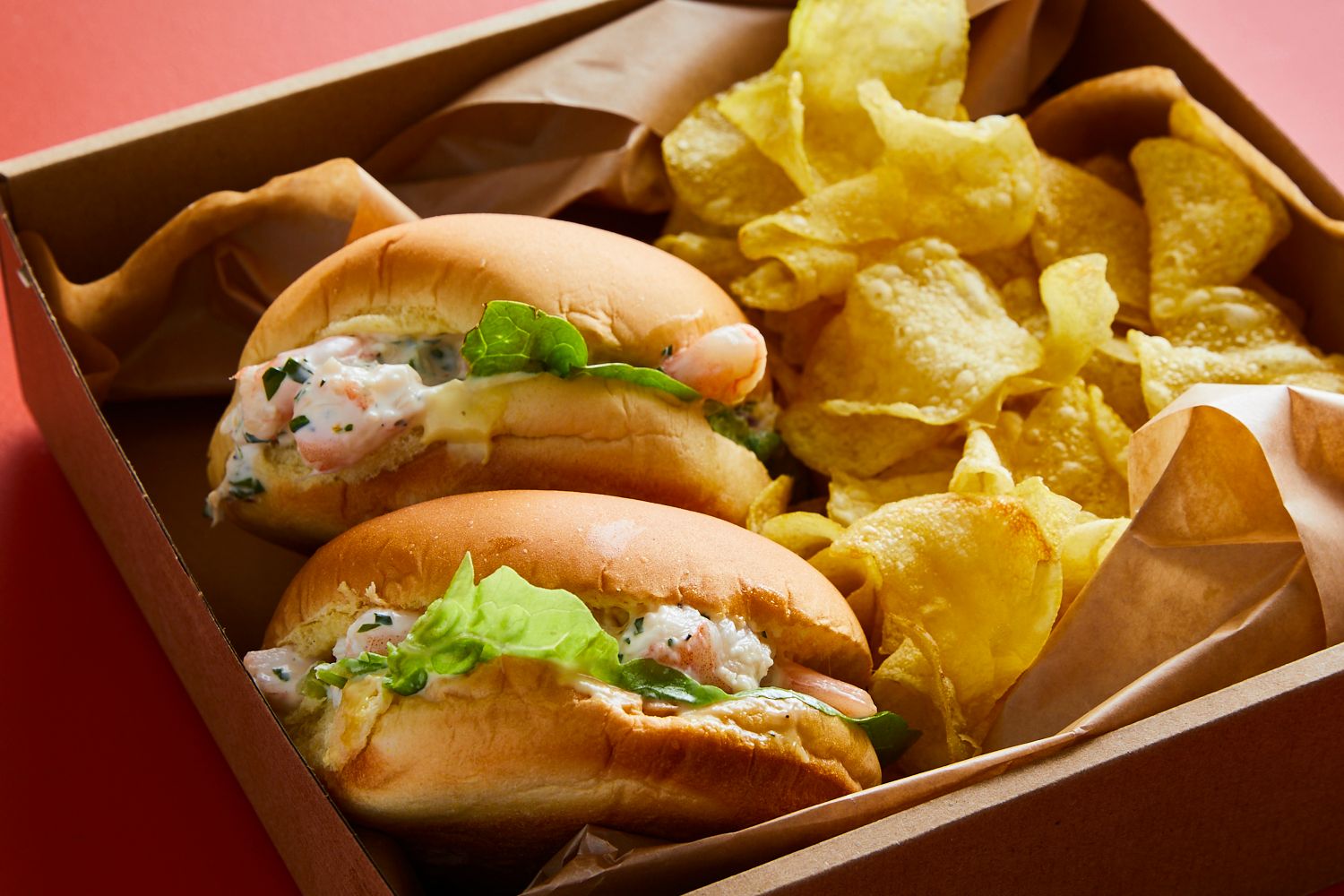 My local
I am obsessed with Nico's Sandwich Deli's chicken schnitzel sandwich ($15). I get it at least once a week. The schnitzel is made from super juicy chicken thigh and crumbed in panko. Add lemon, basil, salad creme (an English condiment similar to mayonnaise) and amp the umami with a sheet of nori and koji and it's one addictive sanger.
100 Kerr Street, Fitzroy & shop K Healeys Lane, CBD, nicos.melbourne
Delis
There are quite a few Italo-American delis. In Malvern, Stan's Deli opened earlier in the year when some hospo workers were craving an affordable, tasty lockdown option within their radius. The specials are worth knowing (check Instagram: @stansdeli), especially if land a Mexican-inspired birria toastie with consomme for dipping.
Dan's Deli opened a few months back in Toorak Village. The chef previously worked at Paco y Lola in South Melbourne for the better part of a decade and wanted to do something people pleasing using the best quality ingredients. That means bagels, rolls and Inglewood coffee. The $16 muffaletta-style roll layered with cold cuts, cheese and roasted capsicum is what catches my eye.
For vegan deli sandwiches that will fool carnivores, Smith & Deli in Fitzroy has the lot, whether a smoked salmon and dill cream cheese number, tuna melt, meatballs, reuben or a chicken parma – all made with Shannon Martinez's mock meat recipes that are as much of a secret as they are realistic.
Stan's Deli, 248b Glenferrie Road, Malvern, stansdeli.com.au
Dan's Deli, 434a Toorak Road, Toorak, instagram/dansdelitoorak
Smith & Deli, 111 Moor Street, Fitzroy, smithanddaughters.com
Around the world in five more sandwiches
Korea: K-sandwiches/gilgeori toast
K-sandwiches or gilgeori toast, a Korean street food sandwich that's big in Seoul, is trending hard in Melbourne.
They're usually served on white bread or brioche and packed with fluffy square omelettes and any combination of hash browns, bacon, cheese, beef bulgogi and sauce.
You can find them at:
Seoul Toast Bong – Shop 6 Healeys Lane, Melbourne, instagram.com/seoultoast_bong
Palette – 610 Queensberry Street, North Melbourne, palettemelbourne.square.site
Eggholic – G06/545 Station Street, Box Hill, instagram.com/eggholic_au
Dari Korean Cafe and Bar, 27 Hardware Lane, Melbourne, darifusion.com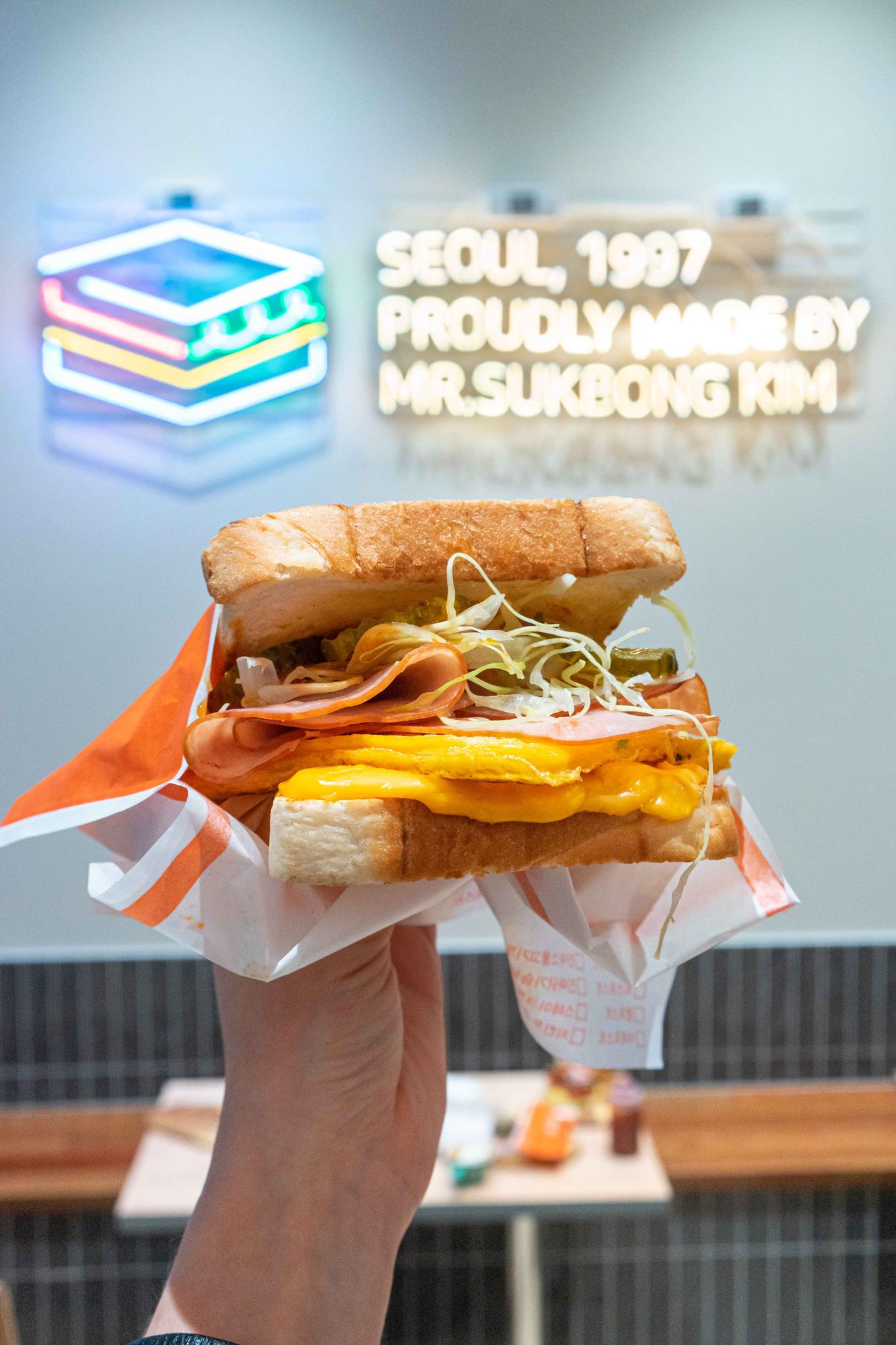 France: Le Derriere by Entrecote's steak frites baguette
You essentially get a main course in a crusty Ned's baguette for $19.90 with this one: a grilled entrecote steak, fries and green herb butter sauce in a neat and filling package.
119 Park Street, South Yarra, entrecote.com.au
Mexico: Frankies Tortas and Tacos' al pastor torta
A big, fluffy white roll layered with black bean paste, avocado, pickled onion, lettuce, coriander and al pastor spit-grilled pork, served from a Fitzroy kiosk.
384 Smith Street, Collingwood, tortasandtacos.com.au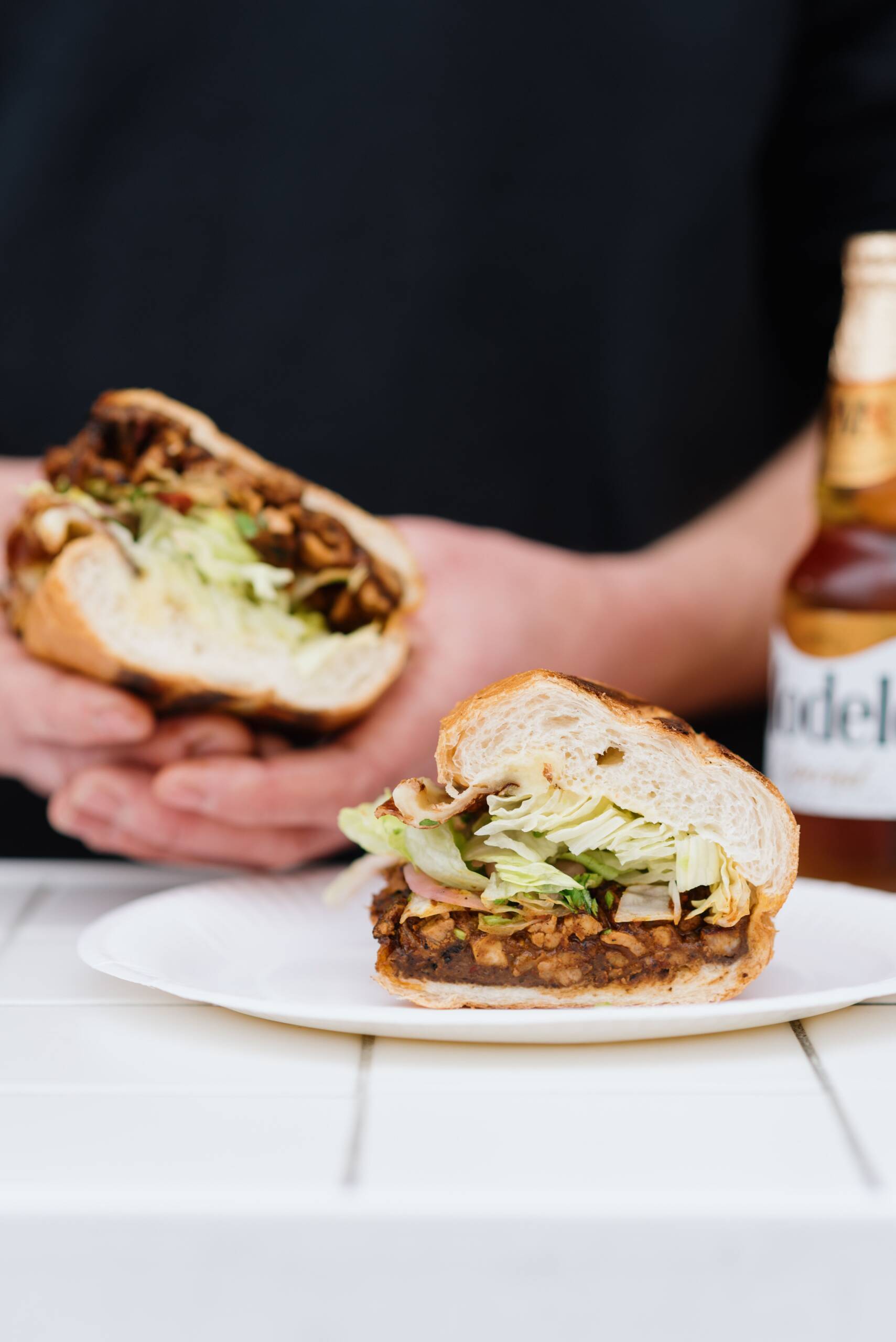 Picture: Nathan Mollison
Indonesia: Warkop's gado gado sandwich
The Indonesian owners of this Richmond sandwich shop put gado gado, a traditional salad of tofu, tempeh, bean sprouts, lettuce and peanut sauce on a Turkish roll.
12 Risley Street, Richmond, warkop.com.au
Japan: Le Bajo's fruit sandwiches
Le Bajo is a Japanese cafe in a North Melbourne warehouse baking shokupan (Japanese milk bread) and specialising in sandos. There's the classic fried katsu sandos, but they also do hard-to-find fruit sandos, where whipped cream and sliced fruit are encased by crustless shokupan.
8-14 Howard Street, North Melbourne, lebajo.com.au