THE OSCARS: Who will, won't and shouldn't win – and why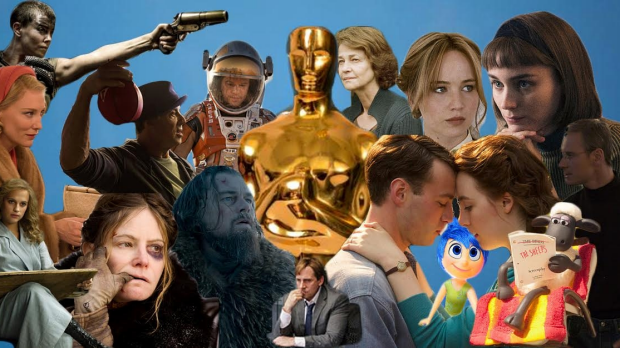 Stay tuned to 3AW throughout the day for updates from the Oscars
It's one of those lovely ironies regularly thrown up by the film business that while this year's line-up of Oscar films is one of the most diverse and challenging in years, the lead-up to the awards has been dogged by a controversy over a lack of diversity.
No need to deep-dive into it here (for that check out our Defending Oscar piece) but basically a huge fuss has been kicked up because, for the second year in a row, black actors have failed to make the final cut in the acting categories. This under-representation has lead to much consternation, soul-searching and calls for a boycott.
As silly as the furore is, it has served one very useful purpose by drawing attention away from a potentially more divisive and controversial matter – that of the massive over-representation of Australian talent at the Oscars.
Talk about a country punching above its weight; Aussies are all over the Oscars this year, in almost every category. Thankfully nobody has noticed, hence no calls for an anti-Aussie boycott, and no angry Twitter feed declaring #TooManyAussies. Whew.
Hosting this year is fiery, controversial comedian and aspiring film director Chris Rock who, in the rich tradition of Oscar hosts, has about as much chance of ever winning an Oscar as Rob Schneider.
Fully attuned to the zeitgeist, Rock promises to breathe some life into the proceedings and draw some much-needed ratings, which hit a much-needed peak in 2014 when Ellen DeGeneres hosted. He's got some big sneakers to fill.
But enough japing. Let's get down to business and run through the line-up to see who's most likely to walk home with a personalised garlic-crusher and who isn't.
BEST SUPPORTING ACTOR
Quality-wise, Mark Rylance is the most deserving, his piercing performance being the only real thing of interest in Steven Spielberg's otherwise dull Bridge of Spies. Christian Bale tested his uber-nerdiness as the high-flying number cruncher in The Big Short, yet sentiment will likely give the gong to hulking icon Sylvester Stallone for his lovely turn in Creed. Others nominated: Tom Hardy, The Revenant; Mark Ruffalo, Spotlight.
BEST SUPPORTING ACTRESS
Swedish actress Alicia Vikander would have been a shoo-in for this had she been nominated for her wonderful performance as the self-aware robot in Ex Machina, instead of the struggling painter in The Danish Girl. So winning by default will be the brilliant Jennifer Jason Leigh for The Hateful Eight, a win that will go some way to redressing how underrated she is. Also up: Rooney Mara, Carol; Rachel McAdams, Spotlight; the ever-good Kate Winslet for Steve Jobs. (How great would it have been, by the way, to see Cate Blanchett here in recognition for all the scenery chewing she did in Cinderella.)
BEST ACTOR
He's deserved it so many times before that you can understand why Leonardo DiCaprio should get it for The Revenant, but the truth is that Bryan Cranston is just too good in Trumbo.
The others: Matt Damon, terrific in The Martian; Michael Fassbender channelling the spirit of Steve Jobs; last year's winner Eddie Redmayne frocking up with conviction in The Danish Girl.
BEST ACTRESS
In a very strong field, Brie Larson will take it for the low-budget drama-thriller Room. Nobody will appreciate this more than
Joy's Jennifer Lawrence, who also got her first Oscar attention in a small film (Winter's Bone). The other very worthy contenders: Cate Blanchett, Carol (but not for her outstanding performance in Truth? Go figure); Charlotte Rampling, so good in 45 Years; and outsider-but-glad-to-be-there Saoirse Ronan, who shines in Brooklyn.
BEST DIRECTING
Face it: Mexican director Alejandro Gonzalez Inarritu, who won for Birdman last year, is going to win for The Revenant this year. Funnyman Adam McKay (Anchorman) proved his dramatic chops with The Big Short; Room and Spotlight scored virtual wins with their nominations. As for Mad Max: Fury Road, the nod is proof of just how strong that 36-year legacy is. Essentially a prolonged car-chase movie – and arguably an out-dated one at that – an upset win could cause an uproar.
BEST FILM
The Revenant, by a long stretch. Favour for the period movie Spotlight relies mostly on its nostalgia for a bygone era when newspaper journalists were trusted to act ethically and tell the truth. The other nominees: The Big Short, which has revived the draw of business movies; Brooklyn & Room, proving that little films with modest aims can still rub shoulders with the big studio titles; Bridge of Spies; Mad Max: Fury Road; The Martian.
BEST ANIMATED FILM
A few years ahead of its time, adult animations such as Anomalisa will stand a better chance as tastes continue to mature in this category. Meanwhile, the mostly wordless, near-brilliant Shaun the Sheep deserves the Oscar, though blind favour will likely give it to the touchy-feely cliches of Pixar's Inside Out. The other nominees: Boy and the World; When Marnie Was There.
But, hey: where the heck is Minions?! It was a much bigger hit than Inside Out – $US857 million vs $US1.16 billion – was far more fun and so at least deserved a mention.
BEST CINEMATOGRAPHY
The Revenant, easily, for continuing to pioneer the dramatic power of long takes. Also up: Carol; The Hateful Eight (boost enough for Quentin Tarantino's laudable crusade to preserve 70mm); Mad Max: Fury Road; Sicario.
BEST FOREIGN LANGUAGE FILM
The blistering Hungarian Holocaust drama Son of Saul will surely win, not because of any in-built Oscar-bait appeal but because it happens to be one of the most unsettling, original and intimate films yet made about the Nazi atrocities.
BEST DOCUMENTARY
Amy, easily. A touching, heart-breaking, brutally honest tribute to a self-destructive soul.
BEST ADAPTED SCREENPLAY
The Big Short (by Adam McKay and Charles Randolph) for making the global financial crisis entertaining and at least trying to make it understandable. Others: The Martian, Drew Goddard; Room, Emma Donoghue (a close runner up); Carol, Phyllis Nagy; Brooklyn, Nick Hornby.
BEST ORIGINAL SCREENPLAY
Spotlight by Tom McCarthy and Josh Singer. But if Straight Outta Compton wins, imagine the speech. There'll be five peeps up there – Jonathan Herman, Andrea Berloff, S. Leigh Savidge, Alan Wenkus and Andrea Berloff – and won't they have a thing or two to say about the film's only nomination. What fun. Others: Bridge of Spies; Ex Machina; Inside Out.
BEST VISUAL EFFECTS
Exploding cars; Death Stars; massive sandstorms; spaceships; sexy robots; interplanetary travel. They're all great, but none can hold a candle to The Bear in The Revenant – not even the return of Star Wars. Man, that thing looked so real it hurt.
Elsewhere: Expect The Revenant to take out best sound, sound mixing, sound editing and film editing, with Mad Max a close second. Costume design will go to Carol: make-up and hair to The Revenant; original score to The Hateful Eight; production design, The Martian. Hey, it's gotta win something.
*The 88th Oscars ceremony screens live today at 12.30pm on Channel 9 and 9Now.com.au; the telecast will be repeated at 9.55pm.