'These lights are bizarre!': Heart-shaped traffic lights in St Kilda won't be there much longer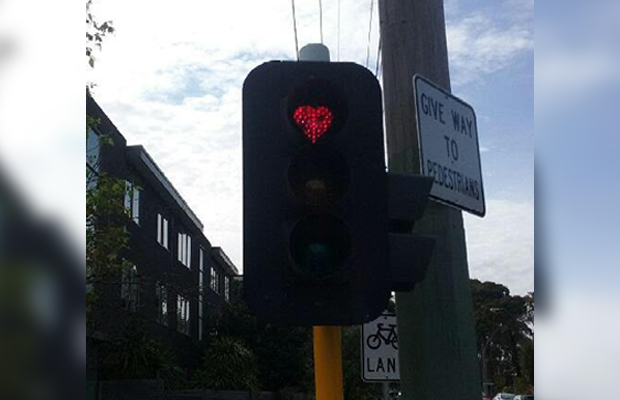 Heart-shaped signals on traffic lights at an intersection in St Kilda will be removed.
An eagle-eyed 3AW Mornings listener alerted Neil to the traffic lights on the corner of Inkerman Street and Westbury Street earlier this week.
Caller Chris told Neil he lives nearby and thought he'd check it out.
"Sure enough, all the red lights are in the shape of a heart!"
"I took a look at one light, it look like the lens itself has been done in the shape of a heart,but the others look spray painted."
Neil said it was bizarre, but possibly a sweet gesture.
But in a statement today, a VicRoads spokesperson said it will be fixed.
Occasionally LED lights break down, and in this case it appears that individual lights failing have formed the shape of a heart.
While it's really sweet, it isn't safe, so we're going to have to replace the faulty lights to ensure the safety of all drivers, cyclists and pedestrians.