Tobie Puttock's recipe for a spicy tuna poke bowl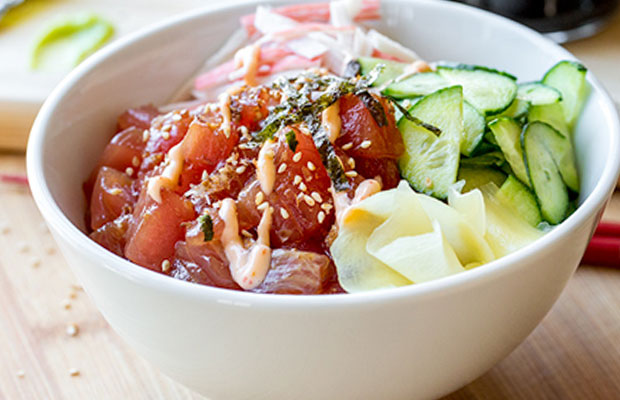 Spicy Tuna Poke Bowl
Serves: four
Ingredients:
2 teaspoons dried wakame (available from Japanese grocer)
1 teaspoon dried hijiki (available from Japanese grocer)
300g sashimi grade tuna, cut into 2cm cubes
80g shallot, finely diced
1 spring onion, finely sliced
1 teaspoon white sesame seeds
4 teaspoons soy sauce
2 teaspoons toasted sesame oil
1 teaspoon honey
dried and crushed chili sea salt
steamed rice for serving
2 avocados for serving
Method:
Pop the wakame and hijiki in separate bowls and cover each with boiling water to let rehydrate for about 5 minutes. Drain and squeeze to remove all moisture. Roughly chop wakame and add to a large mixing bowl along with the hijiki.
Add to the bowl the finely diced shallot, spring onion, sesame seeds, soy sauce, sesame oil, honey, chili (if using) and season with a pinch of salt. Use a spoon to very gently fold the ingredients over each other to combine. Have a taste and adjust with soy, sesame and honey until it's awesome.
Serve with steamed rice and diced/ sliced avocado.