Tobie Puttock's recipe for Beef Rolled in Prosciutto with Mushrooms and Thyme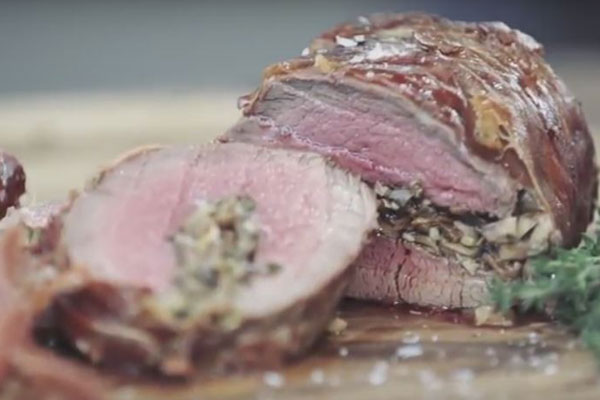 Serves:   Four
Ingredients:
800g beef fillet, cleaned of sinew.
8-10 thin slices of prosciutto
20g butter
1-2 garlic cloves
2 shallots, peeled and finely minced
2 teaspoon of freshly picked thyme
Handful of dried porcini, rehydrated and roughly chopped
500g mushrooms, finely chopped
White wine
Small handful picked flat leaf parsley, finely chopped
Sea salt and cracked pepper
Method:
Melt the butter over a medium heat in a large pan, as the butter starts to sizzle add the shallot, garlic and thyme. Gently sauté until soft and translucent. Increase the heat to high and add the porcini followed by the button mushrooms and cook while stirring for a few minutes before adding the wine, reduce the heat a little and cook until the mushrooms have released some of the moisture and the mixture is slightly browned. Season to taste and allow to cool almost completely before folding through the parsley.
Slice almost all the way through the beef horizontally to butterfly it, if possible make a second horizontal slice to really butterfly it flat.
Use your hands to press down on the meat to flatten it even more.
Lay the prosciutto slices side by side in two rows to make a big square. Place the butterflied beef fillet on the prosciutto
Smear the mushroom mixture over the meat and roll the fillet in the prosciutto so it resembles its original shape.
Secure the prosciutto with some string.
Seal the beef until the prosciutto is browned on all sides, place into a pre-heated oven on 200C for about 30 minutes.
Remove and allow to rest for at least ten minutes before slicing.
Watch Tobie making the proscuitto rolled beef for the Prahran Market below