Tom Elliott: We need a blackout this summer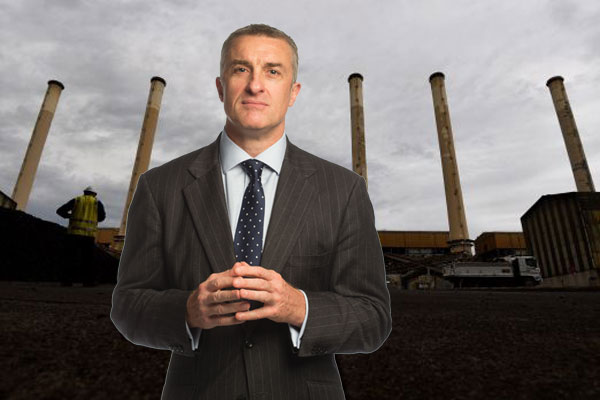 I hope we suffer from a giant, statewide blackout on a super hot day this coming summer. Nothing else will convince our head-in-the-sand political leaders to abandon their idiotic and unreliable energy polices in favour of what all Victorians rightfully demand – a cheap and reliable power supply.
Right now we're all feeling the financial pinch caused by high gas prices in the middle of a freezing cold winter. Thanks to huge foreign export programs combined with an exploration ban here in Victoria, heating our houses is now ruinously expensive.
Unfortunately, summer could be even worse. If we experience a sustained bout of really hot weather – like the run of 40-plus degree days that warped railway tracks and distressed Australian Open tennis players in January 2014 – there's a good chance our electricity grid will fail. Lights won't switch on, TV screens will remain dark and, most importantly, air conditioners won't cool us down.
Such a blackout will be uncomfortable at best and deadly at worst. Yet it's exactly what we need to put our energy policies back on track. If federal Energy Minister Josh Frydenberg and his state counterpart Lily D'Ambrosio could put their political differences aside for a moment, here're the changes they should make:
First, admit that the bipartisan support for continued high immigration must cause power demand to rise. If both sides of politics want 300,000 new Australians to be granted visas every single year, then generating capacity must be built to service their needs.
Second, most of us love air-conditioning on hot days. Yes, our considerably tougher forebears did without this modern convenience, but why should we suffer the same way?
Unfortunately, air-con units love electricity. And thousands of them have a nasty habit of being switched on together when the mercury rises. Ministers Frydenberg and D'Ambrosio need to accept and plan for this certainty.
Third, acknowledge that renewable power is nice in theory but doesn't always work in practice. If we had a nice consistent climate with gentle breezes 24 hours a day (to spin wind turbines), combined with sunny cloud-free skies (for solar panels to function efficiently), then environmentally sound generators could meet a big chunk of our electricity needs.
In reality, weather is rarely this cooperative. The wind doesn't always blow and the sun can't shine continuously. Yet the desire to heat, cool and  illuminate our homes remains. A reliable source of baseload power will always be needed to meet this demand on unusually hot and cold days.
Which leads us to this important fourth point. We cannot continue shutting down coal-fired power stations like Northern in South Australia (closed 2016), Hazelwood here in Victoria (closed 2017) or NSW's Liddell facility (to be shuttered by AGL in 2022) without there being serious consequences. While burning coal creates pollution, it's also an energy source that is (a) abundant, and (b) reliable. If we're determined to stop using this valuable resource, then two alternatives present themselves: Gas and/or nuclear.
Nuclear power – as employed in countries like the USA, UK and France – can be both dependable and cheap, once the reactors have been built. Coincidentally, Australia possesses approximately 40% of the world's known uranium reserves of. And we're also lucky to have a large and geologically stable continent, thus easing the disposal of radioactive waste.
What we lack, however, is political will. There's little appetite on either side of parliament to construct a nuclear power plant. Hence this option, while sensible, remains off the table.
Which leads us towards gas. Here in Victoria we are blessed with some of the world's most plentiful supplies of natural gas. Far cleaner than its fossil fuel cousin, coal, cheap and efficient gas could heat our homes in winter and power our electricity generators in summer. Gas is also vital to a range of manufacturing processes – such as fertiliser production – on which Victorian industry and jobs depend.
In theory, any political leader with half a brain would campaign to exploit these reserves in a manner beneficial to all Victorians. Yet what do we have instead? A moratorium on any and all new gas exploration the length and breadth of the state. Minister D'Ambrosio claims the community is uncertain about additional gas production and insists we don't need to expand our current supplies.
This ban is wrong, wrong, wrong. Far from being nervous about natural gas, we depend upon the stuff.
For example, we hated it in 1998 when the Longford explosion cut off gas supplies and condemned us to a fortnight of cold showers. During the present cold snap, we avoid opening the unavoidable heating bill for fear of the high-priced sticker shock contained within.
And when our air conditioners shut down due to a blackout on a 45 degree day, we'll be sweaty, uncomfortable – and angry at the ridiculous polices which have led our state down this literally dark path.
Victoria has natural resources in abundance. Let's exploit them to keep the power on – as befits our allegedly advanced society.