Tregan Borg takes a trip to Castlemaine!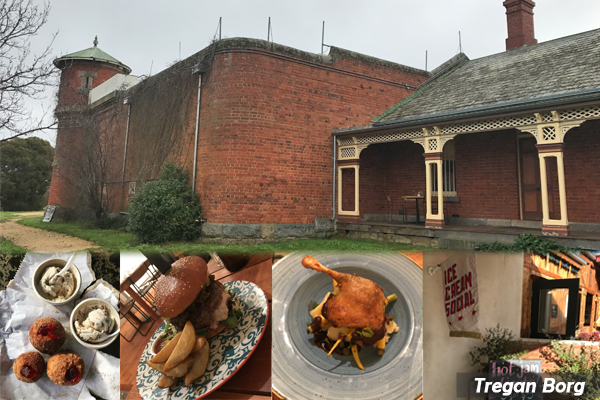 The Govenors Cafe
36-48 Bowden Street, Castlemaine
https://www.oldcastlemainegaol.com.au
Click PLAY below to listen to Tregan's review on 3AW Breakfast
---
Take a drive up the Calder for around 1.5 hours out of Melbourne, you will stumble across Castlemaine.  A country town with historic beauty and quaint nature.
It's a wonderful spot for a short day trip or weekend getaway and Castlemaine is continually growing in its popularity for food and tourism.
You could say that its increasing popularity is due to the ever-growing population of Melbournians deciding to make the move to the country, and bringing the Melbourne foodie scene along with them.
Not sure how the locals feels, but I am sure it is doing wonders for their local economy.
It came to my attention that the old gaol, built in 1861 was offering breakfast and dinners at its little café.
Set upon a hill overlooking the picturesque Castlemaine town dinner is served on Friday and Saturday evenings, with a breakfast/brunch menu running through the week.
It was dark and foggy rolling up onto the hill on a very brisk Friday night.  Alongside residential properties sits the historic goal with high brick walls, barbed wire, and big wooden gates, eery yet beautiful.
Once you step inside the dining area which was what I can imagine was previously someone's lodging quarters it is the opposite of it's exterior.
Soft lighting, warm lit fireplaces, it's like having dinner at an old friends in the good room.
The dinner menu is simple and mostly meat based.  Prices are middle of the range, starting from $25 upwards.
The entrée section did not have much to offer, so I opted to get the Beef Cheek Gnocchi to share, which was kindly split over two bowls and served as a very substantial starter.
Big chunks of slowly braised beef cheek in a rich sauce, tossed amongst large-ish house-made gnocchi nice and pillowy soft to lap up the beef goodness of the cheek.
The Gov Burger was a bit on the extravagant side, and had all the makings of a decadent burger ($34).
The patty is lamb, which is sous-vide, stuffed with mozzarella, horseradish mayo, onion jam, onion rings served on a brioche bun.
The lamb's cooked rare, which is not optional but gives a nice meaty flavour, which I love in a burger.
You will need both hands and a big mouth to conquer this one!
Confit duck leg, parmesan mash and heirloom potatoes ($30) was a bit of a contrast to the big burly burger.
Crispy duck skin crackled when you cut through it, encasing beautifully soft duck leg, which falls away from the bone nicely, and indication of a well-cooked duck leg.
With all the right trimmings of the garlicky mash and heirloom carrots, it was my winning dish.
Visiting during the day will allow you to sit outside, and enjoy the views.
The daytime menu is much more varied, with some old faithfuls like eggs your way, a winter bircher with stewed rhubarb, orange and pistachios and a good old breaky burrito.
The lunch menu extends on to offer, things like a braised beef cheek shepherd's pie, confit chicken burger and a kale butter gnocchi with roast tomatoes, parmesan and pine nuts.
The house-made buttermilk waffles, seasonal toppings or an espresso brown butter banana bread will keep the sweet tooths happy.
After you have eaten for $10 you can have a quick tour of inside the goal.
---
The old goal is not the only historic building in Castlemaine that has recently undergone a facelift.  The Mill Precinct home to a Vintage Market, along with several other eating and drinking spots is well worth the visit if time permits.
---
The Taprooms – a functional brewery, home to Castlemaine Brewing Company.
Rotating beers on tap, it's a great pit stop after trying your hand at some Vintage bargains and you will also find live music on most Friday nights.
---
Around the corner, you will stumble across Das Kaffehaus an elaborate Viennese Café that transports you right to Austria.
Huge chandeliers hang from the ceiling, marbled top tables and waiters in traditional Viennese dress; provide the full effect whilst chowing down on your Frankfurt, and sauerkraut for breakfast (or lunch).
The menu is huge and a bit of a challenge to navigate through, but I highly recommend flipping to the back pages and trying one of their classic Austrian desserts.
The yeast dumplings, plum jam and poppy seed crumb were a very sweet treat.
---
Rain, hail, fog or shine Ice Cream Social are churning away just next door, scooping up small batched products in over 10 wonderful flavours.
If you just don't do ice cream in winter you're covered with their warm hot jam donuts, doused in cinnamon sugar, there sure is something about a hot jam donut.
I'm a pig, so had both.
---
There's loads more to explore in the town, like Jonny Bakers a "drive-thru" bakery.  Pick yourself up a big slab of cheesecake and wander through the picturesque botanical gardens.
Castlemaine has loads to offer when it comes to history, food, and scenic delights and well worth the trek out of the city to do some weekend exploring!
Loose pants are and an empty tummy are recommended!