Metro to find 'new location' for 'iconic' photo booth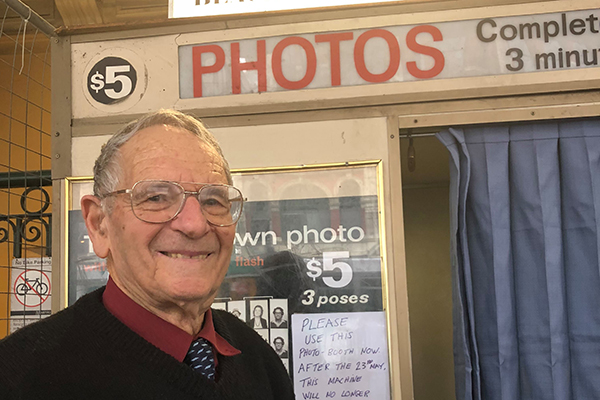 UPDATE: Metro says it will "work closely" with an elderly man who runs the iconic photo booth at Flinders Street Station to find it a new location.
It's stressed it's not giving him the boot.
Alan Adler, owner of the vintage photo booth, told Tom Elliott there were queues of people lining up today to get their photos taken.
He was left distressed when told his booth had to go by tomorrow due to renovation works at the station.
"I've just had a phone call from Jeroen Weimar, from Public Transport Victoria, and he's apologised for what's happened and he said he will do everything within his power to allow me to continue operating the photo booth.
"The railways want to put some additional exit barriers where the photo booth is located.
"They just sort of wiped me, they just told me take it away as quickly as you can, they didn't offer me any alternative site they just want to get rid of me."
"The bloody stirring up has only happened today."
Click PLAY to hear more on 3AW Drive
Tara told Neil Mitchell her husband proposed to her in the photo booth and said it's an institution worth saving.
She said it followed a tradition of getting a photo in the booth each year.
"We did get married at the photo booth a couple of months ago," she said.
Metro sent 3AW the following statement.
"The photo booth will not be removed from Flinders Street Station."
"The station is undergoing works to improve the amenity and accessibility of one of our city's great cultural icons."
"We understand the significance of this photo booth and are working closely with the owner to find a new location at the station."
Photo: Donna Demaio