Wendy Hargreaves: Escaping hot days in Melbourne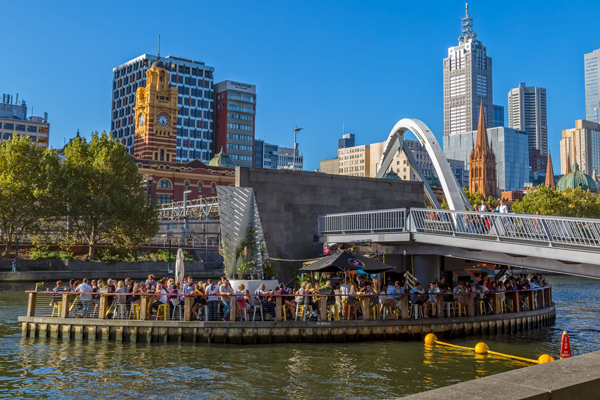 Click PLAY below to hear Wendy on 3AW Afternoons
Like most Melburnians, I can't wait for summer to finally arrive with a big dose of sunshine, but as soon as the temperature gauge goes over 35C, this mauve-skinned sun phobic is on the hunt for a cool bolt hole.
All I need is something delicious to eat and drink.
Here are five of the best places to chill when hot and horrid (or warm and fabulous, if you're one of the lucky types with skin that doesn't fry in the shade).
CATCH A RIVER BREEZE AT PONYFISH ISLAND
Ponyfish Island (above)
Pedestrian bridge between Flinders Street Station and Southbank
This place is as close as you'll get to a boat trip on the Yarra without the boat. Ponyfish Island is a tiny bar floating under the pedestrian bridge between Flinders Street Station and Southbank, accessed via almost hidden stairs taking you down to river level. Enjoy a cold beer and a toastie as the sun sets over the Yarra, perfectly positioned to catch the cool water breeze. Ponyfish Island is reportedly named after the elusive ponyfish, a mysterious creature reportedly seen swimming in the Yarra River. See if you can find one.
COLD BEER AT CINEMA NOVA
Cinema Nova bar
380 Lygon St, Carlton, 03 9347 5331
Every cinema should screen their movies with espresso martinis and a cheeky cheese platter, right? The beautifully air conditioned Cinema Nova also offers a range of fancy toasties, sliders and beer battered fish and chips. Pop into the Cinema Nova Bar & Kitchen (kitchen) and take your order into the theatre, or go for the gold class option on Friday and Saturday nights and have your food and drinks delivered to the cinema.
Warm nights are also perfect for the Moonlight Cinema in Melbourne's beautiful Royal Botanic Gardens. Pre-order a date night hamper for popcorn, drinks, corn chips, dips and two ice creams.
CHILL DOWN AT ICEBAR
IceBar Melbourne
319 Brunswick St, Fitzroy, (03) 9077 9716
At minus 10C with more than 30 tonnes of sculpted ice, the IceBar is literally the coolest bar in Melbourne. Adults can chill out with snow gear and cocktail for $39, while kids get snow gear and a mocktail for $19 (from 11am to 7pm).
KULFI FROM HORN PLEASE
Kulfi from Babu Ji
167 St George's Rd, North Fitzroy, (03) 9497 8101
Melbourne's favourite Indian chef Jessi Singh took NYC by storm, and lucky for us he returned to Melbourne this year to one of his original restaurants in North Fitzroy. Open daily from 6pm, Horn Please serves some of Melbourne's freshest curries, but the star attraction on a hot day is the Kulfi, a hand-made Indian ice cream that's smooth, dense and intensely creamy with the heady flavours of cardamom, honey and pistachio or lychee and honey. It arrives at your table in a long, frosty metal mould, and the waiter pulls it out with a flourish.
CHIP BUTTY FROM CEREBRUS KIOSK
Fish and Chips at the Cerebrus Beach House, Black Rock
Boat Shed 212, Half Moon Bay, Black Rock, (03) 9598 4230
Here's the plan. Take an umbrella and an old folding chair directly to Half Moon Bay. Pick up a cold drink and a chip butty from the Cerebrus Kiosk and enjoy every last mouthful while cooling your ankles in the sparkly waters of Port Phillip Bay. The Kiosk is open until sunset every day except Monday (and the fish and chips are delicious too).
Wendy writes online at 5 of The Best