Wild winds lash Melbourne, bringing dust storm and traffic chaos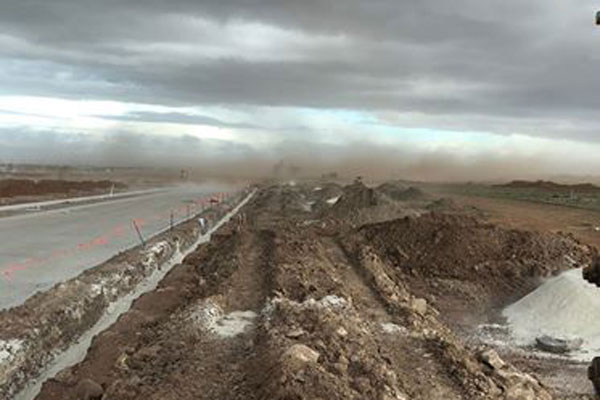 Melbourne has been lashed by wild and damaging winds this morning, whipping up dust storms, bringing down trees and causing traffic bedlam in the west.
A severe weather warning was issued across parts of the state.
A teenager is believed to have been left with serious head injuries after a tree fell on him in Hastings as emergency crews work to clean up fallen trees and power lines.
A huge tree branch also fell on a train near Jolimont Station, causing major delays on the Hurstbridge line.
3AW's Jane Holmes was on the train and told Neil Mitchell they had been waiting in the carriage for about 45 minutes before they were able to leave the train.
Buses are replacing trains between Clifton Hill and Parliament.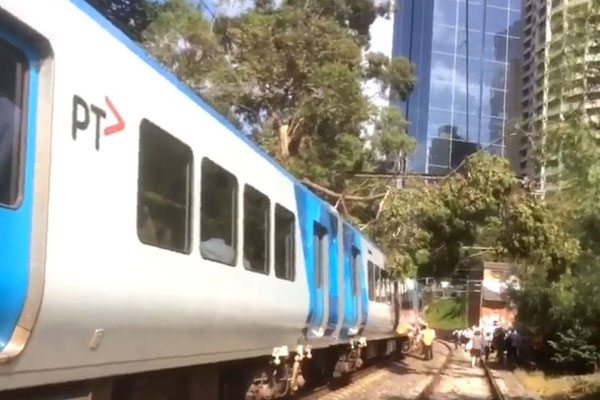 This morning:
The SES has received more than 400 calls for assistance
United Energy has almost 16,000 customers listed as without power across the south-east, from St Kilda to Portsea.
The peak wind gust in the metropolitan area was in St Kilda – 109 km/hr
VicRoads is reminding motorists carrying trailers to be careful
There are numerous reports of power lights out across the city
Emergency crews are responding to a number of reports of fallen trees.
WATCH: Dust storm at Flemington Racecourse
WATCH: Paul captured this footage this morning
@3AW693 massive dust storm just passed through the city pic.twitter.com/thLCzGmu6H

— Theodora (@theodora_hatzis) February 13, 2018
Windy Whitten Oval. What's new? 🌬🌬 #RealStrength pic.twitter.com/xBEtzsA4Iy

— Western Bulldogs (@westernbulldogs) February 13, 2018
New art installation at @FedSquare is being torn to shreds by the wind this morning. Ping @3AW693 @theheraldsun @theage @ClayLucas #Melbourne pic.twitter.com/eQsHbjpPyC

— BT (@Br_Tr) February 13, 2018
Latest victim of Melbourne winds: The contents of this Laverton shipping container.

Full coverage of this awful weather >> https://t.co/gZByoe6Rjh pic.twitter.com/9JdyxE2vaf

— 3AW Melbourne (@3AW693) February 14, 2018